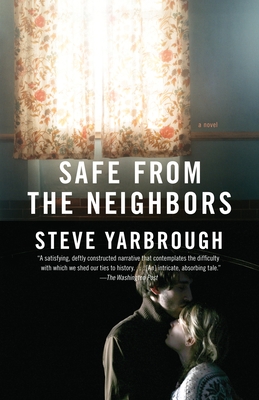 Safe from the Neighbors (Paperback)
Vintage Books USA, 9780307472151, 259pp.
Publication Date: February 8, 2011
* Individual store prices may vary.
or
Not Currently Available for Direct Purchase
Description
In a small town in the Mississippi Delta, Luke May teaches local history to students too young to remember the turmoil of the civil rights era. Luke himself was just a child in 1962 when James Meredith's enrollment at Ole Miss provoked a bloody new battle in the old Civil War. But when a long-lost friend suddenly returns to town, bringing with her a reminder of the act of searing violence that ended her childhood, Luke begins to realize that his connection to the past runs deeper than he ever could have imagined. An intricate novel of family secrets, extramarital affairs, and political upheaval, Safe from the Neighbors is a magnificent achievement.
About the Author
Born in Indianola, Mississippi, Steve Yarbrough is the author of four previous novels and three collections of stories. A PEN/Faulkner finalist, he has received the Mississippi Authors Award, the California Book Award, the Richard Wright Award, and an award from the Mississippi Institute of Arts and Letters. He now teaches at Emerson College and lives with his wife in Stoneham, Massachusetts.
Praise For Safe from the Neighbors…
"A satisfying, deftly constructed narrative that contemplates the difficulty with which we shed our ties to history. . . . [An] intricate, absorbing tale." —The Washington Post

"Steve Yarbrough's Safe from the Neighbors will take your breath away.  Ambitious, funny, sad, smart, and beautifully crafted, it's everything a novel should be." —Richard Russo

"Yarbrough, who has been likened to Faulkner for his attention to Mississippi . . . nimbly illustrates what the past can tell us about the present." —The New York Times Book Review
 
"Dark irony fills the pages of Safe from the Neighbors. . . . Luke faces his own emotional conflicts . . .  adding intrigue and entanglement to a social history that, quite frankly, sears all on its own." —The Seattle Times

"Very few writers understand the complex history and maddening social order of the Mississippi Delta.  For Steve Yarbrough, though, it's home turf.  He is wickedly observant, funny, cynical, evocative, and he possesses a gift that cannot be taught: he can tell a story." —John Grisham
 
"Steve Yarbrough is a masterful storyteller—one of our finest—and Safe from the Neighbors is a masterpiece. . . . This is a spellbinding, powerful novel." —Jill McCorkle
 
"Yarbrough's lines can stop you in your tracks." —The Florida Times-Union
 
"One of Yarbrough's talents is his cinematic ability to paint the Delta South—its people and places—without any of the predictable stereotypes. His writing style is so natural and straightforward and bristly with suspense that you hardly notice his abundant insights into the complicated history of the region." —Oxford American
 
"Safe From the Neighbors . . . is over far too quickly. . . . Exceptionally well-told." —The Free Lance-Star (Fredericksburg, VA)
 
"Emphasizes how the past is never really dead and how little we truly know about the people and neighbors with whom we grow up. . . . Excellent." —The Decatur Daily
 
"Safe from the Neighbors is a novel of unusual richness and depth, one that's as wise about the small shocks within a marriage as it is about the troubled history of Mississippi. Steve Yarbrough is a formidably talented novelist, shuttling between the past and present with a grace that feels effortless." —Tom Perrotta
 
"This crisply written story, set against the dramatic backdrop of the Deep South, deals with racial angst and moral complexities in prose that is both intimate and authentic." —The Tucson Citizen
 
"Skillfully blends the present and past, the public and private. . . . Readable and quietly affecting." —Memphis Magazine

"Yarbrough creates believable characters; all of them have flaws and strengths. . . . Safe From the Neighbors is a thoughtful novel that examines the intersection of the past and present." —Sacramento Book Review

"Steve Yarbrough is a writer of many gifts, but what makes Safe from the Neighbors such a magnificent achievement is its moral complexity. . . . Safe from the Neighbors does what only the best novels can do; after reading it, we can never see the world, or ourselves, in quite the same way." —Ron Rash
 
"Following in the footsteps of William Faulkner, Robert Penn Warren, Flannery O'Connor, and others, Steve Yarbrough . . . writes about the American South with gusto, finesse, and a compelling sense of irony. . . . [A] novel of great depth and complexity." —Santa Barbara News-Press
 
"Safe From The Neighbors is a tense, spellbinding narrative of marital betrayal written against a background of Deep South racial angst.  The prose is beautifully meditative and authentic.  Steve Yarbrough writes about Mississippi, about history and loss, with the eye and heart of the native son he is." —Tim Gautreaux
 
"Masterful. . . . Will stick with the reader long after the book is finished." —BookPage
 
"Steve Yarbrough sets a novel against a freeze-frame of our recent past—James Meredith and the integration of Ole Miss—and somehow makes his story and those sorrowful events come out even 'truer' than what actually occurred." —Paul Hendrickson
 
"Yarbrough ignites southern history. . . . Will give you chills." —The Madison County Herald (Mississippi)
 
"Safe from the Neighbors reads like a mystery, plot driven and racing us to its conclusion. Yet the novel contains the sensibility and psychological acuity we often associate with Russian giants such as Tolstoy and Chekhov." —Narrative magazine
 
"Yarbrough's characters speak with the same laconic beauty Cormac McCarthy's hard-used Westerners display. . . . Safe from the Neighbors is an enjoyable and satisfying book to read no matter if you are from Indianola, Miss., or Indianapolis, Ind." —The Advocate (Baton Rouge, Louisiana).
Advertisement