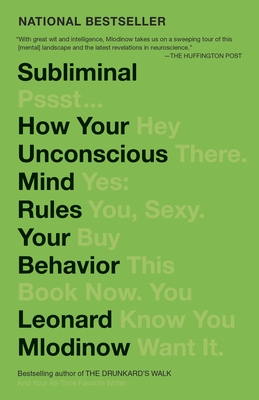 Subliminal (Paperback)
How Your Unconscious Mind Rules Your Behavior
Vintage, 9780307472250, 272pp.
Publication Date: February 12, 2013
Other Editions of This Title:
Digital Audiobook (4/23/2012)
CD-Audio (4/24/2012)
Hardcover (4/24/2012)
Hardcover (5/1/2012)
Hardcover (5/1/2012)
* Individual store prices may vary.
Description
From the bestselling author of The Drunkard's Walk and coauthor of The Grand Design (with Stephen Hawking), a startling and eye-opening examination of how the unconscious mind shapes our experience of the world.
 
Winner of the 2013 PEN/E.O. Wilson Literary Science Writing Award
 
Over the past two decades of neurological research, it has become increasingly clear that the way we experience the world--our perception, behavior, memory, and social judgment--is largely driven by the mind's subliminal processes and not by the conscious ones, as we have long believed. In Subliminal, Leonard Mlodinow employs his signature concise, accessible explanations of the most obscure scientific subjects to unravel the complexities of the subliminal mind. In the process he shows the many ways it influences how we misperceive our relationships with family, friends, and business associates; how we misunderstand the reasons for our investment decisions; and how we misremember important events--along the way, changing our view of ourselves and the world around us.


About the Author
Leonard Mlodinow received his PhD in theoretical physics from the University of California, Berkeley, was an Alexander von Humboldt Fellow at the Max Planck Institute, and now teaches at the California Institute of Technology. His previous books include three New York Times best sellers: War of the Worldviews (with Deepak Chopra), The Grand Design (with Stephen Hawking), and The Drunkard's Walk: How Randomness Rules Our Lives (also a New York Times Notable Book), as well as Feynman's Rainbow and Euclid's Window. He also wrote for the television series MacGyver and Star Trek: The Next Generation.
 
www.its.caltech.edu/~len
Praise For Subliminal: How Your Unconscious Mind Rules Your Behavior…
"With great wit and intelligence, Mlodinow takes us on a sweeping tour of this [mental] landscape and the latest revelations in neuroscience."
    —The Huffington Post

"Mlodinow plunges into the realm of the unconscious mind accompanied by the latest scientific research . . . [with] plenty of his trademark humor."
    —Los Angeles Times

"Clever [and] engaging. . . . A popular-science beach book, the sort of tome from which cocktail party anecdotes can be mined by the dozen." —The Oregonian
 
"Fascinating. . . . Shows how the idea of the unconscious has become respectable again." —The Economist
 
"A must-read book that is both provocative and hugely entertaining." —Jerry A. Webman, chief economist, OppenheimerFunds, Inc., and author of MoneyShift

"Leonard Mlodinow never fails to make science both accessible and entertaining."
    —Stephen Hawking, author of A Brief History of Time

"An assault against the idea that we control our decisions and our beliefs in the way that we think we do . . . . A useful addition to the growing body of work arguing convincingly against the idea of the rational human brain."
    —The Daily Beast

"Mlodinow thinks in equations but explains in anecdote, simile, and occasional bursts of neon. . . . The results are mind-bending."
    —Fortune

"Mlodinow argues his case persuasively and with humor."
    —The Montreal Gazette

"In a loose, easygoing style, Mlodinow combines numerous accounts of scientific studies with pop-culture references and even personal anecdotes."
    —Kirkus Reviews

"Mlodinow is the perfect guy to reveal the ways unrelated elements can relate and connect."
    —The Miami Herald

"This very enlightening book explores the two sides of our mental lives, with a focus on the subconscious or subliminal element. Drawing on clinical research conducted over a period of several decades and containing a number of rather startling revelations . . . the book appeals to readers with an interest in the workings of the human mind."
    —Booklist

"Think you know the whys and hows of your choices? Think again. Follow Mlodinow on a gorgeous journey into the enormous mental backstage behind the curtain of consciousness." 
    —David Eagleman, neuroscientist and author of Incognito: The Secret Lives of the Brain

"With the same deft touch he showed in The Drunkard's Walk, Mlodinow probes the subtle, automatic, and often unnoticed influences on our behavior."
     —Daniel J. Simons, professor of psychology, University of Illinois, and coauthor of The Invisible Gorilla

"If you liked The Drunkard's Walk, you'll love Subliminal. This engaging and insightful book not only makes neuroscience understandable, it also makes it fascinating. You will look at yourself (and those around you) in a new way."
     —Joseph T. Hallinan, author of Why We Make Mistakes

"A highly readable, funny, and thought-provoking travelogue by Mlodinow, a trusted traveler in this treacherous region, who leads us on a tour of the little-known country that is our unconscious mind." —Christof Koch, professor of cognitive and behavioral biology, California Institute of Technology