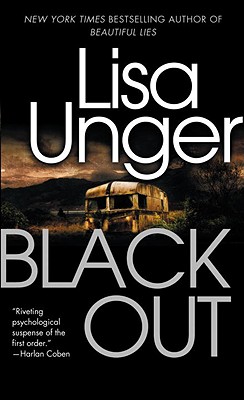 Black Out (Mass Market Paperbound)
Vintage Books USA, 9780307472298, 529pp.
Publication Date: April 28, 2009
Description
On the surface, Annie Powers's life in a wealthy Florida suburb is happy and idyllic. Her husband, Gray, loves her fiercely; they have a beautiful young daughter, Victory. But the bubble surrounding Annie is pierced when she senses that the demons of her previous life, when she was known as Ophelia March, have resurfaced and, to her horror, are now creeping up on her. Disturbing events--the appearance of a familiar dark figure on the beach, the mysterious murder of her psychologist--trigger strange and confusing memories for Annie, who realizes she has to quickly piece them together before her new life is taken away from her.
About the Author
Lisa Unger is an award-winning New York Times and international bestselling author. Her novels have sold over 1 million copies in the U.S. and have been translated into 26 different languages. From the Hardcover edition.
Praise For Black Out…
"Riveting psychological suspense of the first order."
—Harlan Coben

"A hurricane of a thriller.... Impossible to extract yourself until the last page."
—Entertainment Weekly

"A white hot page-turner."
—Naples Sun-Times

"Psychotic scary, all the way."
—New York Daily News

"Twisty, riveting, and enormously exciting."
—Joseph Finder, author of Power Play

"Unger's latest keeps the adrenaline pumping with a roller-coaster plot and harrowing psychological suspense.... Well worth the ride."
—People

"Full of twists and turns. A great read for anyone craving some suspense."
—Cosmopolitan

"Masterful.... Black Out spirals through one shock after another."
—St. Petersburg Times

"I read Black Out in one hungry gulp, and spent the rest of the night trying to calm my jangled nerves. This is a stunning, mind-bending shocker with moments of sheer terror."
—Tess Gerritsen, author of The Bone Garden

"[A] largely gripping narrative and evocative, muscular prose….Unger…create[s] the perfect razor's edge of tension."
—Associated Press

"Black Out is rewarding in a darkly voyeuristic way: the gruesomely realistic tale of a troubled teen's descent into a codependent hell on earth."
—AP Review

"Black Out … is bound to be a sure hit. In it, [Unger] has written literature that is … a thriller with more twists than a cage full of snakes. Right about the time that you think you know what's going on, the story takes another angle. Hold on tight…it's a scary ride!"
—Bookreporter.com

"Twisty, riveting, and enormously exciting. Lisa Unger is a powerful and elegant writer, and Black Out is her best novel yet."
—Joseph Finder, New York Times bestselling author of Power Play and Killer Instinct
"Unger, author of the best-selling and critically acclaimed Ridley Jones series…[creates the] compelling character of Annie: dark, troubled, and teetering on the brink."
—Booklist

"Let Lisa Unger work her magic and I promise the ending will be a major payoff you will love. This book is really something special – once again Lisa Unger has kept me up all night."
—Crimespree Magazine

"Annie Powers leads the perfect life in Florida with her husband, Gray, and their four-year-old daughter in this stellar character-driven stand-alone from bestseller Unger (A Sliver of Truth). Less than a decade earlier, however, Annie was Ophelia March, the teenage captive—or accomplice—of spree killer Marlowe Geary. Gray, a partner in his father's private security consultant firm, tracked Marlowe and rescued Ophelia after sending the killer's car over a cliff. Reinventing herself with Gray's help, Annie can't remember all that happened during her years with Marlowe, and she's prone to panic attacks and blackouts. When a strange man appears on her property, Annie's sure Marlowe is back. As a shady police detective digs into her past, Annie must try to recover the memories she buried if she's ever going to be free from Marlowe. Unger expertly turns what could have been a routine serial-killer story into a haunting odyssey for Annie, dropping red herrings and clues along the way until the reader feels as unsettled as Annie."
—Publishers Weekly, starred review
Advertisement