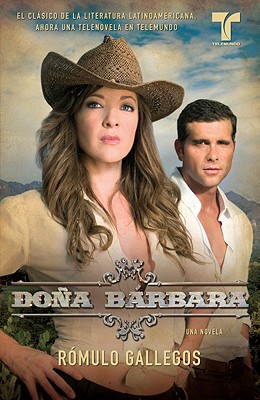 Dona Barbara (Paperback)
Vintage Books USA, 9780307472304, 358pp.
Publication Date: September 2, 2008
Description
Publicada por primera vez en 1929, este clasico de la literatura venezolana y latinoamericana narra el apasionado triangulo amoroso entre Santos Luzardo, dona Barbara y su hija, Marisela. Cuando el abogado Santos Luzardo vuelve a Los Llanos de Apure para reclamar las tierras de su familia, descubre que estas estan en mano de su despota prima dona Barbara, que las dirige con mano de hierro y malas artes. La decision de Santos de luchar por lo que es suyo y la aparicion de la hija de dona Barbara abriran antiguas heridas y revelaran el tragico pasado de dona Barbara. El conflicto que se producira desestabilizara la hacienda y cambiara todo para siempre. Mas alla de su ardiente historia, "Dona Barbara" simboliza la lucha entre dos fuerzas, el bien y el mal; la civilizacion y la barbarie; el mundo de ayer y el de manana. Una historia universal de amor, seduccion y violentas pasiones.
About the Author
Romulo Gallegos was born in Caracas into a family of humble origin. He began his work as a schoolteacher, writer, and journalist in 1903. His novel "Dona Barbara" was first published 1929, and as a result was forced to flee Venezuela since he criticized the military regime at the time. He took refuge in Spain, where he continued to write: his acclaimed novels "Cantaclaro" (1934) and "Canaima" (1935) date from this period. He returned to Venezuela in 1936 and served in a variety of senior positions in the government. In 1947 he ran for the presidency of the republic, won the election, took office in February 1948, and was overthown by a military coup d'etat the following November. He took refuge first in Cuba and then in Mexico. He was able to return to Venezuela in 1958. He was appointed a Senator for life, awarded the National Literature Prize, and elected to the Venezuelan Academy of the Language (the correspondent agency in Venezuela of the Spanish Royal Academy). The Romulo Gallegos International Novel Prize was created in his honor in 1964, with the first award being made in 1967. He died in Caracas on on April 7, 1969."
Advertisement