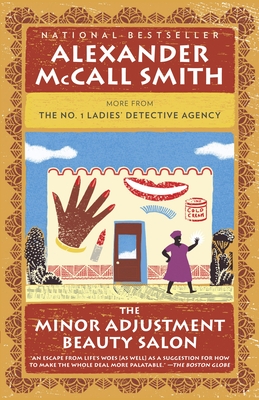 The Minor Adjustment Beauty Salon (No. 1 Ladies' Detective Agency Series #14)
Paperback

* Individual store prices may vary.
Other Editions of This Title:
Paperback, Large Print (7/1/2014)
Hardcover (11/5/2013)
Hardcover, Large Print (11/7/2013)
Compact Disc (11/5/2013)
Description
Fans around the world adore the bestselling No. 1 Ladies' Detective Agency series and its proprietor, Precious Ramotswe, Botswana's premier lady detective. In this charming series, Mma  Ramotswe—with help from her loyal associate, Grace Makutsi—navigates her cases and her personal life with wisdom, good humor, and the occasional cup of tea.

Precious Ramotswe has her hands full with two puzzling cases. The first concerns a young man hoping to claim his inheritance at his uncle's farm. The farmer's lawyer fears that this self-professed nephew may be falsely impersonating the real heir, and asks Mma Ramotswe to look into his identity. The second involves the just-opened Minor Adjustment Beauty Salon, which has been shadowed by misfortune, from bad omens in the mail to swirling rumors that its products are dangerous. The salon's proprietor fears that someone is trying to put her out of business—but who? Meanwhile, Mma Ramotswe has come to suspect that her intrepid associate Grace Makutsi is pregnant—though Mma Makutsi has mentioned nothing.
 
With genuine warmth, sympathy, and wit, Alexander McCall Smith explores marriage, parenthood, and the importance of the traditions that shape and guide our lives.
Praise For The Minor Adjustment Beauty Salon (No. 1 Ladies' Detective Agency Series #14)…
"Amusing. . . . An escape from life's woes [as well] as a suggestion for how to make the whole deal more palatable."
—The Boston Globe

"A particularly endearing entry in the long-running series, which has lost none of its gentleness or its love for Botswana." —The Christian Science Monitor
 
"Leisurely, wonderfully crafted descriptions of life in the agency and at home, the beauties of Botswana, and the joys, big and small, of life. . . . [And] especially, a tribute to enduring friendship." —Booklist (starred review)

"When you are in the company of Mma Ramotswe, you know that, despite the clamor and chaos that passes for modern life, somewhere out there, all is right with the world." 
—BookReporter

"McCall Smith's accomplished novels [are] dependent on small gestures redolent with meaning and main characters blessed with pleasing personalities." —Newsday

 "The intrepid proprietor of the No. 1 Ladies' Detective Agency in Botswana is determined to remain as steadfast as a constellation in the night sky. But Alexander McCall Smith's beloved sleuth comes to accept the inevitability of change in The Minor Adjustment Beauty Salon." —The New York Times Book Review

"McCall Smith is a vivid observer and an elegant writer, honoring Botswanan customs and culture . . .  Like the best traditions, this series is one we hope will endure." —The Plain Dealer

"Deep into a series, it's not unusual for the characters or plots to lose their luster, but that's not the case with this series. McCall Smith's thoughtful observations on life and human nature, as well as his distinctive writing style and gentle humor, make this volume as enjoyable as the ones that have come before." —The Wichita Eagle

"Alexander McCall Smith is a prolific, popular and wonderfully peculiar writer. His capacity to deliver quality new installments . . . is unrivalled by any other modern writer." —The Independent 
Anchor, 9780307473004, 272pp.
Publication Date: June 3, 2014
About the Author
Alexander McCall Smith is the author of the No. 1 Ladies' Detective Agency series, the Isabel Dalhousie series, the Portuguese Irregular Verbs series, and the 44 Scotland Street series. He is professor emeritus of medical law at the University of Edinburgh in Scotland and has served with many national and international organizations concerned with bioethics. He was born in what is now known as Zimbabwe and taught law at the University of Botswana. He lives in Scotland.
What is the novel saying about friendship, in particular the friendship between Mma Ramotswe and Mma Makutsi?
Kirkus Reviews has compared Alexander McCall Smith's books to "a warm, understated serving of comfort food." How is this novel like comfort food? And what role does comforting food play in McCall Smith's No. 1 Ladies' Detective Agency novels?
Describe the consumer culture Mma Ramotswe bemoans in the beginning of the book, where "everything is made to be thrown away rather than fixed. It is all very wasteful." What are your thoughts on today's throwaway culture? Do you do anything to personally counteract this trend?
McCall Smith describes the sounds of Mma Makutsi's house, "the sounds that can be heard in every house if one has the time to listen." Why should we occasionally stop and listen to these types of sounds, sounds that usually are just background noise?
What is the author saying about an individual's memory and singular perception when he says "all of us had a view from somewhere; a view of the world from the perspective of who we were, of what happened to us, of how we thought about things"? Do you agree with him? Is it possible to alter this view?
Mma Ramotswe believes that "babies—ordinary babies—liked to look at the sky, or watch chickens, or suck on blankets. They did not want to add." What do you think about this view of child rearing? If you've read 44 Scotland Street, compare this view with that of Bertie's mother.
Take a closer look at McCall Smith's chapter titles. What do they add to the story? Do you think the author has fun coming up with these headers?
Discuss Mma Ramotswe's feelings about forgiving and forgetting. Do you agree that once you forgive, you should forget, "because if you did not forget, then your forgiveness would be tested . . . and you might go back to anger, and to hating."? Can you provide any personal examples?
Upon learning about some of the potions used in Minor Adjustment Beauty Salon, Mma Ramotswe wonders if there is "some sort of lemon juice for inside beauty" that takes away the blemishes and cleanses. What does she believe would make good potions for cleaning and healing a person inside? Do you agree?
Discuss superstitions in this book and in the No. 1 Ladies' Detective Agency series more generally. There are still many people in Botswana (and throughout the world) with strong local superstitions. What are Mma Ramotswe's and Mma Makutsi's views on them? What are yours? Do you have any superstitions you can't let go of?
When she and Mma Ramotswe take a brief walk, Gwithie, points out a plant used as a remedy for some ailments: "Like almost everything in the bush, it has its uses." Name some natural plant remedies from the Kalahari bush that appear in this book. Would you try them? Do you believe they are real or superstitions? Where do most of our healing medicines come from?
Though the novel celebrates the birth of Mma Makutsi's baby, it mourns the loss of Mma Ramotswe's and Gwithie's. What is the place of grief in this novel?
"It's just that sometimes it all gets too much for women and it would help a great deal if their husbands could be a little bit more modern," says Mma Potokwane to Mr. J.L.B. Matekoni. Discuss this quote. What do you think about the relationship between Mma Ramotswe and Mr. J.L.B. Matekoni? Is it a traditional relationship or a modern one? Compare this quote and the relationships in the novel in light of the cultural conversations around recent books such as Sheryl Sandberg's Lean In and Debora Spar's Wonder Women.
Mma Ramotswe holds back and doesn't tell Mma Makutsi how intensely she misses her while she's out on maternity leave, and how much she values their friendship. Why doesn't she say everything she was thinking, and why does the author say that, "our heart is not always able to say what it wants to say and frequently has to content itself with less"? Why is the word not spoken just as important as what is voiced?