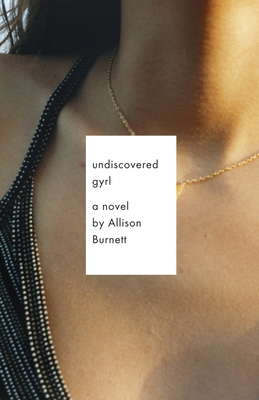 Undiscovered Gyrl (Paperback)
The novel that inspired the movie ASK ME ANYTHING (Vintage Contemporaries)
Vintage, 9780307473127, 304pp.
Publication Date: August 11, 2009
* Individual store prices may vary.
Description
Beautiful, wild, funny, and lost, Katie Kampenfelt is taking a year off before college to find her passion. Ambitious in her own way, Katie intends to do more than just smoke weed with her boyfriend, Rory, and work at the bookstore. She plans to seduce Dan, a thirty-two-year-old film professor.

Katie chronicles her adventures in an anonymous blog, telling strangers her innermost desires, shames, and thrills. But when Dan stops taking her calls, when her alcoholic father suffers a terrible fall, and when she finds herself drawn into a dangerous new relationship, Katie's fearless narrative begins to crack, and dark pieces of her past emerge.

Sexually frank, often heartbreaking, and bursting with devilish humor, Undiscovered Gyrl is an extraordinarily accomplished novel of identity, voyeurism, and deceit.

"Imagine an 18-year-old Lolita, updated for the 21st century, blogging her own provocative adventures. By turns charming and crude, disturbingly reckless and achingly tender, Undiscovered Gyrl seduces you into her downy arms, locks her long legs around your waist, and doesn't let go." — Rachel Resnick, author of Love Junkie
About the Author
Allison Burnett is a screenwriter in LA and the author of Christopher, a finalist for the PEN Center USA Literary Award, and The House Beautiful.
Praise For Undiscovered Gyrl: The novel that inspired the movie ASK ME ANYTHING (Vintage Contemporaries)…
"[Katie's] raw, young voice describing the sordid situations she finds herself in–seeks out, really–is authentic teenage girl. . . . Intensely self-aware, angry, alienated and filled with teenage narcissism and pain. . . . When the ending kicks in with a twist . . . it forces you to realize you lost yourself in the plot and character and read for pleasure. This makes you complicit in the consequences, turns you into a reader, yes, but also into one of Katie's voyeurs." –Los Angeles Times

"Allison Burnett has magically brewed an addictive elixir. Blogging, self-absorption, and bad behavior slowly build into a touching and deeply moving narrative, yet Burnett chooses to serve this concoction unadorned, a shot of vodka–all the better to feel the ending's burn. If you've ever been tempted to dismiss the next generation, read this book." —Amanda Boyden, author of Pretty Little Dirty and Babylon Rolling

"Imagine an 18-year-old Lolita, updated to the 21st century, blogging her own provocative adventures. By turns charming and crude, disturbingly reckless and achingly tender, Undiscovered Gyrl seduces you into her downy arms, locks her long legs around your waist and doesn't let go. Shot through with teenage yearning for 'true love,' each page vibrates with the quicksilver spirit of youth. As we follow the narrator on her ever-darkening journey, questions arise about voyeurism and identity in an age of cyber-anonymity. Allison Burnett's masterful page-turner lingers long after the last page." —Rachel Resnick, author of Love Junkie