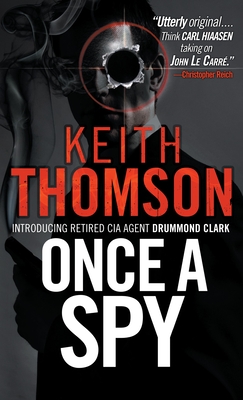 Once A Spy (Mass Market)
A Novel (Drummond and Clark Series)
Anchor, 9780307473141, 480pp.
Publication Date: January 25, 2011
* Individual store prices may vary.
Description
With wit, adventure, and style to spare, this gripping and utterly original thriller is "a spy story that sticks" (The Dallas Morning News). 

When Charlie Clark takes a break from his latest losing streak at the track to bring home his Alzheimer's-addled father, Drummond, they're attacked by two mysterious shooters. At first, Charlie thinks his Russian "creditors" are employing aggressive collection tactics.  But once Drummond effortlessly hot-wires a car, Charlie discovers that his unassuming father was actually a deep cover CIA agent . . . and there is extremely sensitive information rattling around in his troubled mind.  Now the CIA wants to "contain" him, so the two embark on a wild chase through the labyrinthine world of national security that will force them to confront unspeakable danger, dark conspiracies, and what it means to be a father and son.
About the Author
Keith Thomson is a former semipro baseball player in France, an editorial cartoonist for Newsday, a filmmaker with a short film shown at Sundance, and a screenwriter who currently lives in Alabama. He writes on intelligence and other matters for the Huffington Post.
Praise For Once A Spy: A Novel (Drummond and Clark Series)…
"An engaging tale of father-and-son redemption wrapped up in a pedal-to-metal thriller that's told with much humor and great enthusiasm, Thomson's Once a Spy gives the tried-and-true secret-agent suspense a fresh twist." —The Birmingham News

"An important debut—as well as a welcome breath of fresh air." —Lincoln Child
 
"Thomson has made a spy story that sticks." —Dallas Morning News

"Nonstop action, thrills, and more escapes than Houdini in his lifetime." —Chicago Sun-Times
 
"I like my spy thrillers cold, and Once A Spy is as cold as they come, but with a warm sense of honest family dishonesty and violent sense of humor. . . . A wonderfully fun novel of discovery, matching explosive apartments with explosive revelations."—Rick Kleffel, "The Agony Column"
 
"This tale of a doddering old spy and his slightly addled son has plenty of twists and turns, and you'll find it very difficult to put aside." — The Globe and Mail
 
"Gripping. . . . A surfeit of suspense, plot twists, mysterious murders, dangerous chases, narrow escapes, thwarted villains and a few triumphs by an unlikely hero or two." —Birmingham Weekly
 
"A thriller with an edgy tone. . . . Heart-stopping, full of surprises, dangerous but crazy/funny at the same time. Roadrunner meets Columbo." —Newark Star-Ledger
 
"Once A Spy is the most enjoyable book I've read this year. Utterly original, it is an adrenaline-fueled concoction of sidesplitting humor and genuine suspense. Think Carl Hiassen taking on John Le Carré and the winner is the reader. What a find! I can't imagine not loving this gem of a novel!" —Christopher Reich
 
"It takes a huge talent to blow dust from the corners of today's comfortable thriller genre. Keith Thomson has that talent, in spades. Once a Spy is an important debut--as well as a welcome breath of fresh air." —Lincoln Child
 
"Once a Spy is a wild ride." —James Bamford
 
"With great characters, nonstop action, and dark humor, all told in a fresh, energetic voice, Keith Thomson's Once A Spy is the most appealing debut thriller I've read in years." —Chuck Hogan