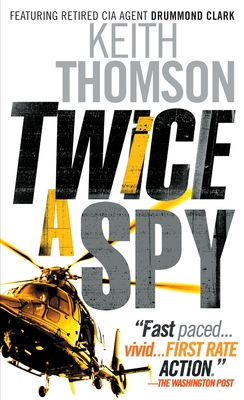 Twice a Spy (Drummond and Clark Series) (Mass Market)
Anchor, 9780307473158, 448pp.
Publication Date: February 28, 2012
* Individual store prices may vary.
Description
Twice the speed, twice the trouble, twice the fun—Charlie and Drummond Clark return in this riveting, fast-paced sequel to Once a Spy.
 
Charlie and Drummond Clark are on the lam, hiding out in Switzerland near a clinic which is testing revolutionary treatments for Alzheimer's on Drummond. With them is NSA operative Alice Rutherford, who has been working to exonerate them, but before she can make any headway, she is kidnapped by a terrorist group. To get her back, Charlie and Drummond are forced to plumb Drummond's damaged memory for the location of a secret cache of weapons, then turn over the most lethal of the lot. At the same time, they must find a way to thwart the terrorists before they can use the weapon for unspeakable destruction. In the tradition of Robert Ludlum, with a witty twist, Thomson's second novel featuring a former spy and his son once again poses the question: What happens when a former CIA agent can no longer trust his own mind?


About the Author
KEITH THOMSON is a former semipro baseball player in France, an editorial cartoonist for Newsday, a filmmaker with a short film shown at Sundance, and a screenwriter who currently lives in Alabama. He writes on intelligence and other matters for the Huffington Post.
Praise For Twice a Spy (Drummond and Clark Series)…
PRAISE FOR Keith Thomson and TWICE A SPY:

"Fast-paced . . . vivid . . . first-rate action." --The Washington Post

"Utterly original. . . Think Carl Hiaasen taking on John Le Carre."—Christopher Reich

"An ingenious plot supported by 'insider tradecraft material.'" --Porter J. Goss, former director of the CIA

"It takes a huge talent to blow dust from the corners of today's comfortable thriller genre. Keith Thomson has that talent, in spades."--Lincoln Child

"A breakneck thriller." —The Plain Dealer 
 
"Razor-sharp writing, laugh-out-loud humor . . . a real treat for thriller fans tired of more of the same old same old." —Publishers Weekly
 
"Thomson again hits a sweet spot in this highly original thriller, balancing gripping action sequences with humor. . . . Buoyant, fast and fun." —Kirkus
 
"It really, really IS like Ludlum." —Daily Record
 
"Thomson is now on my shortlist of authors I will drop whatever I'm doing to read." —Jon Jordan, Crimespree Magazine

"James Bond, take a number." —The Birmingham News

"Couple the cheddar-sharp wit of Carl Hiaasen with the action-packed styling of Robert Ludlum and you get Keith Thomson's Twice a Spy." —Fredericksburg News

"Fast, furious and entertaining." —The Sudbury Star
 
"A fast-moving plot with lots of twists and lots of chases—car, ambulance, and even amphibious vehicle." —Mystery Scene Magazine
 
"Explosive." —The Examiner

or
Not Currently Available for Direct Purchase