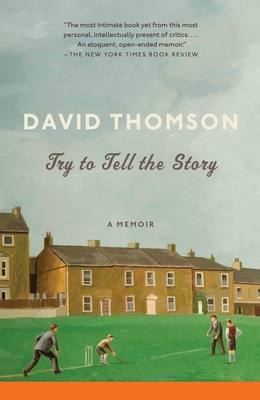 Try to Tell the Story (Paperback)
Vintage Books USA, 9780307473172, 214pp.
Publication Date: February 9, 2010
* Individual store prices may vary.
or
Not Currently Available for Direct Purchase
Description
David Thomson, one of our most celebrated film writers, gives us a haunting, fascinating memoir about growing up as an only child in wartime England. He was born in London in the aftermath of the war, where he was raised by his mother, grandmother, and upstairs tenant, Miss Davis. He remembers how his grandmother brought him to a street corner to see Churchill and how the bombed-out houses that still smelled of smoke became his playground. We see Thomson attempt to overcome his profound sadness at being abandonded by his cold and distant father by finding solace in the cinema houses. Movies became his great escape, and the worlds revealed in Red River, The Third Man, and Citizen Kane helped to alleviate his loneliness and bolster his rich imaginative life.
About the Author
David Thomson, author most recently of Have You Seen . . . ? is a regular contributor to The Guardian, The Independent, The New York Times, Movieline, The New Republic, and Salon. He lives in San Francisco."
Praise For Try to Tell the Story…
"The most intimate book yet from this most personal, intellectually present of critics. . . . [An] eloquent, open-ended memoir." —The New York Times Book Review

"Honest, observant, and at times moving. . . . Try to Tell the Story is a fine book, modest and self-effacing but also forthright and uncompromising." —Washington Post Book World

"Moving and provocative. . . . A vital exploration of how England, America, and the arts . . . turned him from a seething stammering school boy into an interpreter extraordinaire." —Newsday
 
"The wry, alert intelligence that has always marked David Thomson's film criticism is here brought to bear on the complex narrative of his own life, and, with admirable compassion and tenderness, on those closest to him who shaped it.  Rarely has the unwilling achievement of maturity been as honestly, astutely, or humbly reprised as in this haunting and deeply affecting memoir." —Phillip Lopate  
 
"Those of us who are struck by his balance of authority and wit when it comes to celluloid have sometimes had cause to wonder where and how David Thomson acquired his astonishing deadpan synthesis of lightness of heart and extreme gravitas.  Well, now—and to borrow an expression from his ancestral 'hood—we bloody well know." —Christopher Hitchens
 
"Try to Tell the Story exists—like life—on the razor's edge between laughter and tears, bliss and heartbreak, confusion and compassion.  It is full of marvelous riffs on movies, music, and sports, but at heart it is an unashamedly tender, disarmingly open attempt to understand the mystery, the complexity, and sometimes insanity of family life." —Douglas McGrath




Advertisement