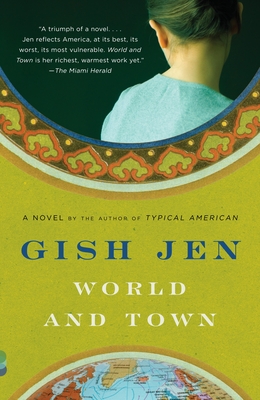 World and Town (Vintage Contemporaries) (Paperback)
Vintage, 9780307473301, 480pp.
Publication Date: October 4, 2011
* Individual store prices may vary.
Description
Hattie Kong, a retired teacher and a descendant of Confucius, has decided that it's time to start over. She moves to the peaceful New England town of Riverlake, a place that once represented the rock-solid base of American life. Instead of quietude, Hattie discovers a town challenged by cell-phone towers, chain stores, and struggling farms. Soon Hattie is joined by an immigrant Cambodian family on the run, and—quite unexpectedly—Carter Hatch, a love from her past. As each character seeks to make a new start on life, World and Town asks deep, absorbing questions about religion, love, home, and meaning.
About the Author
Gish Jen is the author of three previous novels and a book of stories. Her honors include the Lannan Literary Award for fiction and the Mildred and Harold Strauss Living Award from the American Academy of Arts and Letters. She lives with her husband and two children in Cambridge, Massachusetts.
Praise For World and Town (Vintage Contemporaries)…
"[A] triumph of a novel. . . . Jen reflects America, at its best, its worst, its most vulnerable. World and Town is her richest, warmest work yet." —The Miami Herald 
 
"What a pleasure to read this smart, warm novel from Gish Jen. . . . As this humane novel shows . . . only active compassion will build a better world and town." —The Washington Post 
 
"Remarkable. . . . World and Town practically sings." —Entertainment Weekly
 
"An imaginatively questioning and shrewdly written novel of our times." —The Boston Globe
 
"I love the voices in this book—each compelling, each contributing to the layered story. . . . You will find yourself swept up and completely absorbed by this polyphonic and immensely moving novel." —Allegra Goodman, author of The Cookbook Collector

"A book of immense riches. . . . Rich with ideas about the ways people adapt or fail to, about how lives are built and what can tear them apart, about what people believe and whether their beliefs undermine them or enable them to prosper. . . . Gish Jen's novels do not come along often, so this is not one to miss." —The Washington Times
 
"One of Jen's greatest strengths is her fluid point of view, which she employs beautifully here. . . . Nothing is fixed for these unsettled characters, who keep trying to build new lives in a bewildering world, and whose victories, when they come, bring not rapture but 'a defining grace, bittersweet and hard won.'" —The New York Times Book Review
 
"For nearly two decades, Gish Jen has been chronicling the experience of immigrants in America with a sure hand and an amused, affectionate eye. Her ability to inhabit varied minds and hearts without drawing attention to her efforts evokes the passionate omniscience of George Eliot." —Whole Living
 
"Jen has a sharp eye and gives Hattie a quirky, comic sensibility. . . . Her bighearted, rumpled novel gives [her characters] room to change directions and find new ways to live together." —The Columbus Dispatch
 
 "Profoundly moving. . . . World and Town is a novel that unfolds with a great deal of grace." —PopMatters.com
 
"Jen is masterful at mixing keen observation with wit and wisdom, and she is in top form here . . . diving into the pain and promise of coming to America." —BookPage
 
"Jen beautifully captures the pain of feeling invisible in a place where your every move is being watched, a place 'where you can talk and talk and still have nobody hear.'" —The New Yorker
 
"[Sophy] is a marvelous study in contradictions, with the voice, pop cultural references and cheap yearnings of an American teenager, but a spirit scarred by secondhand trauma. . . . Powerful." —San Francisco Chronicle
 
"It's a big subject, America, but Gish Jen once again proves an exemplary national pulse-taker. . . . Jen's narrative sparkles." —The Toronto Star
 
"Jen's sensitivity and charming humor should vault this to the top of book groups' must-reads." —Library Journal
 
"Jen's richly stippled novel slyly questions every assumption about existence and meaning even as it celebrates generosity, friendship, and love." —Booklist
or
Not Currently Available for Direct Purchase