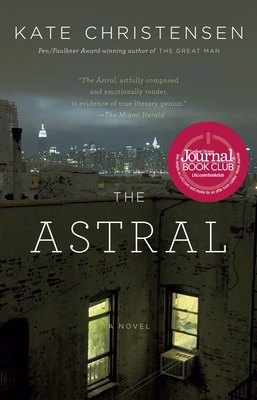 The Astral (Paperback)
Anchor, 9780307473356, 320pp.
Publication Date: June 12, 2012
Other Editions of This Title:
MP3 CD (6/14/2011)
Compact Disc (6/14/2011)
Hardcover (6/14/2011)
Hardcover, Large Print, Large Print (10/1/2011)
* Individual store prices may vary.
Description
In the gentrifying neighborhood of Greenpoint, Brooklyn, rests a huge rose-colored apartment building called The Astral. For decades it was the happy home of the poet Harry Quirk, his wife, Luz, and their two children: Karina, now a fervent freegan, and Hector, now in the clutches of a cultish Christian community. But when Luz finds poems that ignite her long-simmering suspicions of infidelity, Harry is summarily kicked out, leaving him to reckon with the consequence of his literary, marital, and parental failures. With tremendous grace and acute perception, Kate Christensen details Harry's floundering attempts to find his way back into Luz's arms—and back to his better self—in a novel that is funny, bittersweet, and terrifically moving.
About the Author
Kate Christensen is the author of five previous novels, most recently Trouble. The Great Man won the 2008 PEN/Faulkner Award for Fiction. She has written reviews and essays for numerous publica­tions, most recently the New York Times Book Review, Bookforum, Tin House, Elle, and Open City. She lives in New York City.
Praise For The Astral…
"Spectacular. . . . The Astral, artfully composed and emotionally tender, is evidence of true literary genius." —The Miami Herald
  
"Impossible to put down. . . . Harry Quirk, living up to his own name, is a gem." —The Oregonian 
 
"The Astral is a work of art, a prose poem, and a finely told tale. . . . [A] tender, aching marvel of a book." —The Huffington Post
 
"An ode to Brooklyn and broken marriages, endings and beginnings, and the spaces in between." —The Boston Globe
 
"Christensen has somehow—again—created a captivatingly believable male narrator." —The Washington Post 
 
"An object lesson on the current realist novel. . . . The Astral is structured as a journey—a poet's trip through an interior and exterior landscape—and Christensen manages each step with quiet deliberation." —The New York Times Book Review
 
"[Christensen's] characters' ruminations on how the forces of love and deception work in tandem within a relationship are both searing and concise. . . . [She] is a forceful writer whose talent is all over the page. Her prose is visceral and poetic, like being bludgeoned with an exquisitely painted sledgehammer. She is a portrait artist, drawing in miniature, capturing the light within." —San Francisco Chronicle
 
"A tart, compassionate story of marriage gone wrong." —O, The Oprah Magazine
 
"[A] sharp perceptive novel. . . . Christensen's The Astral is provoking and at times profoundly moving." —Associated Press
 
"Ah, urban beauty: Christensen gets what's funny about it, and also what's disappointing. She's a mischievous writer with a keen eye and ear for comedy, one who sets up precarious scenarios and then lets her characters hash things out." —The New York Observer
 
"[This] novel, by turns funny sad, and wise, is glittering with insightful and lovely descriptions, and Harry is so far my favorite fictional character of 2011: he's complicated, stubborn, smart, foolish, vulnerable, and—man oh man—does he feel real." —Edan Lepucki, The Millions
 
"The tinder for this fire lies in moments most often small: Kate Christensen doesn't fan the flames so much as reveal the embers as they spring to life. . . . Christensen's prose is clean and her characters enthralling. . . . The novel is a wonderful investigation of the pitfalls that arise in even the longest of marriages" —The Denver Post
 
"Harry Quirk . . . [is] an unexpectedly irresistible hero in this delicious social satire." —People
 
"The best exploration of a middle-aged man's psyche since Bellow, all the more brilliant for having been written by a woman." — Shelf Awareness (starred)
 
"Christensen is a gifted novelist who knows how to deliver the goods when it comes to ruefully funny, bittersweet character sketches."—Christian Science Monitor
  
"Christensen perfectly embodies the voice of a male poet in crisis, Harry Quirk. . . . Readers will be sucked into extremely realistic familial dramas while Christensen perfectly captures her Brooklyn backdrop—from dive bars to hipsters drinking overpriced coffee in trendy cafes." —BookPage
  
"As always in Christensen's writing, like it or not, the gritty human truths she reveals apply to us all. . . . Christensen is formidable when it comes to psychological observation. What truly sets her writing apart, however, are the disturbing, touching, confounding discrepancies she articulates between inner experience and external behavior, the compassion she brings to bear in her analysis of the fraught, misguided ways in which people interact." —The Brooklyn Rail
Harry Quirk's obsession with his imploding marriage forms a central arc in The Astral. Do you trust his narrative of the marriage and its dissolution? How does your opinion of him evolve as you read the novel?
Luz is convinced that Harry is sleeping with Marion. Although her accusations of sexual intimacy are unfounded, Harry and Marion are very close friends. Do you think that it is possible to commit emotional infidelity, and if so, is Harry guilty of it? How would you define an "emotional affair"?
In Chapter Fourteen, Harry visits his wife's therapist, Helen. What do you make of Harry's animosity towards her? Why do you think the author included this confrontation?
Harry's work-in-progress, "an epic poem of loss and displacement," is titled The Astral. How does this echo the symbolic role of The Astral apartment building in the novel?
During the course of the novel, Harry and Karina pay several visits to Hector at the Sag Harbor compound. How do these experiences compare, and what do they contribute to our understanding of Hector and his situation? Do you think Hector is a true believer of the Children of Hashem cult, or is he an opportunist like his older consort Christa?
The Astral portrays a multi-racial, multi-ethnic, rapidly changing Brooklyn of artists, artisans, immigrants, and long-settled locals. Discuss the tensions inherent in such a quilt of social types. How does the author portray the interactions between immigration and gentrification?
Kate Christensen once wrote an influential essay titled "Loser Lit" in praise of such books as Lucky Jim, A Confederacy of Dunces, Jernigan and Wonder Boys, whose books center on self-defeating characters whose often comic misadventures as they slide to the bottom have garnered these novels fervent cult followings. To what extent do you think Harry Quirk qualifies as a Loser Lit antihero?
Read "The Irony of Perspective, a Book Club Discussion" by Reading Group Choices' Neely Kennedy for discussible topics and themes!
or
Not Currently Available for Direct Purchase