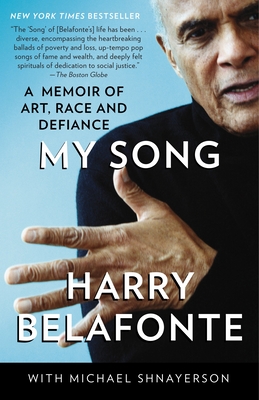 My Song
A Memoir of Art, Race, and Defiance
Paperback

* Individual store prices may vary.
Other Editions of This Title:
Digital Audiobook (10/10/2011)
Hardcover (10/11/2011)
Compact Disc (10/11/2011)
Paperback, Large Print (10/25/2011)
Description
An eloquently told personal account of an era of enormous cultural and political change, which reveals Harry Belafonte as not only one of America's greatest entertainers, but also one of our most profoundly influential activists.
 
Harry Belafonte spent his childhood in both Harlem and Jamaica, where the toughness of the city and the resilient spirit of the Caribbean lifestyle instilled in him a tenacity to face the hurdles of life head-on and channel his anger into positive, life-affirming actions. He returned to New York City after serving in the Navy in World War II, and found his calling in the theater, before transitioning into a career as a singer and Hollywood leading man. During the 1960s civil rights movement, Belafonte became close friends with Martin Luther King, Jr., and used his celebrity as a platform for his activism in civil rights and countless other political and social causes. My Song tells the inspiring story of a startlingly original and powerful entertainer who has always engaged fiercely with the issues of his day.
 
Praise For My Song: A Memoir of Art, Race, and Defiance…
A New York Times Notable Book 
 
"A brave and spellbinding memoir . . . Belafonte tells a sweeping story. . . . Surprising and revelatory." —The Washington Post

"A gorgeous account of the large life of a Harlem boy." —Garrison Keillor, The New York Times Book Review
 
"The 'Song' of [Belafonte's] life has been . . . diverse, encompassing the heartbreaking ballads of poverty and loss, up-tempo pop songs of fame and wealth, and deeply felt spirituals of dedication to social justice. The world is richer for having heard them." —The Boston Globe
 
"This rich memoir chronicles a lifetime of activism alongside some of history's greatest heroes and sheds new light on moments that shaped our nation. Through it all, Harry exudes the same passion and candor I've experienced in our friendship and conversation over the years." —President Bill Clinton

"Absorbing. . . . Belafonte is a man of many conflicting identities, all of which he's needed to help change the world." —New York magazine
 
"An honest, in many ways important and genuinely revelatory autobiography. . . . My Song is a more than fitting denouement for a life well lived." —The Seattle Times
 
"Engrossing. . . . My Song is rich with vivid scenes of Belafonte working as an advisor, mediator, fundraiser and implementer."—San Francisco Chronicle
 
"Even amid the most intensely charged subject matter, Belafonte traces a path . . . with the easygoing charm of a born raconteur. Uncluttered and free of fuss, his narrative unfolds effortlessly. . . . The world may think of Belafonte as an entertainer first and an activist second, but My Song makes it engagingly, compellingly clear that he wishes his legacy to be prioritized the other way around." —The A.V. Club
 
"Harry Belafonte has led an extraordinary life. . . . Some of the richest passages . . . focus on Belafonte's social engagement." —USA Today
 
"To read Harry Belafonte's new memoir, My Song, is to discover a man who has packed enough life for ten people into eighty-four years." —NPR/Morning Edition
 
"Belafonte certainly knows how to make an immediate and lasting impression. My Song follows suit with prose that's fluid yet intensely detailed. . . . [There's] a keen awareness of his greatness and place in history—but it's never overbearing. After all, it's not bragging when it's true." —The Austin Chronicle
 
"The entertainer-activist par excellence of his generation. . . . Belafonte, despite his gift for pungent soundbites, is a thoughtful man whose barbs are often tempered by nuanced observations on art, politics and race." —The Daily Beast
 
"Belafonte's story is the tale of a man who has well and truly balanced stardom and serious activism." —The New Republic
 
"A story of triumph amid adversity that focuses on the intriguing personal life of one of the 20th century's most iconic actors." —The Root
 
"Bracingly opinionated autobiography from an American original, still provocative in his ninth decade ." —Kirkus Reviews (starred)
Vintage, 9780307473424, 512pp.
Publication Date: November 13, 2012
About the Author
Harry Belafonte's 1956 album Calypso made him the first artist in history to sell more than one million LPs. He has won both a Tony Award and an Emmy, and he was awarded the National Medal of Arts by President Clinton. He has served as a UNICEF Goodwill Ambassador and is the recipient of Kennedy Center Honors for excellence in the performing arts. He currently resides in New York City with his wife, Pamela.
 
Michael Shnayerson, a longtime contributing editor to Vanity Fair, is the author of Irwin Shaw; The Car That Could; The Killers Within, coauthored with Mark J. Plotkin, and Coal River, which recounted the efforts of Appalachian lawyers and grassroots groups to stop the devastating practice of mountaintop coal removal in southern West Virginia. Shnayerson's passion for those environmental activists was one reason Harry Belafonte chose him to collaborate on his autobiography. Shnayerson lives in Bridgehampton, New York, with his daughter, Jenna.