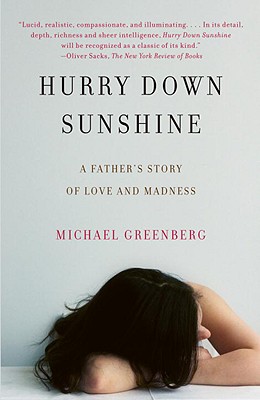 Hurry Down Sunshine
A Father's Story of Love and Madness
Paperback

* Individual store prices may vary.
Other Editions of This Title:
Digital Audiobook (9/8/2008)
Paperback (12/4/2018)
Hardcover (9/9/2008)
Compact Disc (9/9/2008)
September 2008 Indie Next List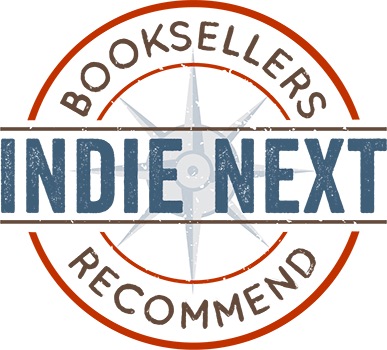 "A haunting memoir of a father and wife dealing with a daughter's sudden psychotic breakdown. Filled with brilliant imagery and the strain her illness brought to her family, this is an important book that will bring some element of understanding to such painful situations."
— Amy Ellis, Front Street Books, Alpine, TX
View the List
Description
A TIME BEST BOOK OF THE YEAR

Hurry Down Sunshine is an extraordinary family story and a memoir of exceptional power. In it, Michael Greenberg recounts in vivid detail the remarkable summer when, at the age of fifteen, his daughter was struck mad. It begins with Sally's sudden visionary crack-up on the streets of Greenwich Village, and continues, among other places, in the out-of-time world of a Manhattan psychiatric ward during the city's most sweltering months. It is a tale of a family broken open, then painstakingly, movingly stitched together again.

Among Greenberg's unforgettable cast of characters are an unconventional psychiatrist, an Orthodox Jewish patient, a manic Classics professor, a movie producer, and a landlord with literary aspirations. Unsentimental, nuanced, and deeply humane, Hurry Down Sunshine is essential reading in the literature of affliction alongside classics such as Girl, Interrupted and An Unquiet Mind.
Praise For Hurry Down Sunshine: A Father's Story of Love and Madness…
"Lucid, realistic, compassionate, and illuminating.... In its detail, depth, richness and sheer intelligence, Hurry Down Sunshine will be recognized as a classic of its kind." —Oliver Sacks, The New York Review of Books

"[Hurry Down Sunshine] is about tenacity and tenderness, feeling helpless but being present, about cracking up, then finding the wherewithal to glue the jagged pieces of your mind back together again. But mostly it's about love."  —Oprah Winfrey, in her letter to readers in O, The Oprah Magazine

"Triumphant. . . . Greenberg renders the details of his daughter's breakdown with lyrical precision." —The Washington Post

"There is a dancing, dazzling siren seductress at the heart of this book and . . . [it is] madness itself. . . . The startling associative imagery that gives Greenberg's writing its power is like a domesticated version of the madness that nearly carried away his daughter's life." —Time

"This memoir of a family crisis captures the grief that transformed their lives . . . readers come away with a sense of the intractable nature of psychosis and the courage it requires for patients like Sally, whose struggles continue, merely to live." —People

"[Hurry Down Sunshine's] fundamental strength arises from Greenberg' s insistence on facing the demons that held his girl in their dark thrall. Sally' s descent and tentative return form the map for this story; Greenberg's courage lies in his willingness to follow her down that terrible path, no matter where it leads." —Bookforum

"[A] remarkable account." —The New York Times Book Review

"[A] finely observed memoir . . . written in delicately episodic style. Vivid." —The Wall Street Journal

"Touching, warmly intimate, and unsparing. . . . Like the best fiction, this memoir has transcended the merely particular and eccentric to constitute a kind of hard-won art." —Joyce Carol Oates, Times Literary Supplement (London)

"Beautifully written. . . . The literary precedents Greenberg turns to are Joyce and Robert Lowell. . . . There are echoes of Virginia Woolf, too. . . . Sally's psychiatrist calls . . . the mind falling in love with its delusions . . . 'the evil seduction'. But Greenberg can understand the impulse, and it's this that gives Hurry Down Sunshine such power." —The Guardian (London)

"A story of almost mythic power. . . . A compelling narrative about how one family coped with madness. . . . Tough and lyrical. . . . Greenberg brings a true writer's sensibility to every line."
—The Times (London)

"[A] moving, brutally self-examining and unsettling memoir." —The Daily Mail (London)

"[Greenberg] writes beautifully. . . . [He is] gratefully and minutely observant. . . . His cast captivates." —The Observer (London)

"The psychotic break of his fifteen-year-old daughter is the grit around which Michael Greenberg forms the pearl that is Hurry Down Sunshine. It is a brilliant, taut, entirely original study of a suffering child and a family and marriage under siege." –Janet Malcolm, author of The Silent Woman: Sylvia Plath & Ted Hughes and The Journalist and the Murderer

"One of the most gripping and disturbingly honest books I have ever read. The courage Michael Greenberg shows in narrating the story of his adolescent daughter's descent into psychosis is matched by his acute understanding of how alone each of us is, sane or manic, in our processing of reality and our attempts to get others to appreciate what seems important to us. This is a remarkable memoir." —Phillip Lopate, author of Two Marriages and Waterfront: A Journey Around Manhattan
Vintage, 9780307473547, 256pp.
Publication Date: September 8, 2009
About the Author
A native New Yorker, Michael Greenberg is a columnist for the Times Literary Supplement (London), where his wide-ranging essays have been appearing since 2003. His fiction, criticism, and travel pieces have been published in such varied places as O, The Oprah Magazine, Bomb, The Village Voice, and The New York Review of Books. He lives in New York with his wife and son.
Why does the author doubt Sally's psychosis? How does each family member deal with the crisis differently, and what do their reactions tell you about them?
The author refers to the illness of James Joyce's daughter and how Joyce copes with Lucia's madness. Discuss the differences and similarities between Greenberg's and Joyce's reactions to their daughters' illnesses.
Consider the author's grief over Sally's illness in relation to his mother's guilt over her troubled son, Steven. In what ways are parental guilt intensified in times of crisis?
Before her psychotic episode, Sally refuses to believe Pat's devotion to her is sincere. How does their relationship change as Sally battles to overcome the psychosis? How does Pat's revelation about her close friend after the fight with Michael shed light on her devotion to Sally as a mother?
How does the Hasidic family respond to Noah's psychosis? How was it different from Sally's family? Were there any similarities? Why do you think Noah and Sally were drawn to each other?
Throughout the story, the author interjects scenes that reflect current events happening in the world. How does Greenberg use these events to give the reader a better understanding of what he is going through?
Greenberg's mother arrives at the hospital dressed in a new outfit each day. Similarly, when Greenberg returns to his studio to write for the first time since Sally has come home, he removes all references to chaos and crisis from his book. Greenberg writes, "the harder the blow, the more polish is required". Do you think a mutual need to restore order is an effort to fix Sally or simply a defense mechanism?
When Greenberg takes a dose of Sally's medication to try and see the world as she does, the reader also gets a glimpse of that world. What is your reaction? Does it change Greenberg's perception of her illness? How does Greenberg's medicated state influence his meeting with Jean-Paul?
How is the narrator's relationship with his brother, Steven, both a responsibility he enjoys as well as a source of burden for him? Cite examples.
Greenberg describes infant Sally, as distinctly fiery: "a thrasher, a gripper, a grasper, a yanker of fingers and ears". In what ways does Sally's madness inform the way the author reflects on her infancy and childhood?
Compare Sally's use of the name "Father" to Greenberg's own description of himself as her "touchstone of sanity". How does this change after his fight with Pat?
In the midst of a crisis, families either pull together or are torn apart. How did Sally's illness change the dynamics between family members?
How is psychosis understood and misunderstood in society, and how has this changed over time? If Steven were raised in Sally's generation, do you think he would have turned out differently?
Do you feel that Greenberg and Pat and Robin did a good job in caring for Sally during her time of crisis? Would you have responded differently?
Would you describe the relationship between Sally's biological mother Robin and her stepmother Pat as tense? Harmonious? What do you think of the position of a stepmother in such a situation?
Do you think Dr. Lensing was an effective therapist to Sally?
James Joyce called psychosis "the most elusive disease known to man and unknown to medicine." Do you think metal illness is a medical disease or an extreme aspect of who we are as human beings?
Throughout Hurry Down Sunshine we see glimpses of Sally's unusual verbal brilliance. Do you think these flashes of brilliance are symptoms of Sally's psychosis or an expression of who she really is? Do you think it is possible to separate Sally's behavior while psychotic from her personality and way of being when she is not psychotic or do they seem to be aspects of a single person?
or
Not Currently Available for Direct Purchase