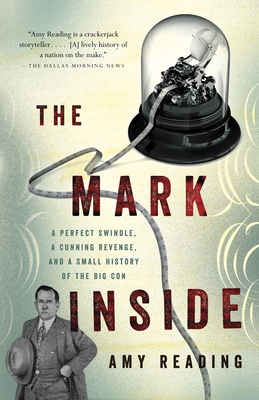 The Mark Inside (Paperback)
A Perfect Swindle, a Cunning Revenge, and a Small History of the Big Con
Vintage, 9780307473592, 304pp.
Publication Date: February 26, 2013
Other Editions of This Title:
Digital Audiobook (3/5/2012)
Hardcover (3/6/2012)
* Individual store prices may vary.
Description
In 1919, Texas rancher J. Frank Norfleet lost everything he had in a stock market swindle—twice. But instead of slinking home in shame, he turned the tables on the confidence men. Armed with a revolver and a suitcase full of disguises, Norfleet set out to capture the five men who had conned him, allowing himself to be ensnared in the con again and again to gather evidence on his enemies. Through the story of Norfleet's ingenious reverse-swindle, Amy Reading reveals the fascinating mechanics behind the big con—an artful performance targeted to the most vulnerable points of human nature—and invites you into the crooked history of a nation on the hustle, constantly feeding the hunger and the hope of the mark inside.
About the Author
Amy Reading holds a Ph.D. in American Studies from Yale University. She lives in upstate New York with her husband and two children.

www.amyreading.com
Praise For The Mark Inside: A Perfect Swindle, a Cunning Revenge, and a Small History of the Big Con…
"Amy Reading is a crackerjack storyteller. . . .  [A] lively history of a nation on the make." —The Dallas Morning News

"[A] remarkable piece of storytelling . . .[filled with] brilliant portraits. . . . It's great fun to read. No crime in that, is there?" —The Boston Globe

"Perhaps the best book I've ever read on con artists and con artistry. . . . It's thrilling and hilarious by turns and when you're done, you understand the past and the present better." —Cory Doctorow, Boing Boing
 
"An engaging book for anybody who wants to better understand misconduct in the realm of finance—and the consequences of such misconduct for everybody involved." —USA Today


"Most scholarship reads like a trip to the dentist. The Mark Inside reads like a trip to the track." —David Mamet, Pulitzer Prize–winning author of Glengarry Glen Ross and House of Games

"An astounding tale, brought to vivid life by an historian who has had to become an expert at distinguishing fact from romantic fiction." —Businessweek

"A skillful exploration of the development of con artistry in America. . . . Reading's side narratives and contextual notes are illuminating, giving us a more refined sense of what it felt like to live in an America that was developing at a breakneck pace." —Fortune
 
"Amy Reading brings to life one actual con in a book as riveting as a movie. . . . [The Mark Inside] is an amazing piece of historical research that will ensnare the reader." —Newark Star-Ledger

"[Reading] delivers the goods. . . . A whopping good tale." —Richmond Times-Dispatch

"Thrilling and suspenseful." --Winnipeg Free Press

"Engrossing. . . . [Reading] gets to the center of both Norfleet's story and the mass appeal of the con artist as a figure in American culture." —The Paris Review

"An entertaining read, grounded in detailed historical analysis. . . . A fascinating story of crime and punishment." —New York Journal of Books

"An uproarious history of the con game in America." —Asbury Park Press

"This account of con artists and obsessive revenge is replete with dramatic twists and turns. . . . [and] vibrant characterizations. . . . This narrative of vigilante justice flows like fiction, as con artistry is illuminated throughout, with resonance in today's world of high-tech con artistry." —Publishers Weekly

"This work, which puts deception in a sociological context from the settlement of the colonies on, is riveting, exciting, and eye-opening. . . . Thoroughly researched and engagingly presented." —Booklist (starred review)

"[The Mark Inside] takes us inside the world of grifting and one of the slickest scams in history outside of Wall Street." —Gizmodo

"With pitch-perfect storytelling and stylish prose, Amy Reading weaves a gripping tale of a grand swindle and even grander act of revenge, a solo manhunt throughout North America that's as hilarious as it is compelling. Rarely has history been this fun, fast-paced, and fulfilling. The Mark Inside is a book you won't put down and a story you'll never forget." —Karen Abbott, New York Times bestselling author of American Rose and Sin in the Second City

"Part page-turning crime drama, part juicy tale of vengeance and obsession, part informative social history, and part  intriguing epistemological rumination about literary truth, Amy Reading's The Mark Inside is always great fun. From the first page Ms. Reading hooks the reader as shrewdly as any of the bunco men she writes about—only she makes good on this enticement, delivering narrative gold." —Howard Blum, bestselling author of The Floor of Heaven and American Lightning

"An astonishing story of one victim's determined quest to bring down a ring of swindling confidence men.  We have rigged fights, fake stock exchanges, gun battles, jailbreaks, a hardy Texan, an honest dentist and a righteous DA.  Here's early twentieth-century capitalism—a great humbug run by the ghost of a grinning P.T. Barnum." —Ann Fabian, author of Card Sharps and Bucket Shops

"It's tempting to say that The Mark Inside reads like a historical novel, but really it's more like a great heist film. Amy Reading entertains while explaining why all Americans—from Ben Franklin to Bernie Madoff—are part trickster and part sucker." —Scott A. Sandage, author of Born Losers
or
Not Currently Available for Direct Purchase