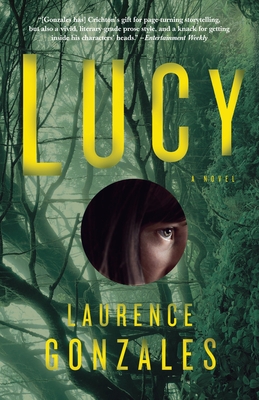 Lucy (Paperback)
Vintage, 9780307473905, 320pp.
Publication Date: July 12, 2011
Other Editions of This Title:
Digital Audiobook (7/12/2010)
Hardcover (7/13/2010)
* Individual store prices may vary.
Description
Primatologist Jenny Lowe is studying bonobo chimpanzees deep in the Congo when she is caught in a deadly civil war that leaves a fellow researcher dead and his daughter, Lucy, orphaned. Realizing that the child has no living relatives, Jenny begins to care for Lucy as her own. But as she reads the late scientist's notebooks, she discovers that Lucy is the result of a shocking experiment, and that the adorable, magical, wonderful girl she has come to love is an entirely new hybrid species—half human, half bonobo.
About the Author
Laurence Gonzales is the author of three novels and five books of nonfiction. His best-selling book Deep Survival has been published in six languages.
Praise For Lucy…
"[Gonzales has] Crichton's gift for page-turning storytelling, but also a vivid, literary-grade prose style, and a knack for getting inside his characters' heads." —Entertainment Weekly

"Does time ever flow when you're caught up in this one! . . .  A fast-paced . . . book you'll keep on reading, through heat or cold, rain or snow or sleet." — All Things Considered (NPR)
 
Primatologist Jenny Lowe is studying bonobo chimpanzees deep in the Congo when she is caught in a deadly civil war that leaves a fellow researcher dead and his daughter, Lucy, orphaned. Realizing that the child has no living relatives, Jenny begins to care for Lucy as her own. But as she reads the late scientist's notebooks, she discovers that Lucy is the result of a shocking experiment, and that the adorable, magical, wonderful girl she has come to love is an entirely new hybrid species—half human, half ape.
 
"Lucy is fundamentally a story about love. . . .  Heartbreaking and heartwarming, hard to put down and hard to forget." —The Miami Herald
 
"Outstanding. . . . [Lucy] is beach reading with bite." —Chicago Tribune
 
"Lucy is an appealing character—a bright, perceptive, lonely, observant adolescent…. [Gonzales] makes . . .  her transformation from a shy, unsure outsider into an all-American teenager thoroughly believable" —The New York Times
 
"Michael Crichton fans will go ape for this fascinating … Frankenstein tale." —People

"Gonzales poses some big questions that readers will think about long after turning the last page. Lucy is a great read—and not just for adults." —Chicago Sun-Times
 
"Gonzales's Lucy is an improbably delightful young lady. . . . Lucy pulls the reader in because of the sweet girl at its center, but the novel also makes one think about what it means to be human, and how love can be a bridge to understanding and acceptance." —BookPage
 
"Timely and provocative. . . . Gonzales injects [his dialogue] with doses of frivolity, wit, and a youthful insight at once frightfully innocent and calculatingly wise to the power of media and technology." —The Boston Globe
 
"[A] coming-of-age-except-I'm-also-part-bonobo biotech thriller. . . . This is an enjoyable ride that makes you think about what it means to be human." —Outside
 
"The clever ending Mr. Gonzales has come up with for Lucy marks a complete departure from the Frankenstein template, and it's oddly satisfying on an emotional level." —The New York Times
 
"Lucy is more than a high-school drama, a fish-out-of-water novel about how a hybrid girl tries to fit in at a suburban Chicago high school. . . . This Lucy is an action-packed politically charged thriller that puts evolution forth as an unassailable fact, and raises ethical and moral questions about biotechnical science, government power and the morality of leadership." —Chicago Tribune
 
"Laurence Gonzales presents us with a captivating lead character. . . . Part science thriller, part tender novel, Lucy is written with a full awareness of the evil people are capable of. Gonzales, like Mary Shelley before him, shows us on the brink of a terrible knowledge." —The Free Lance-Star (Fredericksburg, VA) 
 
"Harks back to the science fiction of the mid-20th century. . . . Lucy [is] a likeable and thoroughly intriguing character with a unique perspective. . . . Reveals a generous spirit and a flair for suspense." —The Columbus Dispatch
 
"Love and loss are at the core of this unusual story that analyzes life, relationships and issues of evolution." —Woman's Day
 
"Gonzales excels at creating universal moments." —The News & Observer (Raleigh, NC)
 
"Shrewd social critique. . . . Gonzales raises profound questions about identity, family, animal and human rights, and genetic engineering without compromising the ever-escalating suspense. Lucy is irresistible, her predicament wrenching, and Gonzales's imaginative, sweet-natured, hard-charging, and deeply inquisitive thriller will be a catalyst for serious thought and debate." —Booklist 
 
"A riveting, moving and informative survival story." —San Antonio Express-News
 
"Lucy is much more than an 'ape' and this novel is much more than just a summer beach book." —Curled Up With A Good Book
 
"Gonzales does a great job of keeping the action moving at a fast pace. . . . Gonzales comes back to the question of what it means to be human again and again. . . . Reading Lucy is an interesting way to confront this question and find your own answer." —The Advocate
or
Not Currently Available for Direct Purchase