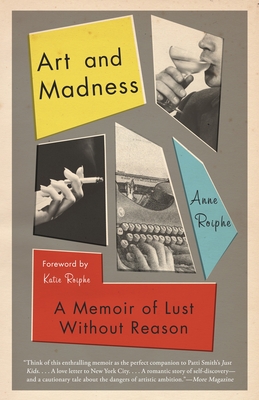 Art and Madness: A Memoir of Lust Without Reason (Paperback)
A Memoir of Lust Without Reason
Anchor Books, 9780307473967, 220pp.
Publication Date: March 6, 2012
* Individual store prices may vary.
or
Not Currently Available for Direct Purchase
Description
Coming of age on Park Avenue in the 1950s, Anne Roiphe had an adolescence entrenched in privilege, petticoats, and social rules. Young women at the time were expected to give up personal freedom for devotion to home and children. Instead, Roiphe chose Beckett, Proust, Sartre, and Mann as her heroes, and became one of the girls draped across the sofa at parties with George Plimpton, Norman Mailer, and William Styron, sometimes with her young child in tow. For a time she was satisfied to play the muse, but at the age of twenty-seven, divorced and finally freed of the notion that any sacrifice was worth making for art, she began to write. Here, in her clear-sighted, perceptive, and unabashed memoir, Roiphe shares with astonishing honesty the tumultuous adventure of self-discovery that finally led to her redemption.

About the Author
Anne Roiphe's eighteen books include the memoir Fruitful, a finalist for the National Book Award, and the novel Up the Sandbox, a national bestseller. She has written for the New York Times, the New York Observer, Vogue, Elle, Redbook, andParents, and is a contributing editor to the Jerusalem Report. She lives in New York City."
Praise For Art and Madness: A Memoir of Lust Without Reason…
 "Think of this enthralling memoir as the perfect companion to Patti Smith's Just Kids. . . . A love letter to New York City. . . . A romantic story of self-discovery—and a cautionary tale about the dangers of artistic ambition." —More Magazine 

"Uniquely honest, emotionally complex and utterly readable." —Salon

 "Jaw-dropping. . . . What especially sets Art and Madness apart from its autobiographical sorority sisters is its mercilessness. . . . Searing." —Maureen Corrigan, Fresh Air (NPR)
 
"Wry. . . . Sharply perceptive. . . . Witty." —Janet Maslin, The New York Times

"Enthralling, candid. . . . Her story shares elements with Patti Smith's Just Kids, another coming-of-age story that conjures heady days among fiercely ambitious, self-destructive men. . . . Beautifully evokes a dazzling New York era." —Newsday
 
"Oh, what a voice!. . . . Roiphe's seamless transitions between the two periods in her life play a useful role in explaining her development as a writer. . . . A wise exploration of how she found her voice." —Minneapolis Star Tribune
 
"Anne Roiphe's unsparing memoir vividly recaptures a time when writing was everything, a lost world devoted to the hot pursuit of art, of fame."—Morris Dickstein, author of Dancing in the Dark and Gates of Eden
 
"Anne Roiphe candidly recounts her youthful escapades on New York's literary scene in the 50s and 60s." —Vanity Fair
 
"What an extraordinary memoir Anne Roiphe's book is, so compelling and immediate. . . . Art and Madness is an extraordinary evocation of its era. But it's an even more wonderful portrait of an artist growing her wings inside the chrysalis of that time until at last she bursts forth in glory." —Amanda Vaill, author of Everybody Was So Young: Gerald and Sara Murphy: A Lost Generation Love Story
 
"Riveting. . . . Written in a tone of Didion-like detachment but saffroned with her distinctive, pungent regrets and her curious humility. . . . Brave, revealing recollections." —The Daily Beast
 
"A nearly perfect narration of a conscience torn, and of a young woman's yearning for a life of significance. . . . Her precise, spare, and subtle rendering of her coming of age lends her book the feel of a fable—a fable written in commiseration with, but mostly as a warning for, those who have been similarly afflicted." —The Second Pass
 
"Art and Madness riveted me. It depicted the fifties turning sixties as I too experienced them. . . . This is a valuable inner history of those times." —Erica Jong, author of Seducing the Demon: Writing for My Life
Advertisement