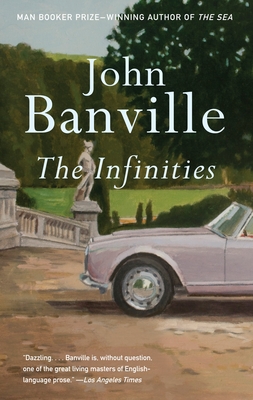 The Infinities (Vintage International) (Paperback)
Vintage, 9780307474391, 288pp.
Publication Date: February 8, 2011
Other Editions of This Title:
Digital Audiobook (2/22/2010)
Compact Disc (2/23/2010)
Hardcover (2/23/2010)
Hardcover, Large Print, Large Print (8/1/2010)
Hardcover (10/1/2010)
* Individual store prices may vary.
Description
On a languid midsummer's day in the countryside, the Godley family gathers at the bedside of Adam, a renowned mathematician and their patriarch. But they are not alone in their vigil. Around them hovers a clan of mischievous immortals—Zeus, Pan, and Hermes among them —who begin to stir up trouble for the Godleys, to sometimes wildly unintended effect. The Infinities—John Banville's first novel since his Booker Prize-winning and bestselling The Sea—is at once a gloriously earthy romp and a wise look at the terrible, wonderful plight of being human.
About the Author
John Banville, the author of fourteen previous novels, has been the recipient of the Man Booker Prize, the James Tait Black Memorial Prize, the Guardian Fiction Award, and a Lannan Literary Award for Fiction. He lives in Dublin.
Praise For The Infinities (Vintage International)…
"Dazzling. . . . Banville is, without question, one of the great living masters of English-language prose. The Infinities is a dazzling example of that mastery."
—Los Angeles Times

"Unforgettable, beautifully written. . . . Banville is frequently compared to such masters as Beckett and Nabokov, and for years his books have been among the most haunting, beautiful and downright strange in contemporary literature. . . . If Banville is capable of writing an unmemorable sentence, he has successfully concealed the evidence."
—The Washington Post

"If The Infinities has the bones of a novel of ideas, it's fleshed out and robed as a novel of sensibility and style. . . . Sumptuous."
—The New York Times Book Review

"Ingenious. . . . [The Infinities deals with] mortality, creativity, and the possibility of making something truly new in a world that seems increasingly exhausted morally, politically, and spiritually."
—The New Yorker

"Entrancing. . . . Banville achieves real depth in this alternately grave and bawdy exploration of the nature of time, the legacy of grief, and the costs and sources of inspiration."
—San Francisco Chronicle

"Seamlessly sophisticated fiction. . . . [Banville's] agility is abundantly evident. . . . It takes expert writerly effort to toss each little thunderbolt with such seeming ease."
—The New York Times
 
"Mesmerizing. . . . The Infinities is rife with mischief, as well as godly/authorial omniscience, irony and wordplay, but what warms and anchors it is its humanity."
—The Miami Herald
 
"Intriguing, complex, and ultimately elusive, The Infinities manages, through divine sleight of mind, to bring glimmers of possibility to its dark characters: as such, it is a novel for our hopeless times."
—Claire Messud, Irish Times
 
"A Midsummer Night's Dream of a story. . . . Pure pleasure."
—Minneapolis Star-Tribune
 
"Spellbinding."
—Financial Times
 
"Banville's best and brightest work. . . . Masterful."
—Bookforum
 
"Banville may have surpassed himself with the brilliance and introspection of his writing in [this] mythic novel."
—The Buffalo News
 
"Characteristically gorgeous."
—Milwaukee Journal-Sentinel
 
"Like Nabokov, Banville has a wide-ranging intellect and a rather godlike view of the power of fiction—and, like Nabokov, he's got the goods to back it up. The Infinities is an inventive melding of myth and realism, a sly and poignant tale of lust and loss, but above all it is a joy to read for the sheer beauty of its language."
—St. Petersburg Times
 
"A major work of Shakespearean imagination, Banville's fifteenth novel is among his best."
—Austin American-Statesman
 
"Banville is a glorious stylist whose prose holds sustaining pleasures. . . . You keep turning the pages just to gather more of these bouquets. But when Banville waxes philosophic he's even better; he's heartbreakingly poignant. . . . [A] rich and strange novel, as ambitious in its reach as it is delightful to read. This god has outdone himself."
—Newsday
 
"The Infinities borders on the divine—mysterious, warm-hearted, and elegant, with traces of such literary gods as Vladimir Nabokov and fellow Irishman Oscar Wilde. What Banville shares with those two, along with the ability to write great prose, is a sense of mischief—here grown to cosmic proportions."
—Boston Phoenix
 
"The Infinities is a Beethoven string quartet of a novel. It deals with huge ideas—plenty of them—and in doing so, breaks new ground in its own medium. . . . A masterpiece of a book."
—Daily Telegraph (London)