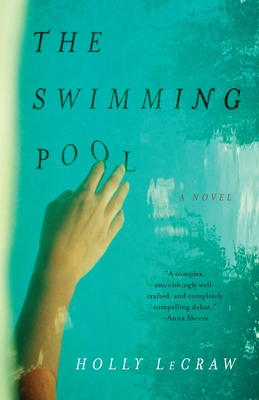 The Swimming Pool (Paperback)
Anchor, 9780307474445, 320pp.
Publication Date: April 19, 2011
Other Editions of This Title:
Digital Audiobook (4/5/2010)
* Individual store prices may vary.
Description
Marcella Atkinson was a married woman when she fell in love with Cecil McClatchey, himself a married father of two. On the same night their romance abruptly ended, Cecil's wife was found murdered.
 
Seven summers later, Marcella is divorced and estranged from her daughter, mired in grief and guilt. But when Cecil's grown son, Jed, returns to the Cape and finds Marcella's bathing suit buried in his father's closet, this relic of the past sets in motion a passionate affair. In this twisting, sensuous novel of  devotion and infidelity, mistakes of the past must rise to the surface. 
 
About the Author
Holly LeCraw was born and raised in Atlanta. She now lives outside Boston with her husband, journalist Peter Howe, and their three children. Her short fiction has appeared in various publications and has been nominated for a Pushcart Prize.
 


Praise For The Swimming Pool…
"A complex, astonishingly well-crafted, and completely compelling debut." —Anita Shreve

"Holly LeCraw weaves timelines, storylines and relationships with the skill of a master storyteller. Her debut novel is a love story, a tale of a dysfunctional family and a mystery, all packed into one lovely book." –The Tampa Tribune

"Smart. . . . Vivid. . . . Ambitious. . . . Effectively illustrates how the past can haunt the lives of those left living." —The Boston Globe
 
"This hazy-hot novel, set on Cape Cod, chills to the bone." —People 
 
"Atmospheric and intriguing. . . . Another unconventional take on love emerges from The Swimming Pool by Holly LeCraw. Though set on Cape Cod, the ominous tone brings this to a different level of summer read. The heroine Marcella had an affair years earlier with a married man and now gets passionately involved with his grown son. Intricately woven and well-crafted." —The Daily Beast
 
"The Swimming Pool is more than an auspicious debut. Holly LeCraw's first novel is gripping, passionate, and beautifully written from start to finish, a moving chronicle of two damaged families struggling to free themselves from a complex web of secrets and lies." —Tom Perrotta
 
"The suburban afflictions that are drowning these characters make [The Swimming Pool] difficult to put down." —Entertainment Weekly
 
"A family drama so visceral it's hard to believe it's not an autobiography." —The Daily Beast
 
"LeCraw moves the story along at a nice clip, unpacking scenes and returning to them from different perspectives." —The New York Times Book Review
 
"The Swimming Pool is as riveting and psychologically complex as Hitchcockian film noir. LeCraw displays perceptiveness and intelligence in weaving together a tale of entangled lies, complicity, betrayals, and unstoppable consequences." —Amy Tan
 
"A fearless debut novel full of fresh insights and casually elegant writing. . . . Wonderful." —Atlanta Magazine
 
"[LeCraw's] storytelling is confident and well-crafted, as she juxtaposes scenes from the past with those of the present, vividly demonstrating how characters, situations, and conflicts persist through time." —Bookreporter  
 
"Engrossing. . . . Set at the overlap between Updike and Cheever countries, on the Connecticut coast and Cape Cod." —The Free Lance-Star (Fredericksburg, VA)
 
"LeCraw's characters are well-drawn and her writing fluid. . . . The back-and-forth through time of the narrative works amazingly well. And the heartbreaking progress of Callie's depression creates nail-biting suspense." —Edmonton Journal
 
"This exceptionally complex and accomplished novel does not read like the work of a beginning writer. With a strong underlying theme of longing woven throughout, LeCraw's work skillfully takes these characters through varying emotional journeys. An insightful piece, not just for beach or airplane reading. An author to watch." —Library Journal (starred review)
 
"The kind of dark, thorny, complex novel I love. . . . The Swimming Pool is truly a knockout." —Caroline Leavitt   
 
"Seasoned by a cast of refreshing-yet-familiar characters and set against the backdrop of summer life by the sea." —Marie Claire
 
"An insightful, compelling examination of love and betrayal. Powerful and page-turning." —Winnipeg Free Press
 
"Every sentence drips with delicious deeper meaning." —AARP Magazine
 
"A love triangle with Oedipal implications crosses generations. . . . LeCraw's serpentine debut offers a searing blend of intrigue and desire." ­—Booklist
 
"A riveting family story that will hold the reader enthralled from the very first page. With great suspense, Holly LeCraw skillfully orchestrates the collision course of a present-day love affair with the dark mysteries of a family's past. She is a wonderful writer." —Jill McCorkle
 
"Under Holly LeCraw's spell, what could have been pure pulp is instead a passionate and suspenseful family drama and murder mystery. . . . Although LeCraw's descriptive prose is sensual and worth savoring, readers will whip through The Swimming Pool, eager to find out what really happened on the night of Betsy's murder. . . . How thrilling it is to anticipate what [LeCraw] will come up with next." —BookPage
 
"Strong writing keeps the reader sucked in. . . .  It's a story of deep and searing love, between siblings and lovers, but most powerfully between parents and their children." —Publisher's Weekly
 
"The Swimming Pool would have knocked me over if Holly LeCraw already had a shelf full of prize-winning books to her credit. What an intelligent, beautifully plotted, intriguing and un-put-downable story about family secrets that interlock and haunt. I was totally captivated and lost in admiration for this masterful novel." —Elinor Lipman
or
Not Currently Available for Direct Purchase