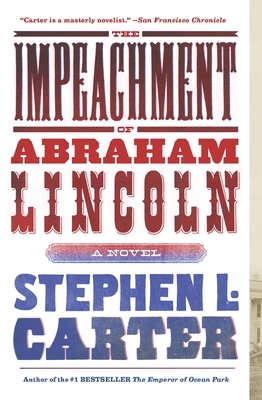 The Impeachment of Abraham Lincoln (Paperback)
Vintage, 9780307474483, 688pp.
Publication Date: April 9, 2013
Other Editions of This Title:
Digital Audiobook (7/9/2012)
Hardcover (7/10/2012)
Compact Disc (7/10/2012)
Compact Disc (7/10/2012)
Pre-Recorded Audio Player (7/10/2012)
* Individual store prices may vary.
Description
From the author of the bestsellers The Emperor of Ocean Park and New England White, an electrifying and provocative historical novel set in an alternate history in which Abraham Lincoln survives assassination at Ford's Theatre on April 14, 1865. In this gripping legal and political thriller, Stephen L. Carter imagines what might have happened if Lincoln had lived to face the tumultuous post-war politics of 1865 Washington, D.C., including an impeachment trial for overstepping his Constitutional authority during the Civil War. At the novel's center is Abigail Canner, a young black woman recently graduated from Oberlin, who is hired by the D.C. law firm that is working on Lincoln's defense. When one of Lincoln's lead lawyers is found brutally murdered, Abigail is plunged into a web of intrigue, politics, and conspiracy.
About the Author
Stephen L. Carter is the William Nelson Cromwell Professor of Law at Yale University, where he has taught since 1982. He is also the author of seven books of nonfiction.

www.stephencarterbooks.com
Praise For The Impeachment of Abraham Lincoln…
Praise for Stephen L. Carter's The Impeachment of Abraham Lincoln:

"Carter is a masterly novelist. . . . Carter makes the setting seem true, creating as real an immediate postwar Washington as Gore Vidal's wartime Washington in Lincoln. He has also created an interesting Zelig-like character in the free young black woman Abigail Canner."
—San Francisco Chronicle

"An entertaining story rooted in the legal, political and racial conflicts of 19th-century America."
—The Washington Post
 
"A novel that is as epic and full of turns as the Civil War itself. . . . Carter writes with a gentle elegance of the trauma in the streets and parlors of Washington as Americans grapple with the lingering tragedy of the war, the assassination attempt, and the impeachment. . . . There are really two interesting and parallel stories here: One is a meticulously laid-out courtroom drama. . . . The other is a Grisham-style caper involving the improbable ascension of a gung-ho, young middle-class black woman named Abigail Canner. . . . Carter's cool style gives the novel a breezy accessibility."
—The Seattle Times
 
"There's a lot going on in this big, smart book. . . . What makes the novel so vastly entertaining is the author's sharp skewering of politicians, lawyers, and the monied social class that runs Washington. . . . Carter raises important questions about governing during wartime and in peace, and he interrogates the motivations behind impeachment in general. Lofty legal arguments coincide with a grittier plot involving murder, the demimonde, and a mysterious list of possible anti-Lincoln conspirators. Romantic complications abound."
—The Boston Globe
 
"Entertaining. . . . [A] rich political thriller that dares to imagine how events might have ricocheted in a different direction after the Civil War. . . . Carter's delight in all this material is infectious. He's a fantastic legal dramatist, and there's the constant pleasure of seeing his creation of Washington City in 1867, alive with sounds and smells. . . . History buffs can test their mettle by trying to unwind Carter's entangling of fact and fiction."
—The Washington Post
 
"[T]he best legal thriller so far this year. . . . I've liked Carter's four previous forays into fiction. This one, I loved."
—Patrik Henry Bass, Essence Magazine
 
"A vivid portrait. . . . The best thing about sitting down with this rich, often thrilling novel is watching its alternative history unfold."
—The Washingtonian
 
"Fascinating . . . impressively imagined . . . A time in American history when lofty principles and petty concerns battled for pride of place in the national consciousness. . . . The novel excels at drawing a vivid picture of Washington City (as it was then known), halfway between its origins as fetid swampland and the bureaucratic metropolis of today. . . . As a character, Abigail Canner is perfectly positioned to provide the reader with access to every social strata. . . . She is a proud, resourceful, intelligent heroine."
—The Oregonian
 
"Carter's tale comes to a conclusion as thrilling and untidy as the actual events that unfolded during the turbulent postwar years."
—Bloomberg.com

"A delightful novel. . . . Carter, [by] making Abigail Canner the protagonist through whose eyes one sees much of the story, shows us life in the nation's capital, the epicenter of the victorious North, as lived by its black population. That perspective is rich, rare, and almost certainly well-researched. . . . The book kept me up late, reading as fast as I can."
—Pittsburgh Post-Gazette

"Carter writes a likely and intriguing scenario. . . . His use of rich, authentic dialogue and graphic descriptions of Washington City give authority to his work."
—Louisville Courier-Journal

"A crackling good read. . . . Carter gives us a gripping portrait of Lincoln. . . . Best of all is the light Carter shines on a slice of Washington life that remains obscure to many Americans to this day: the black middle class of the mid-19th century, represented here in the trim and perspicacious person of the book's surprising sleuth, Abigail Canner . . . a black Nancy Drew with the weight of history on her shoulders."
—Chicago Tribune

"A rich blend of murder mystery, legal thriller, courtroom drama, and period piece featuring some of the historical figures of the time. What elevates Impeachment above most alternative history is how Carter charts the cross currents of race, class, and society in the raucous capital."
—The Miami Herald

"Carter lays out a fascinating What-If plot."
—St. Louis Post-Dispatch

"Superb. . . . [Carter] teases out the implications of his scenario with a deep knowledge of Lincoln's time. He tells a page-turning tale of historical espionage. . . . I'm reminded why I read fiction in the first place, and why a new book by Stephen Carter is always to be celebrated."
—John Wilson, Books & Culture

"Freed Black men, gangs of evil White men, and crafty politicians come alive in this work. Fluidly written, the pages fly by, leaving you with a feeling that this really could have happened."
—Ebony Magazine

"An engaging historical what-if . . . Provides an intriguing look at race and politics in 19th-century America with relevancies that still echo today."
—Valdosta Daily Times (Georgia)

"Abigail is a wonderful creation. . . . Carter writes in the naturalistic school of Theodore Dreiser. His strength lies in capturing the subtle nuances of social interaction between blacks and whites."
—Library Journal

"A smart and engaging what-if that has the virtue of being plausible. . . . Abigail makes for a grandly entertaining sleuth."
—Kirkus Reviews

"This novel has all the juicy stew of post–Civil War Washington, with the complexities of race, class, and sex mixed in. Carter draws on historical documents and a vivid imagination to render a fascinating mix of murder mystery, political thriller, and courtroom drama. . . . Imaginatively conceived."
—Booklist (starred review)