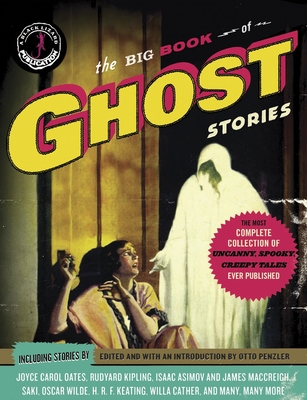 The Big Book of Ghost Stories (Paperback)
Vintage Books, 9780307474490, 833pp.
Publication Date: September 18, 2012
Description
A spirited Black Lizard anthology with over a thousand pages of haunted and haunting ghost tales. Includes eerie vintage ghost illustrations.
The ghost story is perhaps the oldest of all the supernatural literary genres and has captured the imagination of almost every writer to put pen to the page. Here, Edgar Award-winning editor Otto Penzler has followed his keen sense of the supernatural to collect the most chilling and uncanny tales in the canon. These spectral stories span more than a hundred years, from modern-day horrors by Joyce Carol Oates, Chet Williamson and Andrew Klavan, to pulp yarns from August Derleth, Greye La Spina, and M. L. Humphreys, to the atmospheric Victorian tales of Rudyard Kipling, Edith Wharton, and H. P. Lovecraft, notto mention modern works by the likes of Donald E. Westlake and Isaac Asimov that are already classics. Some of these stories have haunted the canon fora century, while others are making their first ghoulish appearance in book form. Whether you prefer possessive poltergeists, awful apparitions, or friendly phantoms, these stories are guaranteed to thrill you, tingle the spine, or tickle the funny bone, and keep you turning the pages with fearful delight.
Including such classics as The Monkey's Paw and The Open Window andeerie vintage illustrations, and also featuringhaunted mansions, midnight frights, lovers from beyond the grave, rapping, tapping, wailing shades, and ghosts, ghouls, and specters galore AlsoFeaturinghaunted mansions, midnight frights, lovers from beyond the grave, rapping, tapping, wailing shades, and ghosts, ghouls, and specters galore
About the Author
Otto Penzler is the proprietor of The Mysterious Bookshop in New York City. He was publisher ofThe Armchair Detective, the founder of the Mysterious Press and the Armchair Detective Library, and created the publishing firm Otto Penzler Books. He has twice received the Edgar Award, forThe Encyclopedia of Mysteryand DetectionandThe Lineup: The World's Greatest Crime Writers Tell the Inside Story of Their Greatest Detectives, as well as the Ellery Queen Award from the Mystery Writers of America for his many contributions to the field. He is the editor ofThe Black Lizard Big Book of Pulps, which was aNew York Timesbestseller, and several more Vintage Crime/Black Lizard anthologies, includingThe Big Book of Black Mask Stories, The Big Book of Locked-Room Mysteries, The Big Book of Sherlock Holmes Stories, andThe Big Book of Jack the Ripper.He is alsothe series editor ofThe Best American Mystery Stories of the Year. His other anthologies includeMurder for Love, Murder for Revenge, Murder and Obsession, The 50 Greatest Mysteries of All Time, andThe Best American Mystery Stories of the Century.He wrote101 Greatest Movies of Mystery & Suspense. He lives in New York City."
Praise For The Big Book of Ghost Stories…
"Volumes of frightfulness. . . . No one should go through life (let alone death) without experiencing W.W. Jacobs's 'The Monkey's Paw,' Perceval Landon's 'Thurnley Abbey,' Ambrose Bierce's 'The Moonlit Road' and M.R. James's 'Oh, Whistle and I'll Come to You My Lad.' But Penzler also includes many stories that should be equally well known. This year, for instance, I read for the first time Ellen Glasgow's 'The Shadowy Third'."
    --Michael Dirda, The Washington Post

"If you enjoy, as I have since childhood, a great ghost story well told, this book is required reading."
    --Charles McNair, Paste Magazine

"Wonderful. . . . A list on your computer is one thing. A big, fat, juicy, paperback anthology like this is something else altogether."
    --The Buffalo News (editor's choice)

"Jam packed with enough classic horror and otherworldly stories to keep you having nightmares through the month of October. . . . This collection of short stories coupled with eerie vintage illustrations is a must-have for the nightstand. The only thing that can make it better is a flashlight under the covers."
    --The Long Island Press

"This mountain-sized omnibus contains every wrinkle of the form you could ever want. . . . There's enough in this volume to please both dilettantes and devotees among ghost story readers."
    --Publishers Weekly

"Penzler has done an excellent job of collecting interesting, unnerving, and fascinating stories as well as providing nifty tidbits in the introductions. Reading most of these stories just before trying to sleep, though, is not recommended."
    --Booklist

Advertisement