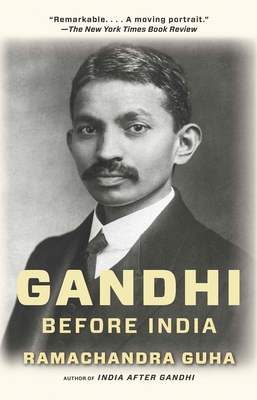 Gandhi Before India
Paperback

* Individual store prices may vary.
Other Editions of This Title:
Compact Disc (12/31/2018)
Compact Disc (12/31/2018)
MP3 CD (12/31/2018)
Hardcover (4/15/2014)
Description
A New York Times Notable Book and a San Francisco Chronicle Best Book of the Year

A revelatory work of biography, Gandhi Before India is an illuminating portrait of the life, the work, and the historical context of one of the most abidingly influential—and controversial—men in modern history. From Gandhi's birth in 1869, through his upbringing in Gujarat and his years as a student in London, to his two decades as a lawyer and community organizer in South Africa, acclaimed author Ramachandra Guha brings the past to light with extraordinary grace and clarity. Drawing on a wealth of newly uncovered materials, Gandhi Before India strips away the myths that have sprung up around the Mahatma to uncover the remarkable story of how Gandhi came of age abroad, and how he set the stage for his return to India.
Praise For Gandhi Before India…
"Remarkable. . . . [A] moving portrait." —The New York Times Book Review

"Guha is a brilliant historian who combines the gift of a storyteller, the discipline of an academic and the critical ability of seeing Gandhi as a fascinating human being, by not placing him on a pedestal. . . . [He] has re-created the past by connecting scattered dots . . . to weave a rich tapestry." —San Francisco Chronicle

"Striking. . . . Guha ably shows, for all that Gandhi influenced events in South Africa, it was he who experienced the greater change." —The Economist

"Deeply contextualized, dexterously researched, and judiciously written, this deserves to become the landmark biography of the early Gandhi." —Maya Jasanoff, New Republic

"Fascinating. . . . A biography with a remarkable ear for the resonances of Gandhi's work and time—for the fan-mail and hate-mail; for overheard disagreements with family and colleagues; for his exchanges with political acquaintances, including his enemies. . . . As exhaustively researched a biography of the African Gandhi as we will have for some time." —The Independent (London)

"[A] magisterial study. . . . Guha summarizes the traits of Gandhi's character and the stages during the first half of his life that prepared him for the much more difficult journey he would undertake once he returned to India. . . . I was rewarded beyond all of my expectations [by Gandhi Before India]." —Charles R. Larson, Counterpunch

"Substantial enough to be comprehensive, yet concise enough to be approachable by the general reader. . . . Sharp, insightful, balanced and impeccably researched." —Alex von Tunzelmann, The Times (London)

"A work of vivid social history as well as biography. . . . One of the surprises in Gandhi Before India is just how much fresh material it contains. Guha has a gift for tracking down obscure letters and newspaper reports and patching them together to make history come alive." —Patrick French, The Guardian (London)

"Fascinating. . . . [Gandhi Before India] reveals how an impossibly shy young man, who donned top hat and tails as a student at Inner Temple, transformed himself into Churchill's 'half-naked fakir,' dedicated to his spinning wheel while simultaneously challenging the might of the Empire." —The Sunday Times (London)

"The portrait offered in historian Ramachandra Guha's biography is of Gandhi as a human being, not just a hero." —Financial Times

"Gandhi Before India should be required reading for the student of contemporary affairs. . . . Guha's carefully rendered observations about class, religion, and ethnicity—how they divide people and how they can be bridged by common concerns and simple decency—are the heart of this book. . . . Remarkable." —The Christian Science Monitor

"A magisterial history. . . . In Ramachandra Guha, a great man has found a great biographer, a wise, persistent and elegant historian who has done justice to perhaps his nation's greatest story. . . . One senses, in the author's approach, something of Gandhi's own intensity and rigour. . . . [The] book never ceases to inform and intrigue." —Sydney Morning Herald

"What sets [Gandhi Before India] apart from other recent biographies . . . is Guha's resolutely non-scurrilous perspective. . . . What emerges in the end, with the slow magic of a film being developed in an old fashioned dark room, is a sharp picture of the intellectual growth of a remarkable man." —The Hindustan Times (India)

"Many will come to this biography wanting to know more about Gandhi himself. . . . Guha relates all this wonderfully. His book is clearly a labour of love, though not of uncritical infatuation. What distinguishes it is the breadth of the context—Indian, British and South African. Guha marshals his material sensitively and empathetically in order to give shape, colour and depth to the life of this saint-like figure." —Bernard Porter, The Literary Review

"Excellent and exhaustive. . . . Guha has done heroic work in reconstructing this period of Gandhi's life ... Gandhi emerges here as a fascinatingly complicated and contradictory figure . . . rich and absorbing, it will doubtless serve as the fundamental portrait of Gandhi for many years to come." —The Sunday Business Post (Ireland)

"Guha is India's best-known historian, who marshals his wide scholarship in contemporary and modern history with a raconteur's lucid felicity." —DNA Mumbai
Vintage, 9780307474780, 704pp.
Publication Date: February 3, 2015
About the Author
Ramachandra Guha has taught at Yale and Stanford universities, the University of Oslo, the Indian Institute of Science, and the London School of Economics. His books include a pioneering environmental history, an award-winning social history of cricket, and the award-winning India After Gandhi. He writes regularly on social and political issues for the British and Indian press, including columns in The Telegraph and the Hindustan Times, and his work has also appeared in The New York Times. He lives in Bangalore.