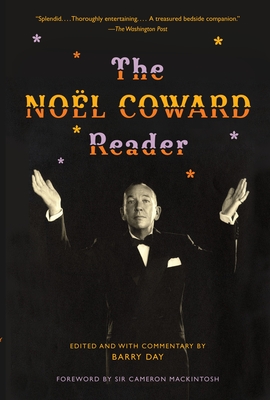 The Noel Coward Reader (Paperback)
Vintage Books, 9780307474872, 596pp.
Publication Date: September 6, 2011
Description
The Noel Coward Reader offers a wonderfully wide-ranging selection the first of its kind of the best of the Master's oeuvre, entertainingly annotated and abundantly illustrated, and including material that has never before been published.
Here are scenes from Coward's famous plays, from Private Lives to Blithe Spirit, and his screenplays, from Brief Encounter to In Which We Serve. Here are four of his best short stories, scenes from his only novel, and a generous selection of his verse, alongside the lyrics of many of his most sublime songs, including Mad Dogs and Englishmen, The Stately Homes of England, and Mad About the Boy. The Noel Coward Reader is a must-have book both for those who adore his work and for those who are just discovering the many-faceted delights of his comic genius.
About the Author
Barry Day was born in England and received his M.A. from Balliol College, Oxford. He is a Fellow of the Royal Society of Arts (FRSA), a Trustee of the Noel Coward Foundation, and was awarded the Order of the British Empire for services to British culture in the U.S.A. He lives in New York, London, and Palm Beach."
Praise For The Noel Coward Reader…
"Splendid. . . . Thoroughly entertaining. . . . A treasured bedside companion." —The Washington Post

"A compendium of the bon vivant's best works—and the perfect reminder that great wit has no expiration date." —Town and Country
 
"Barry Day, with great skill and devotion, has vividly brought the 'Master' back to effervescent life, as fresh and witty as ever." —Christopher Plummer
 
"Marvelous. . . . Excellently annotated, introduced, and placed into context to remind us . . . just how great his achievements were." —San Francisco Chronicle

"Barry Day has given himself the formidable task of ordering and justly representing a peripatetic and outpouring talent. . . . Even Coward aficionados should find unexpected pleasures." —The New York Times Book Review
 
"A wonderful selection. . . . Brilliant nuggets from an incredibly rich life's work. . . . As fresh and readable as ever." –Michael Korda, The Daily Beast
 
 "[A] triumph of good taste and intelligence. I was struck by the great variety of Coward selected by Barry Day and his fantastic knowledge about everything related to The Master. I just loved it." —André Bishop, Artistic Director of Lincoln Center Theater
 
"The timeless sensibility of Noël Coward is perfectly captured in this amazing, career-encompassing compendium of his best work. Barry Day has achieved the impossible by encapsulating an imposing, gargantuan body of work that will delight both the novice and the longtime fan." —Michael Feinstein
 
"As an avid collector of Cowardiana since my teens, I possess seventy-five or so volumes of his work, the gems of which have now—astonishingly—been encapsulated in a single volume by the remarkable Barry Day (along with his ever-erudite and always entertaining commentary). What a welcome convenience and a delight it is to have this sparkling collection in one handsome, travel-handy package!" —Tony Walton
Advertisement