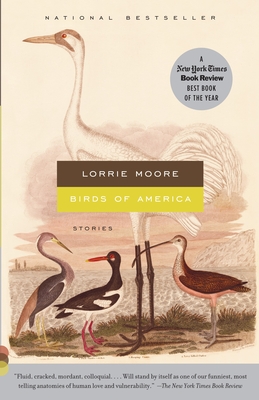 Birds of America
Stories (Vintage Contemporaries)
Paperback

* Individual store prices may vary.
Other Editions of This Title:
Digital Audiobook (6/24/2019)
Compact Disc (6/25/2019)
MP3 CD (6/25/2019)
Compact Disc (6/25/2019)
Description
"Fluid, cracked, mordant, colloquial…. Stand[s] by itself as one of our funniest, most telling anatomies of human love and vulnerability." —The New York Times Book Review

The celebrated collection of twelve stories from one of the finest authors at work today.

A New York Times Book of the Year 
A National Book Critics Circle Award Finalist
Winner of the Salon Book Award
A Village Voice Book of the Year

"A marvelous collection…. Her stories are tough, lean, funny, and metaphysical…. Birds of America has about it a wild beauty that simply makes one feel more connected to life." —The Boston Globe
 
"At once sad, funny, lyrical and prickly, Birds of America attests to the deepening emotional chiaroscuro of her wise and beguiling work." —The New York Times
 
"Stunning…. There's really no one like Moore; in a perfect marriage of art form and mind, she has made the short story her own." —Milwaukee Journal Sentinel
 
"Birds of America stands as a major work of American short fiction…. Absolutely mastered." —Elle
 
"Wonderful…. These stories impart such terrifying truths." —Philadelphia Inquirer
 
"Lorrie Moore soars with Birds of America.... A marvelous, fiercely funny book." —Newsweek
 
"Fifty years from now, it may well turn out that the work of very few American writers has as much to say about what it means to be alive in our time as that of Lorrie Moore." —Harper's Magazine

Praise For Birds of America: Stories (Vintage Contemporaries)…
A PARADE BEST BOOK OF ALL TIME

"A nest of tales that captures the eternal, hummingbird flutter of the human heart. . . . A volume in which everything comes together: the author's mordant, Dorothy Parker wit, the Joycean epiphanies, the Flannery O'Connor-esque moments of clarity and grace." —The Atlanta Journal-Constitution
 
"These new stories sparkle; they are keenly and poignantly mindful of the idioms, banalities and canards of contemporary American society, and they hum with Moore's earmark droll and incisive banter, her astonishing ability to render the intricacy of character in a few sharply focused details." —Houston Chronicle

"Cements [Moore's] reputation as one of our finest writers of fiction." —Austin American-Statesman

"Lorrie Moore has made laughingstocks of all of us. And we're devotedly, blissfully grateful. . . . Moore . . . packs more rambunctious American humor and worldly-wide melancholy into a story than many lesser writers can into an entire novel." —Newsday

"[Moore] uses language to create a kind of carbonated prose: sentences with pop and fizz, with an effervescence of imagination that continually surprises." —The Dallas Morning News

"Bats, flamingos, crows, performing ducks and bird feeders crop up in every story, but the real subject is human nature and the myriad ways Moore's characters flock together or fly apart in the face of change, stasis or grief. . . . Gorgeous. . . . Rarely has a writer achieved such consistency, humor and compassion." —Seattle Post-Intelligencer

"[Moore's] dialogue snaps with fun. . . . One could be trapped in an elevator with people like Moore's men, or especially her women, and feel the luckier for it." —San Francisco Chronicle

"Remains one of the . . . best volumes of stories that any American has published in recent decades." —Bookforum
 
"I hesitate to lay the adjective wise on one of [Moore's] age. But watching a writer move into full maturity is always exciting. Flappy-winged take-off is fun; but the sight of an artist soaring lifts the heart." —Julian Barnes, The New York Review of Books

"Written beautifully, flawlessly, carefully, with a trademark gift for the darkly comic and the perfectly observed. . . . Thrilling." —Esquire

"Moore peers into America's loneliest perches, but her delicate touch turns absurdity into a warming vitality." —The New Yorker

"I've long been an admirer of Lorrie Moore; her Birds of America is an exquisite collection of stories by a writer at the peak of her form." —Geoff Dyer, The Independent

"Moore is blessed with such astonishing, unbridled inventiveness she leaves the rest of us hamstrung mortals blinking in the dust. . . . Moore writes like a force of nature." —Seattle Times

"Memorable and absorbing." —The Wall Street Journal
 
"These stories . . . are revelations of insight, the perception of the daily traumas of modern existence raised to ironic levels that tell us who we really are." —Richmond Times-Dispatch

"Moore is the quintessential short-story writer. There is not a word wasted—her every observation is burnished with humor and sadness." —Marie Claire

"Terrific." —Time Out New York
 
"Exquisite. . . . Come across these lines in the presence of another human being, and just try to resist reading them aloud." —San Diego Union-Tribune
 
"Brilliant." —Bookreporter

"A fine collection. . . . The reader will be forever susceptible to seeing absurdity everywhere." —Chicago Tribune

"The sleight of hand that goes on within a Lorrie Moore story is one of supreme subtlety and wit. . . . By turns laugh-out-loud funny and poignantly sad." —Detroit Free Press

"One of the best short story collections of the '90s." —PopMatters

"Firece, heart-wrenching. . . . One of the most remarkable short works published in recent decades, it's unforgettable and great." —Philadelphia Tribune 9780307474964
Vintage, 9780307474964, 304pp.
Publication Date: January 12, 2010
About the Author
Lorrie Moore, after many years as a professor of creative writing at the University of Wisconsin–Madison, is now Gertrude Conaway Vanderbilt Professor of English at Vanderbilt University. Moore has received honors for her work, among them the Irish Times International Prize for Literature and a Lannan Foundation fellowship, as well as the PEN/Malamud Award and the Rea Award for her achievement in the short story. Her novel A Gate at the Stairs was shortlisted for the 2010 Orange Prize for Fiction and for the PEN/Faulkner Award.