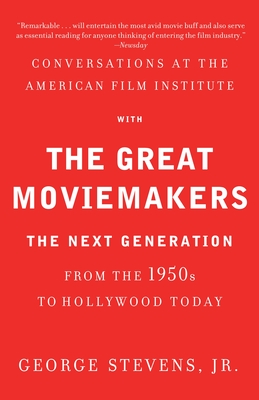 Conversations at the American Film Institute with the Great Moviemakers: The Next Generation from the 1950s to Hollywood Today (Paperback)
The Next Generation from the 1950s to Hollywood Today
Vintage Books, 9780307474988, 737pp.
Publication Date: January 28, 2014
Description
A rich companion volume to George Stevens, Jr.'s much admired book of American Film Institute seminars with the pioneering moviemakers of Hollywood's Golden Age, this time with a focus on filmmakers of the 1950s to present day.
"The Next Generation" brings together conversations with moviemakers at work from the 1950s--during the studios' decline--to today's Hollywood. Directors, producers, writers, actors, cinematographers, composers, film editors, and independent filmmakers appear within these pages, including Steven Spielberg, Nora Ephron, George Lucas, Sidney Poitier, Meryl Streep, David Lynch, Darren Aronofsky, and more. We see how the filmmakers of today and those of Hollywood's Golden Age face the same challenges of both art and craft--to tell compelling stories on the screen. And we see the ways in which actors and directors work together, how each director has his or her own approach, and how they share techniques and theories.
About the Author
George Stevens, Jr., is a writer, director, producer, and founder of the American Film Institute. He is the author of the acclaimed play "Thurgood, "which""ran on Broadway and was filmed for HBO. In 2013 he received an Honorary Academy Award from the Motion Picture Academy. He has received fifteen Emmys, two Peabody Awards, the Humanitas Prize, and eight Writers Guild Awards for his productions, including the annual "Kennedy Center Honors, Separate but Equal, ""The Murder of Mary Phagan, "and "We Are One: The Obama Inaugural Celebration at the Lincoln Memorial. "His production "The Thin Red Line "was nominated for seven Academy Awards, including Best Picture. In 2009 President Obama named him co-chairman of the President's Committee on the Arts and Humanities. Stevens started out working with his father, George Stevens, on "Shane, Giant, "and" The Diary of Anne Frank" and in 1962 was named head of the United States Information Agency's motion picture division by Edward R. Murrow. He lives in Washington, D.C.
Praise For Conversations at the American Film Institute with the Great Moviemakers: The Next Generation from the 1950s to Hollywood Today…
"Remarkable . . . will entertain the most avid movie buff and also serve as essential reading for anyone thinking of entering the film industry."
—Newsday
 
"Magnificent. . . . A collection that is compendious, illuminating, and utterly indispensible."
—Director's Guild of America Quarterly
 
"An entertaining in-depth look into the art, economics, and politics of filmmaking for those of us for whom film still has the impact of being struck by lightning. . . . Essential reading. . . . A sine qua non of film books, one that belongs on the shelf of every film student or serious fan."
—New York Journal of Books
 
"Cuts across the spectrum of genres and artistic attitudes. . . . A rare treat [and] an eclectic one. . . . A treasure-trove to flip through and savor."
—Los Angeles Times

"Fascinating and valuable. To a film junkie, it doesn't get much better than this."
—Portland Book Review

"Remarkable . . . simply indispensable for anyone who has even the remotest interest in film. . . . An incomparably rich collection [of] candid, knowledgeable, and thoughtful conversations."
—Choice Magazine

"Wide-ranging and informative. . . . Sure to be a stimulating, valuable, and much-used reference source for film addicts."
—Library Journal

"Illuminating . . . informative and nostalgic . . . a montage of delights for all who like sitting in the dark, popcorn in one hand, a lover's in the other, transfixed."
—Cleveland Plain Dealer

"Truly indispensable to anyone who cares about the art of film."
—Buffalo News

"A feast for film junkies . . . a textbook made of cotton candy, an intellectual treat."
—The Big Story (Associated Press)

"Brings together, for the first time, thirty seminars with directors, producers, writers, actors, cinematographers, composers, and film editors . . . all of them talking honestly, seriously, openly."
—Turner Classic Movies
Advertisement