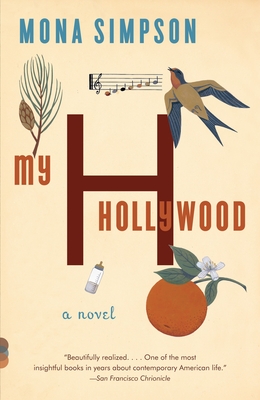 My Hollywood (Vintage Contemporaries) (Paperback)
Vintage, 9780307475022, 384pp.
Publication Date: August 9, 2011
Other Editions of This Title:
Digital Audiobook (7/31/2010)
Hardcover (8/3/2010)
Compact Disc (8/1/2010)
MP3 CD (8/1/2010)
Paperback (6/1/2011)
Pre-Recorded Audio Player (8/1/2010)
* Individual store prices may vary.
Description
Claire, a composer and a new mother, has moved to Los Angeles so that her husband can follow his passion for writing television comedy. Suddenly the marriage—once a genuine 50/50 arrangement—changes, with Paul working late and Claire left at home with baby William, whom she adores but has no idea how to care for.
 
She hires Lola, a fifty-two-year-old mother of five, who is working in America to pay for her own children's higher education back in the Philippines. Lola stabilizes the rocky household, and soon other parents try to lure her away. But what she sacrifices to stay with Claire and "Williamo" remains her own closely guarded secret.
About the Author
Mona Simpson is the author of Anywhere But Here, The Lost Father, A Regular Guy, and Off Keck Road, which was the finalist for the PEN/Faulkner Award and won the Heartland Prize of the Chicago Tribune. She has received a Whiting Writers' Award, a Guggenheim grant, a Lila Wallace—Reader's Digest Writers' Award, and, recently, an Academy Arts and Letters Award. She lives in Santa Monica, California.
Praise For My Hollywood (Vintage Contemporaries)…
"Beautifully realized. . . . One of the most insightful books in years about contemporary American life." —San Francisco Chronicle 
  
"Simpson works habitual magic, showing how love travels, ownerless and unbidden." —The New York Times Book Review 

 "Heart-wrenching. . . . This is a domestic novel and a highly political one." —Time
 
"Simpson is a virtuoso. . . . Expansive and original." —The Boston Globe
 
"[A] wise . . . haunting novel." —People
 
"A double-Dutch game of masterful writing. . . . Won't easily fade from anyone's mind." —Entertainment Weekly

"In Mona Simpson's new novel about a modern marriage and its discontents, the saga of its Filipina domestic sketches a new variation on the American dream. . . . An intimate, ironic tale." —Elle

"Wondrous work. . . . Painfully real and moving and funny." —The Minneapolis Star-Tribune

"This is classic Simpson. . . . The most serious and potent truths are told." —O, The Oprah Magazine

"An absorbing novel. . . . With her incisive portrayal of the frustrations felt by working parents, My Hollywood could easily be Our Country." —The Washington Post Book World 

"It takes a very subtle, sophisticated and confident writer to make our most common problems come off as unique on the page as they feel at 3 in the morning. If anyone can do it, Mona Simpson can. And does. But there's more." —Los Angeles Times

"Simpson's massive gifts—for unflinching precision, for artful indirection and for the deft unfurling of imagery—are on vivid display in My Hollywood, a book that carries us down deep, into the darkness of two distinct worlds, and lights them up, finding all the comedy in the ways they are the same world, and all the tragedy in the unbridgeable distance between them." —Michael Chabon, author of The Amazing Adventures of Kavalier & Clay

"Simpson's novel shows the intricacies and inequities of domestic politics. . . . My Hollywood is a smart, topical, absorbing novel." — Kansas City Star

 "The Hollywood so devastatingly rendered in Mona Simpson's new novel is a different universe from the world-famous well-spring of movie magic. . . . Alternately satiric and poignant." —The Miami Herald

"[Simpson] takes us inside what once was called the heart-chamber of the world. The walls of the chamber are touched by beauty, but it echoes with the plangent sounds of love lost, love damaged, love unrequited; and with the sadness of those sighs are the music of a love unfound." —The Times Literary Supplement (London)

"A darkly beautiful atlas of the American promised land, and a definitive novel of modern domesticity.  Brilliant, in short." —Joseph O'Neill, author of Netherland

"[In] My Hollywood, Mona Simpson gives Westside nannies a voice, and her name is Lola." —LA Magazine 

"Simpson treats both main characters with respect, allowing truth and cool humor to emerge from the contrast between the ways they see their shared lives." —The Columbus Dispatch

"Her prose is gentle but leaves a savage trail of insights." —Time

 "Heartbreaking. . . . The real star of this richly imagined novel is an immigrant with a shrewd eye, a kind heart and lots to tell about love, marriage and bringing up baby." —The Toronto Star

"Smart, endearing, and bittersweet. . . . Simpson shows us how the intimate politics of mother and nanny have nothing to do with who is paying who[m." —The Jewish Journal

"An honest and poetic exploration of why caring for a child—whether by a mother or a nanny—still just can't get the respect or security it deserves." —The Huffington Post

 "In her gradually unfolding, finely tuned narrative, Simpson shows how, for many women, the nanny-mom relationship grows to be more intimate than marriage." —NPR

"Simpson penetrates the layers of Filipino culture, parsing hairstyles, neighborhoods, and dialects. The resulting characters are rounded, real people. . . . Simpson's writing is honed, precise, sharp as the inland heat." — PopMatters.com

"Astute, clever, wide-ranging, sometimes funny, always sympathetic to the varieties of love and domesticity, My Hollywood will stay in the mind because it digs deep into contemporary life and manners, raising questions about how we live and what we need." —The Washington Times

"[A] novel of manners about modern motherhood. . . . Highlights clashes of culture and class." —The New Yorker
"One more time, Mona Simpson has burrowed deep into the American family to extract the shivering truth about the many trade-offs women face in raising children today. . . . My Hollywood is vast in scope, exquisite in detail, rife with pleasures." —Michelle Huneven, author of Blame

"Hilarious and heartbreaking." —Marie Claire

"Simpson deploys a sharp eye and mordant wit to show us the backstairs view of a Hollywood we've never seen. . . . The novel your best friend won't lend you." —More

"Simpson skillfully manages to move us with the two women's emotions even as she surrounds them with wicked satire. . . . Slyly funny." —The Seattle Times
or
Not Currently Available for Direct Purchase