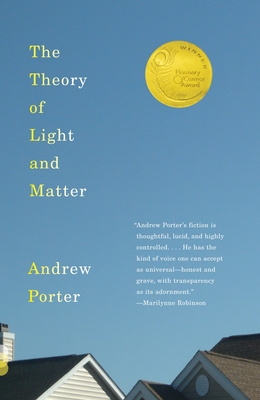 The Theory of Light and Matter (Vintage Contemporaries) (Paperback)
Vintage, 9780307475176, 192pp.
Publication Date: January 5, 2010
Other Editions of This Title:
Hardcover (10/15/2008)
Paperback (3/1/2010)
* Individual store prices may vary.
Description
These ten stories take us across the country—from rural Pennsylvania to Southern California to suburban Connecticut—and deep into characters struggling to find meaning in their day-to-day lives. The Theory of Light and Matter is a stunningly astute vision of contemporary American suburbia, full of tension, heartbreak, and emotional complexity—the work of an important new voice.

Long Listed for the Frank O'Connor International Short Story Award
ForeWord Magazine Book of the Year, Short Fiction
 
One of the Best Books of the Year
Kansas City Star • San Antonio Express-News 

About the Author
A graduate of the Iowa Writers' Workshop, Andrew Porter has received a Pushcart Prize, a James Michener/Copernicus Fellowship, and the W. K. Rose Fellowship in the Creative Arts. His award-winning fiction has appeared in One Story, Epoch, The Threepenny Review, and on NPR's Selected Shorts. He teaches at Trinity University in San Antonio, Texas.
Praise For The Theory of Light and Matter (Vintage Contemporaries)…
"Andrew Porter's fiction is thoughtful, lucid and highly controlled. . . . He has the kind of voice one can accept as universal—honest and grave, with transparency as its adornment." —Marilynne Robinson

"Luminous . . . Porter's writing [is] in direct dialogue with the work of John Cheever and Raymond Carver . . . A memorable debut that honors the history of the short story form while blazing a new trajectory all its own." —Atlanta Journal-Constitution

"This collection deserves to be read and reread . . . While Porter's young characters haven't yet fallen on the hard times that Carver's have, their sensitivity is just as stirring and their subtle moments of epiphany just as poignant . . .  Porter is a master storyteller, a creator of tender and hopeful characters . . . We look forward to more from such an amazing talent." —Christian Science Monitor

"An exquisite collection. . . [With] hard-won grit and imagination to spare." —Time Out New York

 "A remarkable collection . . . Each story is narrated in clear, spare language . . . Whatever these characters are telling us about, in their deceptively simple way, we're with them, willing them along, interested to hear and saddened to know. It takes a rare sort of artistry to establish such a bond . . . We end up truly moved." —Minneapolis Star-Tribune

"These beautiful stories feel safe and menacing at the same time. In bucolic suburbs and quiet college towns, the unspeakable happens." —Boston Globe
 
"A work of unadorned beauty [that] draws immediate comparison to the stories of Raymond Carver . . . Like Carver, Porter is expert in understanding the weak threads that hold together broken families and the way people suppress their disappointments and experience epiphanies far too late to make a difference." —Cleveland Plain Dealer

"In Andrew Porter's stories, things happen. Of course, you say, things happen, but Porter builds his words around them . . . Porter is in it for the backward glance; he believes we might actually be able, if we look hard enough and study small movements, to predict the future." —Los Angeles Times (Discoveries)

"If you are anything like me, you will read Andrew Porter's The Theory of Light and Matter with the same feeling of simple gratitude that the first readers of Richard Ford's Rock Springs must have experienced twenty years ago: here, you will think, is a true master of the short story, a writer of honesty and plainspoken poetry who knows the human soul in all its light and shadow and harnesses every sentence to the purpose of revealing it." —Kevin Brockmeier

"A fantastic collection of short stories." —The Houston Chronicle
 
"Andrew Porter is a born storyteller. Every page of The Theory of Light and Matter will change something in your life and refresh you . . . He makes his own space instantly and invites you in. Hats off!" —Barry Hannah
 
"Andrew Porter is a writer whose work seems destined to attract an appreciative following . . . He demonstrates a sure handed grasp of plot and character and a restrained prose style reminiscent of craftsmen like Richard Ford and Tobias Wolff . . . Porter is adept at plotting the complex geometry of intimate relationships [and] has a sharp eye for the dance of family life." —Shelf Awareness

"Like taking a sip of the clearest mountain spring water." —Booklist
 
"Moving, original, and unforgettable, this is a must-own collection." —The Strand
 
"In Porter's debut story collection, he casts an unflinching, psychological eye on modern suburban life, its failed and revised dreams, and the madness and illness that can chip away at families and relationships." —Poets & Writers 
 
"In a world where everything, including stories, seems to be moving so fast, reading Andrew Porter's book is like stopping to catch your breath—and remember. These stories are patient and rare, and, to my mind, permanent. This is the kind of book that you will keep taking off the shelf to read again and again because you want to re-capture what it felt like to read them for the first time." —Peter Orner
 
"An impressive debut story collection . . . [Porter's] characters' lives seem placid and idyllic on the surface. Yet underneath, they are roiled by secrets.  .  . Loss, sacrifice, choice and responsibility are some of the other themes tightly woven into this impressive debut." —Dallas Morning News
 
"Andrew Porter can achieve more in a handful of pages than most writers can in a hundred. I've read most of the stories in this collection two and three times, and I continue to marvel at how they can be so spare and rich at the same time. My favorite book of the year." —Billy Taylor, San Antonio Express-News
 
"Wonderful . . . [a writer] of exceptional vision and voice." —Shenandoah
 
"[A] beautifully executed short story collection . . . There's a crisp economy to these stories that nicely underpins their offbeat narratives." —Texas Monthly
 
"Moving . . . These ten stories are full of wisdom and deep sadness. Through Porter's beautiful and restrained prose, they accumulate power slowly and deceptively until they become difficult to shake . . . [They] cut to the emotional quick of human experience with stunning compression." —The American Book Review
 
"Porter's tales are brimming with characters both likable and bewilderingly human. We see in them our own flaws and shortcomings and desires. These are quintessentially stories about the desire for redemption, the search for meaning, and the need for human contact . . . Porter does a fantastic job of recreating these entrancing confluences of lives." —San Antonio Current