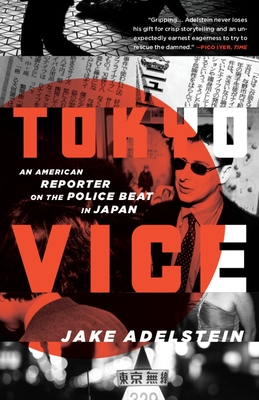 Tokyo Vice (Paperback)
An American Reporter on the Police Beat in Japan
Vintage Crime/Black Lizard, 9780307475299, 352pp.
Publication Date: October 5, 2010
Other Editions of This Title:
Digital Audiobook (10/19/2009)
Hardcover (10/13/2009)
* Individual store prices may vary.
Description
A riveting true-life tale of newspaper noir and Japanese organized crime from an American investigative journalist.
 
Jake Adelstein is the only American journalist ever to have been admitted to the insular Tokyo Metropolitan Police Press Club, where for twelve years he covered the dark side of Japan: extortion, murder, human trafficking, fiscal corruption, and of course, the yakuza. But when his final scoop exposed a scandal that reverberated all the way from the neon soaked streets of Tokyo to the polished Halls of the FBI and resulted in a death threat for him and his family, Adelstein decided to step down. Then, he fought back. In Tokyo Vice he delivers an unprecedented look at Japanese culture and searing memoir about his rise from cub reporter to seasoned journalist with a price on his head.
About the Author
Jake Adelstein was a reporter for the Yomiuri Shinbun, Japan's largest newspaper, from 1993 to 2005. From 2006 to 2007 he was the chief investigator for a U.S. State Department-sponsored study of human trafficking in Japan. Considered one of the foremost experts on organized crime in Japan, he works as a writer and consultant in Japan and the United States. He is also the public relations director for the Washington, D.C.-based Polaris Project Japan, which combats human trafficking and the exploitation of women and children in the sex trade.
Praise For Tokyo Vice: An American Reporter on the Police Beat in Japan…
"Groundbreaking reporting on the yakuza. . . . Adelstein shares juicy, salty, and occasionally funny anecdotes, but many are frightening. . . . Adelstein doesn't lack for self-confidence . . . but beneath the bravado are a big heart and a relentless drive for justice."--The Boston Globe 

 "Gripping. . . . [Adelstein's] vividly detailed account of investigations into the shadowy side of Japan shows him to be more enterprising, determined and crazy than most. . . . In some of the freshest pages of the book, our unlikely hero tells us about his initiation into the seamy, tough-guy Japan beneath the public courtesies,. . . . Adelstein builds his stories with as much surprise and grit as any Al Pacino or Mark Wahlberg movie, blurring the lines between the cops, the crooks and even the journalists. . . . Tokyo Vice is often so snappy and quotable that it sounds as if it were a treatment for a Scorsese movie set in Queens. Yet the facts beneath the noirish lines are assembled with what looks to be ferocious diligence and resourcefulness. For even as he is getting slapped around by thugs and placed under police protection, Adelstein never loses his gift for crisp storytelling and an unexpectedly earnest eagerness to try to rescue the damned."—Pico Iyer, Time

"A journalist's memoir unlike any I've ever read."--Dave Davies, Fresh Air
 
"Marvelous. . . . Tokyo Vice offers a fascinating glimpse into Japan's end-of-last-century newspaper culture as seen from a gaijin's perspective. It's filled with startling anecdotes and revelations. . . . Adelstein writes of his quest for scoops with sardonic wit, and his snappy style mixes the tropes of detective fiction with the broader perspective of David Simon's books as he makes a careful account of his journalistic wins and losses. . . . The author's gallows humor bleeds into even darker, more serious hues once Adelstein starts covering the Japanese mafia. . . . Astonishingly proves that no matter how weird and perverse Japan may seem in fiction, the real thing never fails to exceed our most violent expectations."—Sarah Weinman, Confessions of an Idiosyncratic Mind
 
"Tokyo Vice succeeds on several levels: as gripping journalism, as a ragged crime tale, as culture-shock memoir. Stakes are raised in its third act as the yakuza exercise increasing pressure on Adelstein, but he pursues the story anyway. Obviously, he lived to tell his tale — and thank goodness, because it's a fascinating one." —BOOKGASM
 
"Engrossing. . . . fast-paced."—The Atlanta-Journal Constitution

"Exposes Tokyo's darkest, seamiest, most entertaining corners. . . . [A] gritty, true-to-life account of 12 years on the news beat as a staffer for a Japanese daily — and it is exceptional. Its classic atmospherics rekindle memories of Walter Winchell and Eliot Ness. It's a tale of adrenalin-depleting 80-hour weeks, full ashtrays, uncooperative sources, green tea, hard liquor, and forays into the commercialized depravity of Shinjuku's Kabukicho. . . . Definitely raises the bar. . . .  A classic piece of 20th century crime reporting."—The Japan Times

"[A] gripping story. . . . Pulls the curtain back on a sordid element of Japanese society that few Westerners ever see. In addition to his clash with [a] yakuza boss, Adelstein details the more notable cases from his 12-year career at the Yomiuri, including "The Chichibu Snack-mama Murder Case" and "The Emperor of Loan Sharks." No less fascinating is the view Adelstein provides into Japanese society itself. . . . Adelstein's Tokyo is a veritable Gomorrah where nearly every act of intimacy is legally bought and sold."—San Francisco Examiner

"Debut author Adelstein began with a routine, but never dull, police beat; before long, he was notorious worldwide for engaging the dirtiest, top-most villains of Japan's organized criminal underworld, the yakuza. Thanks to [Adelstein's] immersive reporting, readers suffer with him through the choice between personal safety and a chance to confront the evil inhabiting his city. . . . Adelstein also examines the investigative reporter's tendency to withdraw into cynicism ("when a reporter starts to cool down, it's very hard… ever to warm up again") but faithfully sidesteps that urge, producing a deeply thought-provoking book: equal parts cultural exposé, true crime, and hard-boiled noir."—Publishers Weekly, starred review

"Not just a hard-boiled true-crime thriller, but an engrossing, troubling look at crime and human exploitation in Japan."—Kirkus

"Terrific. With gallows humor and a hardboiled voice, Adelstein takes readers on a shadow journey through the Japanese underworld and examines the twisted relationships of journalists, cops, and gangsters. Expertly told and highly entertaining."—George Pelecanos

"Sacred, ferocious and businesslike. This is the Japanese mafia that Adelstein describes like nobody else." —Roberto Saviano, author of Gomorrah: A Personal Journey into the Violent International Empire of Naples' Organized Crime System

"A gripping and absorbing read. Very few foreigners ever come close to discovering what's really going on in Japan's closed society. Adelstein chases two major stories that pull him into a vortex of destruction, threatening his friendships, his marriage and even his life. As he battles with profound issues concerning truth and trust, Tokyo Vice approaches a heart-pounding denouement. This is a terrifying, deeply moral story which you cannot put down, and Adelstein, if occasionally reckless, is an extremely courageous man."—Misha Glenny, author of McMafia: A Journey Through the Global Criminal Underworld

"A tale of a gaijin who stumbled onto a story so important and so dangerous that it put his life at risk. A yakuza offered him half a million dollars not to tell it. He wrote this book instead." —Peter Hessler, author of River Town: Two Years on the Yangtze

"In this dark, often humorous journey through the underworld of Tokyo, Jake Adelstein captures exactly what it means to be a gaijin and a reporter. Whether he is hunting for tips in Kabukicho or pressing yakuza for information, it is an adventure only he could write. For anyone interested in Japan or journalism, this is a must read." —Robert Whiting author of Tokyo Underworld: The Fast Times and Hard Life of an American Gangster in Japan

"Anyone interested in tattooed yakuza, 'soapland' brothels, and the various other aspects of Japan's lurid underbelly is guaranteed to be electrified by Tokyo Vice. Why is a manual on the perfect way to commit suicide a Japanese bestseller? Who goes to sexual harassment clinics? What's it like to spend a night in a male hostess bar? Tokyo Vice reveals all this and more. It's a story of lust and profit; a chronicle of fear and determination; most of all, a modern bildungsroman that simultaneously illuminates the soul of its narrator and that of modern Japan through the underside of Tokyo, the world's most fascinating city. I loved this book for many reasons—its humor, its pathos, its insight, its honesty—and maybe most of all, for reminding me of how lucky I am to live here."—Barry Eisler, author of Fault Line

"Jake Adelstein's razor straight reporting from the mean streets of Tokyo is a coming of age story that reveals more than it pretends to—because he has the guts to find the truth, and the gall to tell it."—Roland Kelts, author of Japanamerica: How Japanese Pop Culture Has Invaded the U.S.

"Vivid, insightful, and totally revealing of the decadent, seedy and sexual parts of Japanese society, Tokyo Vice is ripping fun."—Karl Taro Greenfeld, author of Speed Tribes: Days and Nights with Japan's Next Generation

"Jake Adelstein writes in the classic hard-boiled Dashiell Hammett manner—complete with stubbed out cigarettes and a shot of whiskey shared with his cop informant—but this is not San Francisco or New York, it's Tokyo, and it's not fiction.  Those who live and work in Japan will recognize reality on every page.  It's at times a harsh and ugly reality, but depicted humorously with whimsical details of Japan's twilight world that we only dreamt of. A guaranteed page-turner." —Alex Kerr, author of Dogs and Demons: Tales from the Dark Side of Japan