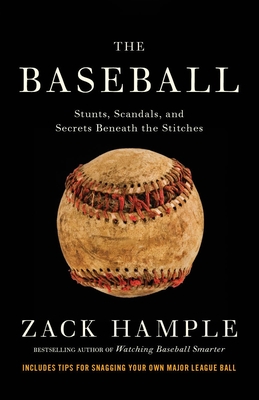 The Baseball
Stunts, Scandals, and Secrets Beneath the Stitches
Paperback

* Individual store prices may vary.
Description
The Baseball is a salute to the ball, filled with insider trivia, anecdotes, and generations of ball-induced insanity—from Zack Hample, the bestselling author of Watching Baseball Smarter

• Which Hall of Famer once caught a ball dropped from an airplane?
• Why do balls get stamped with invisible ink?        
• What's the best ticket to buy for catching a foul ball?
• Which part of the ball once came from dog food companies?
• How could a 10,000-year-old glacier help a pitcher grip the ball?
 
In this enlightening, entertaining, and often wildly funny book, Zack Hample shares ballpark legends and lore, explores the history of the baseball souvenir craze, and also details the evolution of the ball. Finally, Hample—who has snagged more than 4,600 balls from 48 different major league stadiums—offers up his secret methods for snagging your own ball from major league games.
 
Features a ballhawk glossary, profiles of legendary ballhawks, top 10 lists, and black-and-white photos throughout.
Praise For The Baseball: Stunts, Scandals, and Secrets Beneath the Stitches…
"This is the stuff baseball fans eat up like snack food, only it's way more nourishing. . . . The stories are marvelous, and throughout Hample maintains jaunty good humor and even class; for instance, he thanks, by name, every one of the 1,167 Major League players and coaches who have given him baseballs over the years (an interesting list in itself). Lots of fascinating illustrations, too." —Booklist
 
"Brings a whole new dimension to the term 'inside baseball.' . . . Hample . . . provides plenty of revelations to even the most passionate follower of the game." —Kirkus Reviews
 
"Hample is not simply an articulate and accessible baseball writer, he's a zealous collector of game balls. . . . His advice on how to catch a ball at the stadium shows how meticulously he hones his hobby. Along the way there are lots of personalities and top-ten lists at the end for every active fan. All ball buffs should try to catch this one." —Library Journal

Praise for Zack Hample's Watching Baseball Smarter:

"Insightful, engaging and funny—a treat for anyone who loves the game." —Keith Hernandez

"Hample calls himself an obsessed fan—obsessed in a good way—and the product of his torment is a funny and informative guide for all levels of fams." —Yankees Magazine

"Engaging. . . . Hample's book is both deceptive in its simplicity . . . and surprising in its range." —Fortune

"A browser's delight of a book. . . . Hample unloads a zany collection of baseball trivia, insights and 'random stuff'. . . in breezy guidebook style." —Seattle Post-Intelligencer

"This isn't the first book to take on the challenge of explaining baseball intricacies, but I've never seen it done better." —Craig Smith, The Seattle Times

"Armed at neophytes and know-it-alls alike, this baseball geekfest tells you which positions are never played by lefties, why it's easier to hit when bases are loaded, which rules are the weirdest, and other arcana." —Maxim
Anchor, 9780307475459, 368pp.
Publication Date: March 8, 2011
About the Author
Zack Hample has written three books about baseball and has appeared on dozens of TV and radio shows. He has snagged more than 4,600 baseballs from 48 different major league stadiums.  Hample runs a business called "Watch With Zack" and has a popular blog, The Baseball Collector, chronicling his obsession.


http://www.zackhample.com
or
Not Currently Available for Direct Purchase