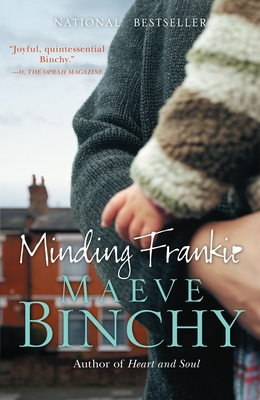 Minding Frankie (Paperback)
Anchor Books, 9780307475480, 381pp.
Publication Date: May 1, 2012
Description
New York TimesBestseller
A tale of joy, heartbreak and hope, about a motherless girl collectively raised by a close-knit Dublin community.
When Noel learns that his terminally ill former flame is pregnant with his child, he agrees to take guardianship of the baby girl once she's born. But as a single father battling demons of his own, Noel can t do it alone.
Fortunately, he has a competent, caring network of friends, family and neighbors: Lisa, his unlucky-in-love classmate, who moves in with him to help him care for little Frankie around the clock; his American cousin, Emily, always there with a pep talk; the newly retired Dr. Hat, with more time on his hands than he knows what to do with; Dr. Declan and Fiona and their baby son, Frankie's first friend; and many eager babysitters, including old friends Signora and Aidan and Frankie's doting grandparents, Josie and Charles.
But not everyone is pleased with the unconventional arrangement, especially a nosy social worker, Moira, who is convinced that Frankie would be better off in a foster home. Now it's up to Noel to persuade her that everyone in town has something special to offer when it comes to minding Frankie.
"Joyful, quintessential Binchy." O, The Oprah Magazine
About the Author
MAEVE BINCHYwas born in County Dublin and educated at the Holy Child convent in Killiney and at University College, Dublin. After a spell as a teacher she joinedTheIrish Times.Her first novel, Light a Penny Candle, was published in 1982, and she went on to write more than twenty books, all of them best sellers. Several have been adapted for film and television, most notablyCircle of FriendsandTara Road, which was an Oprah s Book Club selection. She was married to the writer and broadcaster Gordon Snell for thirty-five years, and died in 2012 at the age of seventy-two. www.maevebinchy.com"
Praise For Minding Frankie…
"Joyful, quintessential Binchy." —O, The Oprah Magazine

"All across America, Maeve Binchy fans will be kicking off their shoes, making a nice cup of tea, and curling up on the couch as they re-enter Binchy's cozy world." —The Seattle Times

"Binchy's worldview is a large, benevolent one, and the reader is happier for it. . . . Bless her big Irish heart." —Minneapolis Star Tribune
 
"One of Binchy's best works. She harmoniously handles a diverse group of characters, the good deeds that characterize life in Ireland are believable, and the ending is sweet." —Newark Star-Ledger

"A comforting experience. . . . Warmhearted." —The Denver Post
 
"In Minding Frankie Binchy proves again why she's the master of the intelligent comfort novel." —The Plain Dealer
 
"Maeve Binchy has done it again [with] yet another warm tale of individual growth and human community, [in which] she assembles a large cast of characters and deploys them with her characteristic playfulness . . . Binchy specializes in exploring human foibles without spelling them out in tiresome detail . . . There's a good chance that many readers, like this one, will consider Minding Frankie one of Binchy's best novels yet." —BookPage
 
"Solid, reliable, and comforting in its familiarity, delivering to Binchy fans what they have come to expect from her novels. . . . A reminder of the author's savvy ability to deliver what her loyal following has come to expect." —The Irish Times
 
"Absorbing. . . . Teems with colorful characters whose concerns and connections are depicted with heart and humor. . . . New readers of Binchy will succumb to the appeal of the heartwarming tradition longtime fans love to love." —The Free-Lance Star (Fredericksburg, VA)
 
"All across America, Maeve Binchy fans will be kicking off their shoes, making a nice cup of tea, and curling up on the couch as they re-enter Binchy's cozy world. The Irish author returns here to a charming Dublin milieu of favorite characters from past novels, with some important new ones." —The Seattle Times
 
Acclaim for Maeve Binchy:
 
"A remarkably gifted writer and a wonderful student of human nature." —The New York Times Book Review
 
"A modern-day women's writer in the Jane Austen sense." —Standard-Times (New Bedford, MA)
 
"Binchy makes you laugh, cry, and care. Her warmth and sympathy render the daily struggles of ordinary people heroic and turn storytelling into art." —The San Francisco Chronicle
 
"An author of exceptional grace [with] a wickedly subtle sense of humor and a great deal of kindness." —The Boston Globe
 
"Maeve Binchy is a benevolent god of a novelist. . . . She can channel Irish voices with the best of them, and each of these voices has its own twisting story to tell. . . . often with verve and humor." —The Columbus Dispatch
 
"Binchy is a grand storyteller in the finest Irish tradition. [She] has a true gift of creating characters we either know or wish we knew. . . . A perfect escape." —Cleveland Plain Dealer
 
"Only a curmudgeon could resist this master of cheerful, read-by-fire comfort." —Kirkus Reviews
 
"Reading one of Maeve Binchy's novels is like coming home." —The Washington Post
Advertisement