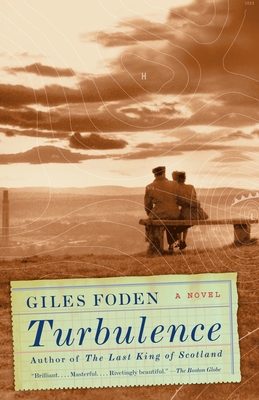 Turbulence (Paperback)
Vintage International, 9780307476265, 315pp.
Publication Date: August 9, 2011
* Individual store prices may vary.
or
Not Currently Available for Direct Purchase
Description
Giles Foden, the prizewinning author of The Last King of Scotland, delivers a mesmerizing blend of fact and fiction in this novel about how human beings deal with uncertainty.
Five days before D-day, a team of Allied scientists is charged with making an accurate weather forecast for the landings. Henry Meadows a young math prodigy from the Met Office is sent to Scotland to uncover Wallace Ryman's revolutionary system for understanding turbulence, one of the last great mysteries of modern physics. But Ryman is a reclusive pacifist who stubbornly refuses to divulge his secrets, and when Henry meets Gill Ryman's beautiful wife events, like the weather, begin to spiral out of control.
About the Author
Giles Foden was born in 1967 in England and spent his youth in Africa. Between 1990 and 2006 he worked as an editor at The Times Literary Supplement and The Guardian. In 1998 he published The Last King of Scotland, which won the Whitbread First Novel Award and was later made into a feature film. The author of two other novels and also a work of narrative nonfiction, in 2007 he was appointed professor of creative writing at the University of East Anglia, in Norwich. He lives in Norfolk, England.
Praise For Turbulence…
"Masterful. . . . Rivetingly beautiful. . . . There is undoubted brilliance in Turbulence: wonderful writing, a flawless period atmosphere . . . and finely drawn characters. . . . One of the most utterly convincing historical novels I've read in some time."
—Kevin O'Kelly, Boston Globe

"An artfully well-orchestrated novel about the strange poetry of science."
—The Sunday Times (London)

"Each flick of the page . . . suggests the tick of a countdown. The book surges toward its end with enough surprises to grip Foden's readers—and remind them that a life's highest points are never quite as forecast."
—The New York Times Books Review
 
"Turbulence is a novel about redemption and overcoming one's own horrific mistakes. . . . A novel of vivid telling and often wondrous images . . . that stays with you, and sinks in deeper than you'd imagine."
—Dallas Morning News

"Characteristically ambitious. . . . Unique. . . . A sideways glance into one of the 20th century's major historical events."
—Time Out New York
 
"Gripping. . . . Splendidly tense. . . . Foden's conspicuously thorough research, the lovely African flashbacks and the many meteorological references all come together dynamically. . . . Ryman is a moody, spellbinding figure, with mystical obsessions—not unlike the central character in John Fowles' The Magus."
—Los Angeles Times
 
"Foden's most compelling and affecting novel since his debut, combining fascinating research with a high narrative tension. . . . In everything except its titular concern, Turbulence is a smooth and stable progression in an intriguing literary career."
—The Guardian (London)
 
"Absorbing, elegant and thoughtful. . . . Turbulence shines."
—Glen Weldon, Books We Like (NPR.org)
 
"Fascinating. . . . Foden offers some unforgettable scenes."
—Richmond Times Dispatch
 
"Terrific. . . . A love story, a science send up, and an accurate rendition of how the Normandy landings succeeded. . . . The superior novelist who can warn us of an emotional tempest today and a hurricane of anxiety next week—all by way of describing turbulence in a more limited context—is one to heed."
—The Buffalo News
 
"Foden is a subtle and careful observer."
—Winston-Salem Journal
 
"Giles Foden handles his material with the cool brilliance one would expect from the author of The Last King Of Scotland. . . . The writing is so good that you don't doubt for a moment that what has been described did happen."
—The Observer (London)
 
"A page-turner that challenges the reader with ideas on every turn. . . . A gripping literary novel. . . . [Foden] has written another original and remarkable book."
—Scotland on Sunday
 
"Foden is a formidable storyteller. . . . [In Turbulence,] it is the meticulous fusion of science and military history that dazzles, coming off like an exhilarating fusion of Richard Powers and John le Carré."
—Publishers Weekly (starred review)
Advertisement