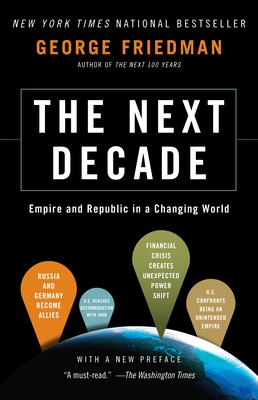 The Next Decade (Paperback)
Empire and Republic in a Changing World
Anchor, 9780307476395, 272pp.
Publication Date: January 10, 2012
Other Editions of This Title:
Digital Audiobook (1/24/2011)
Hardcover (1/25/2011)
Compact Disc (1/25/2011)
* Individual store prices may vary.
Description
The author of the acclaimed New York Times bestseller The Next 100 Years now focuses his geopolitical forecasting acumen on the next decade and the imminent events and challenges that will test America and the world, specifically addressing the skills that will be required by the decade's leaders.

In the long view, history is seen as a series of events—but the course of those events is determined by individuals and their actions. During the next ten years, individual leaders will face significant transitions for their nations: the United States' relationships with Iran and Israel will be undergoing changes, China will likely confront a major crisis, and the wars in the Islamic world will subside. Unexpected energy and technology developments will emerge, and labor shortages will begin to matter more than financial crises. Distinguished geopolitical forecaster George Friedman analyzes these events from the perspectives of the men and women leading these global changes, focusing in particular on the American president, who will require extraordinary skills to shepherd the United States through this transitional period. The Next Decade is a provocative and fascinating look at the conflicts and opportunities that lie ahead.
About the Author
GEORGE FRIEDMAN is founder and chairman of Geopolitical Futures, which specializes in geopolitical forecasting. Prior to 2015, Friedman was chairman of the global intelligence company Stratfor, which he founded in 1996. Friedman is the author of six books, including the New York Times bestsellers The Next 100 Years and The Next Decade. He is a senior advisor to Gallup, Inc.  He lives in Austin, Texas.
Praise For The Next Decade: Empire and Republic in a Changing World…
"A must-read." —The Washington Times

"Delivered in an engaging style and with no little dramatic flourish . . . [The Next Decade should] find a wide and receptive popular audience." —San Francisco Chronicle

"Friedman . . . has the unusual ability to view events through the eyes of not only American but also foreign leaders." —New York Observer
 
"There is a temptation, when you are around George Friedman, to treat him like a Magic 8-Ball." —The New York Times Magazine
 
"Considering how right [Friedman]'s been over the years, he's worth listening to." —San Antonio Express-News
 
"Predictions have made George Friedman a hot property these days." —The Wall Street Journal
 
"Well-researched and compelling." —Publishers Weekly

"Expect the unexpected. . . . He can see without the crystal ball." —Newsweek