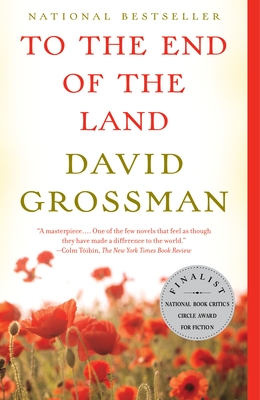 To the End of the Land (Vintage International)
Paperback

* Individual store prices may vary.
Other Editions of This Title:
Digital Audiobook (9/20/2010)
Description
NATIONAL BESTSELLER • A stunning novel that tells the powerful story of Ora, an Israli mother, and her extraordinary love for her son, Ofer, in a haunting meditation on war and family.

"One of the few novels that feel as though they have made a difference to the world." —The New York Times Book Review

Just before his release from service in the Israeli army, Ora's son Ofer is sent back to the front for a major offensive. In a fit of preemptive grief and magical thinking, so that no bad news can reach her, Ora sets out on an epic hike in the Galilee. She is joined by an unlikely companion—Avram, a former friend and lover with a troubled past—and as they sleep out in the hills, Ora begins to conjure her son. Ofer's story, as told by Ora, becomes a surprising balm both for her and for Avram.
Praise For To the End of the Land (Vintage International)…
National Book Critics Circle Award Finalist

A NEW YORK TIMES NOTABLE BOOK

ONE OF THE BEST BOOKS OF THE YEAR: The New Yorker, The Washington Post, The Christian Science Monitor, The Economist, The New Republic, and The Pittsburgh Post Gazette

"A masterpiece. . . . One of the few novels that feel as though they have made a difference to the world."
—Colm Tóibín, The New York Times Book Review

"A boundary-pushing novel. . . . Like all great literature, it is an act of generosity, opening itself to every human possibility. . . . Grossman invites us to look beneath the shrill headlines, beyond the roadblocks, within the clenched fist—to see Israel's predicament not as 'the situation' but as many situations, one for every person."
—The Washington Post

"Enthralling. . . . Unsparing yet compassionate . . . Grossman's electrifying narrative seems excruciatingly timely. . . . Unforgettable. . . . The unstudied beauty and psychological complexity of Grossman's language, his deft and lively dialogue, are utterly compelling. . . . Rendered in Jessica Cohen's exquisite translation, Grossman's symphonic novel straddles despair and hope, a journey into inner and outer landscapes, delivering stunning rewards."
—The Miami Herald

"Magnificent. . . . A powerful meditation. . . . Foremost among Grossman's achievements is the creation of Ora, a modern-day Scheherazade and icon of the mourning mother."
—The Seattle Times

"Grossman's greatest fictional creation [is] Ora: tender, passionate, angry, funny, self-doubting, intuitive, above all a woman of 'abundance.' . . . [Her story] encompasses both the complex fullness of one life and the broader history of Israel's modern conflicts. . . . This most Israeli of Grossman's novels is also his most universal."
—George Packer, The New Yorker
 
"A tour de force. . . . Unforgettable. . . . [Grossman's] best."
—The Star-Ledger
 
"Penetrating. . . . Grossman has produced a sprawling novel that stretches over nearly 35 years of Israeli history. Along with war and peace, life and death, Grossman reckons with the emotional and sexual geometry of Israelis, particularly the secular liberals now in middle age, much like their author."
—Newsday

"This is a story of love and friendship, family and society, parents and children, life and death. And war and peace. . . . Whether lushly descriptive, emotive or narrative, Grossman's writing is both controlled and passionate. . . . Ora's voice is authentic and true, honed to perfection."
—Chicago Jewish Star
 
"Profound. . . . A reminder of what Israel—what any country—is capable of doing to its sons."
—The Boston Globe
 
"There are some writers in whose words one recognizes the texture of life. David Grossman is such a writer. He is a master of the emotionally accurate and significant. His characters don't so much lie on the page as rise before the reader's eyes, in three dimensions, their skin covered in prose that both stabs with insight and shines with compassion."
—Yann Martel, author of Life of Pi
 
"Moving. . . . A convincing portrait of maternal grit and ingenuity in a time and place of relentless challenge. . . . In this powerful book, there are surprising answers of a kind, but the ongoing strife goes on."
—The Washington Times
 
"Very rarely you open a book and when you close it again nothing can ever be the same. Walls have been pulled down, barriers broken, a dimension of feeling has opened in you that was not there before. David Grossman has the ability to look inside a person and discover the unique essence of her humanity; his novels are about what it means to defend this essence against a world designed to extinguish it. To the End of the Land is his most powerful, unflinching story of this defense."
—Nicole Krauss, author of The History of Love

"A courageous and powerful antiwar novel."
—Kansas City Star

"Grossman's most ambitious work to date. . . . His imagination is secular, worldly, self-questioning and ironic. The Israel he imagines, beautifully and sorrowfully, is not going to be saved by any divine intervention."
—The Economist
 
"Bold and uncompromising, this great emotional rush of a story sings and cries, exults and mourns."
—The Forward
 
"An extraordinary epic of love, war, and sorrow. . . . Stunning—brilliantly written and beautifully constructed."
—The Times (London)
 
"A deeply serious, utterly honest work about the state of Israel."
—Financial Times
 
"Flaubert created his Emma, Tolstoy made his Anna, and now we have Grossman's Ora—as fully alive, as fully embodied, as any character in recent fiction. I devoured this long novel in a feverish trance."
—Paul Auster, author of Invisible
Vintage, 9780307476401, 672pp.
Publication Date: August 9, 2011
About the Author
David Grossman was born in Jerusalem. He is the author of numerous works of fiction, nonfiction, and children's literature. His work has appeared in The New Yorker and has been translated into more than forty languages. He is the recipient of many prizes, including the French Chevalier de l'Ordre des Arts et des Lettres, the Buxtehuder Bulle in Germany, Rome's Premio per la Pace e l'Azione Umanitaria, the Premio Ischia—international award for journalism, Israel's Emet Prize, and the Albatross Prize given by the Günter Grass Foundation.
What one word would you use to describe the central theme of this novel? Is it a political novel? 
In an interview, Grossman said about grief, "The first feeling you have is one of exile. You are being exiled from everything you know." How do both grief and exile figure into this story? 
Throughout the novel is the notion of tapestry, of threads being woven. What does that tapestry signify? 
What do you think was Grossman's intent with the prologue? What did this opening lead you to expect from the rest of the novel? Was it significant to you as a reader, later in the story, to have known these characters as teenagers? 
Ora says, "I'm no good at saving people." Why does she say this? Is it true? 
What function does Sami serve in the novel? What do we learn about Ora through her interactions with him? 
Why does Ora consider Ofer's reenlistment to be a betrayal? Why do his whispered, on-camera instructions affect her so strongly? 
Discuss Adam's assertion that Ora is "an unnatural mother." What do you think he means by that? What does Ora take it to mean? 
Ora tells Sami to drive "to where the country ends." His reply: "For me it ended a long time ago." What does he mean by that? How does this change your interpretation of the novel's title? 
What is the significance of Ofer's film, in which there are no physical beings, only their shadows? 
In both Adam and Ofer, the influence of nature vs. nurture seems quite fluid. How is each like his biological father, and how does each resemble the man to whom he is not related by blood? 
What role does food play in the novel? What does vegetarianism, especially, signify? 
Ora says to Avram, "Just remember that sometimes bad news is actually good news that you didn't understand. Remember that what might have been bad news can turn into good news over time, perhaps the best news you need." What is she hoping for here? Does her advice turn out to be accurate? 
Why does Ora refuse to go back for her notebook? As a reader, could you identify with Ora's actions? What about elsewhere in the novel? 
What do we learn about Ora, Ilan, and Ofer through the story of Adam's compulsive behavior? What is "the force of no?"
Discuss the significance of whose name Ora draws from the hat. Did she choose that person intentionally? How might the lives of Ora, Ilan, and Avram have been different if the other name were drawn? 
Why does Ora react so strongly to what happened with Ofer in Hebron? How does it relate to what happened to Avram as a POW? Why does her reaction lead to the implosion of her family? 
When Ora says to Avram, "Maybe you'll even have a girl," what is she really saying? 
Discuss the final scene of the novel. What does Avram's vision signify? Was Ora's motivation for the hike wrong, as she fears? 
How did Grossman's personal note at the end change your experience of the novel? What seems possible for Ora and Avram, and the other characters in the book, at the end of the story?