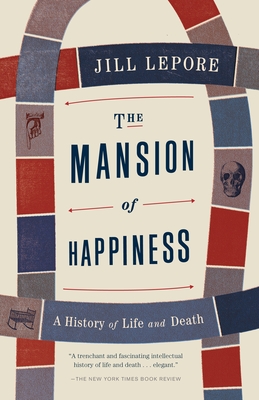 The Mansion of Happiness
A History of Life and Death
Paperback

* Individual store prices may vary.
Other Editions of This Title:
Digital Audiobook (6/4/2012)
MP3 CD (12/1/2016)
Compact Disc (3/26/2013)
Description
Renowned Harvard scholar and New Yorker staff writer Jill Lepore has written a strikingly original, ingeniously conceived, and beautifully crafted history of American ideas about life and death from before the cradle to beyond the grave.
 
How does life begin? What does it mean? What happens when we die? "All anyone can do is ask," Lepore writes. "That's why any history of ideas about life and death has to be, like this book, a history of curiosity." Lepore starts that history with the story of a seventeenth-century Englishman who had the idea that all life begins with an egg, and ends it with an American who, in the 1970s, began freezing the dead. In between, life got longer, the stages of life multiplied, and matters of life and death moved from the library to the laboratory, from the humanities to the sciences. Lately, debates about life and death have determined the course of American politics. Each of these debates has a history. Investigating the surprising origins of the stuff of everyday life—from board games to breast pumps—Lepore argues that the age of discovery, Darwin, and the Space Age turned ideas about life on earth topsy-turvy. "New worlds were found," she writes, and "old paradises were lost." As much a meditation on the present as an excavation of the past, The Mansion of Happiness is delightful, learned, and altogether beguiling.
Praise For The Mansion of Happiness: A History of Life and Death…
"With her characteristically sharp-edged humor and luminous storytelling, Lepore regales us with stories that follow the stages of life. . . her inspired commentary on our shared social history offers a fresh approach to our changing views of life and death." —Publishers Weekly 

"A trenchant and fascinating intellectual history of life and death . . . elegant." —Dani Shapiro, The New York Times Book Review 

"A stunning meditation on three questions that have dominated serious reflection about human nature and cultures for centuries: How does life begin? What does it mean? What happens when we die? . . . Lepore's refreshing and often humorous insights breathe fresh air into these everlasting matters." —Bookpage
 
"A breezy, informative, wide-ranging book . . . singular, always stimulating." —The American Scholar
 
"Lepore's prose is thoroughly engaging and witty . . . covers enough of mankind's earnest curiosity about life and death to both entertain and provoke thought." —Booklist
 
"Lepore chooses quirky, though always revealing, lenses through which is examine the changing definitions of conception, infancy, childhood, puberty, marriage, middle age, parenthood, old age, death, and immortality. . . . Through sheer force of charisma, Lepore keeps her readers on track: this book, with all its detours and winding turns, is a journey worth taking." —Library Journal  
 
"[Lepore] manages to spin a larger narrative that both fascinates and informs, showing that our taken-for-granted ideas about every stage of life are culturally specific, very much a product of our times." —Rachel Newcomb, The Washington Post

"Engaging. . . . Lepore writes about our striving to understand our existence. The Mansion of Happiness is an important addition to the effort." —San Francisco Chronicle 

"Lepore has a brilliant way of selecting just the right historical detail to illuminate a larger point. . . . The most valuable lesson here is that of impermanence. Everything changes. And although, as Lepore writes, 'it's best to have a plan,' as her multifaceted, sometimes dizzying joyride of a book reveals, the next roll of dice could, in fact, change everything." —Boston Sunday Globe

"This fascinating book explores a few centuries' worth of ideas about life and death—you know, just a light beach read. But for all its analysis of Darwin and Aristotle, The Mansion of Happiness is a lot of fun. . . . [Lepore] is always engaging, even surprising." –Entertainment Weekly 

"A sharp, illuminating history of ideas. . . . Brilliantly written and engaging throughout . . . superb." —Kirkus, starred review  

"Equip a profound scholar with H. L. Mencken's instinct for running down charlatans and chuckleheads, and you get this book. It will amuse and embarrass those of us ever befuddled by the rogues in her gallery." —Garry Wills, author of Lincoln at Gettysburg 
 
"Written with sardonic wit and penetrating intelligence, The Mansion of Happiness is a fascinating and startlingly original guide to the ways in which the human life-cycle has been imagined, manipulated, managed, marketed, and debased in modern times. Lepore weaves her way brilliantly along the mazy track that leads from the egg in which life's game begins to the giant freezers in which certain crack-brained visionaries hope to defeat death itself. A fast-paced, hilarious, angry, poignant, and richly illuminating book." —Stephen Greenblatt, author of The Swerve: How The World Became Modern

"This is why Jill Lepore is becoming my favorite historian: wise, witty, wide in scope and deep in spirit." —James Gleick, author of The Information  

"A series of engaging and wonderfully perceptive essays on how individuals caught in time made sense of life and death. Jill Lepore is one of America's most accomplished and imaginative historians." —Linda Colley, author of The Ordeal of Elizabeth Marsh 

"Come expecting to be entertained, educated, and given several helpful new ways to think about the stages of life and what lies beyond. . . . Lepore has mastered the neat trick of writing imaginatively and often humorously for a general audience without checking her scholarly swing . . . she gets you thinking like she does, and you can ask no more from a historian." —Malcolm Jones, The Daily Beast

"With wit and erudition, Lepore demonstrates that nothing is more mutable and time-bound than our most cherished notions about the supposedly eternal verities of life and death." —Susan Jacoby, author of The Age of American Unreason

"Well-researched and emotionally intelligent new book. . . . The history of poetry is the history of shifting conceptions of life, the body, where we come from and what the future holds. In this sense, Lepore's new book is the stuff that poetry is made of. . . . Lepore's history isn't single-file. She weaves names and dates, illuminates unlikely connections; she is a master storyteller. Poets, writers, and artists have made connections between landscape and the body, but Lepore argues the point brilliantly using historical documents." —The Millions

"Marvelously fresh and inventive. . . .The pieces here are also invigorated by storytelling brio, a wry sense of humor, and a gift for the bon mot." –Barnes and Noble review 

"Each sentence brims, each paragraph delights. Taken together these essays are more than the sum of their parts. They are an inquiry into how we think about being alive." —Smithsonian 

"The beauty of Lepore's book is the simple elegance and wit with which she conveys her conclusions. . . . It's hard to stop quoting Lepore; her prose is that clever. But what's more important is that it's hard to stop reading The Mansion of Happiness." —The Courier Journal 
 
"One of the pleasures of Lepore's work is the way she uses a single, deftly chosen artifact to crack open a much wider cultural vista. . . . If the bonds between the disparate subjects and motifs in The Mansion of Happiness sometimes seem to be sustained by Lepore's own personal version of extraordinary measures, there are plenty that hold firm. They can't be disputed or endorsed like traditional theories, but they can dazzle and illuminate and inspire. And that's just what they do." —Salon

"A great ride. . . . Lepore writes with a clear feminist perspective, and it's a relief to read someone, for example, who personally knows her way around breast pumps and reproductive rights, and can write about them with humor and affection." —Bust

"For the naturally curious who want to explore something new with the help of a thoughtful essayist like Lepore. . . . It reads very much like a good conversation with a shrewd, witty woman, which is all that can be asked of such a book." —BookBrowse
Vintage, 9780307476456, 320pp.
Publication Date: March 26, 2013
About the Author
Jill Lepore is the David Woods Kemper '41 Professor of American History at Harvard University and a staff writer at The New Yorker. Her books include The Story of America; The Whites of Their Eyes; New York Burning, a finalist for the Pulitzer Prize; and The Name of War, winner of the Bancroft Prize. She lives in Cambridge, Massachusetts.
or
Not Currently Available for Direct Purchase