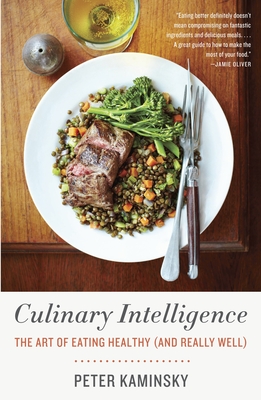 Culinary Intelligence: The Art of Eating Healthy (and Really Well) (Paperback)
The Art of Eating Healthy (and Really Well)
Vintage, 9780307476555, 272pp.
Publication Date: March 12, 2013
* Individual store prices may vary.
or
Not Currently Available for Direct Purchase
Description
Think before you eat * Choose the best ingredients you can afford * Understand flavor, and pack us much of it as you can into each bite As an award-winning food writer, Peter Kaminsky was well acquainted with the occupational hazard of life as a professional eater. But when his health (and his waistline ) started to suffer, he began to re-think his approach to how and what he consumed. In Culinary Intelligence, his memoir and personal manifesto, Kaminsky explains his practical approach to losing weight: think more about food, rather than less. Here Kaminsky shows, with a hefty dose of humor, the way to better eating without sacrificing on pleasure.
About the Author
Peter Kaminsky wrote Underground Gourmet for New York magazine for four years, and his Outdoors column appeared in The New York Times for twenty years. He is a longtime contributor to Food & Wine and the former managing editor of National Lampoon. His books include Pig Perfect: Encounters with Remarkable Swine, The Moon Pulled Up an Acre of Bass, The Elements of Taste (with Gray Kunz), Seven Fires: Grilling the Argentine Way (with Francis Mallmann), Letters to a Young Chef (with Daniel Boulud), Celebrate! (with Sheila Lukins), and John Madden's Ultimate Tailgating. He is a creator and executive producer of the Kennedy Center Mark Twain Prize for American Humor and the Library of Congress Gershwin Prize for Popular Song on PBS.
Praise For Culinary Intelligence: The Art of Eating Healthy (and Really Well)…
"Eating better definitely doesn't mean compromising on fantastic ingredients and delicious meals. . . . A great guide to how to make the most of your food." 
—Jamie Oliver

"The ultimate food-lover's handbook. . . . This book will forever change the way you think about food." 
—Gail Simmons, author of Talking with My Mouth Full: My Life as a Professional Eater and judge on Bravo's "Top Chef"

"'Intelligence' is the operative word. . . . Engaging. . . . [Kaminsky] believes in gratification, not denial."
—The Atlantic

"Culinary Intelligence has nothing to do with shame, and everything to do with the idea of enlisting pleasure as your dietary ally."
—The New York Times

"Brilliant. . . . A culinary doctrine deeply rooted in flavor, making cooking and eating well something to look forward to."
—Dan Barber

"Is Peter Kaminsky a double agent? For twenty years, he eats only the world's best food, 'happens' to discover the cure for diabetes, heart disease, and obesity, and comes home to tell us to cook our own food, have lunch, and eat leftovers? A savvy, audacious book—long overdue." 
—Bill Buford, author of Heat

"If you don't want to be part of the obesity and diabetes epidemics in this country, read this book. Food lover Peter Kaminsky lost weight and transformed his own diet without giving up delicious, nutritious, flavorful foods, and he provides an entertaining road map for how hedonism and health can coexist quite happily."
—Arthur Agatston, M.D., preventive cardiologist and creator of the South Beach Diet

"Peter Kaminsky's rules for taking pounds off and keeping them off are based on a really good idea: Flavor per Calorie. That works for him and should make dieting a pleasure." 
—Marion Nestle, New York University, coauthor of Why Calories Count: From Science to Politics

"Peter Kaminsky knows food from every angle there is. Culinary Intelligence breaks new ground by weaving together fascinating stories, wonderful insights about the way we relate to food, and practical advice for eating better and truly enjoying it more."
—Kelly D. Brownell, Professor of Psychology, Epidemiology and Public Health, Yale University
Advertisement