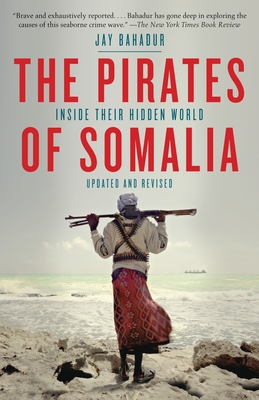 The Pirates of Somalia: Inside Their Hidden World (Paperback)
Inside Their Hidden World
Vintage Books, 9780307476562, 306pp.
Publication Date: August 21, 2012
Description
The first close-up look at the hidden world of Somali pirates by a young journalist who dared to make his way into their remote havens and spent a year infiltrating their lives.
For centuries, stories of pirates have captured imaginations around the world. The recent ragtag bands of pirates off the coast of Somalia, hijacking multimillion-dollar tankers owned by international shipping conglomerates, have brought the scourge of piracy into the modern era. Jay Bahadur's riveting narrative expose--the first of its kind--looks at who these men are, how they live, the forces that created piracy in Somalia, how the pirates spend the ransom money, how they deal with their hostages, among much, much more. It is a revelation of a dangerous world at the epicenter of political and natural disaster.
About the Author
Jay Bahadur's articles have appeared in The Times (London), The New York Times, the Financial Times, and The Globe and Mail (Toronto). He has advised the United States State Department and has worked as a freelance correspondent for CBS News. Bahadur currently lives in Nairobi, where he works as managing editor of the news site Somalia Report. www.jaybahadur.comTwitter: @PuntlandPirates
Praise For The Pirates of Somalia: Inside Their Hidden World…
"Brave and exhaustively reported. . . . Bahadur has gone deep in exploring the causes of this seaborne crime wave." —The New York Times Book Review

"Bahadur has borne witness and seen what no other journalist has seen. He has peeked behind the curtain of the pirates of Somalia in their faraway tribal homelands . . . and lived to tell about it." —The Boston Globe
 
"A fascinating narrative that opens a hitherto largely unknown world to a wider audience." —San Francisco Chronicle
 
"An illuminating guide. . . . Bahadur has probably spent more time with Somali pirates than just about any other Western researcher or writer." —The New Republic

"A first-of-its kind book. . . . Takes readers through the evolution of the pirate groups from garrulous, self-proclaimed vigilantes who claim they are protecting Somalia's waters from illegal fishing vessels to the deadly criminal gangs they are today." —Associated Press
 
"Convincing. . . . In Bahadur's telling, the fractured, tribal governance of Somalia's territories is almost unbelievable in its dysfunction. And the year-by-year evolution of Somalian piracy is mesmerizing. . . . Look to The Pirates of Somalia for an aggregation
of all the news stories about this phenomenon over the past four years, with the additional, intimate layer—stories of the pirates from the pirates themselves—that no one else was reckless enough to get." —The Plain Dealer
 
"This vivid and intelligent study of Somali pirates uncovers the reckless men behind the nation's most lucrative business. . . . A
balanced and fascinating portrait." —The Sunday Times (London)
 
"An insightful report. . . . Revelatory journalism and astute analysisof causes and solutions that prove far more informative than any
TV footage about the contemporary piracy problem." —Booklist
 
"An engaging account, full of solid analysis. . . . What's especially impressive (aside from Bahadur's sheer nerve in insinuating himself among these dangerous men in a lawless corner of the world) is the amassing of multiple perspectives—of pirates and policymakers— that support a rich, suspenseful account." —Publishers Weekly
Advertisement