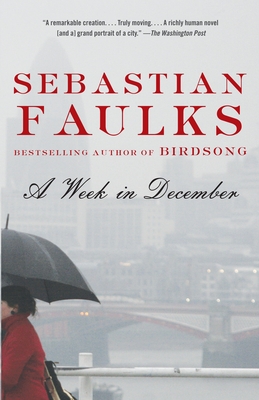 A Week in December (Vintage International) (Paperback)
Vintage, 9780307476623, 400pp.
Publication Date: March 8, 2011
Other Editions of This Title:
Digital Audiobook (3/1/2010)
Hardcover (3/9/2010)
Paperback (8/1/2011)
* Individual store prices may vary.
Description
In the blustery final days of 2007, seven characters will reach an unexpected turning point: a hedge fund manager pulling off a trade, a professional football player recently arrived from Poland, a young lawyer with too much time on his hands, a student led astray by Islamist theory, a hack book reviewer, a schoolboy hooked on pot and reality TV, and a Tube train driver whose Circle Line train joins these lives in a daily loop. And as the novel moves to its gripping climax, they are forced, one by one, to confront the new world they inhabit.
 
Panoramic and masterful, A Week in December melds moral heft and piercing wit, holding a mirror up to the complex patterns and crossings of modern urban life.
About the Author
Sebastian Faulks worked as a journalist for fourteen years before taking up writing full-time in 1991. In 1995 he was voted Author of the Year by the British Book Awards for Birdsong. He is also the author of Human Traces, On Green Dolphin Street, Charlotte Gray, The Fatal Englishman, The Girl at the Lion d'Or, Engleby, and the James Bond novel Devil May Care. He lives in London with his wife and three children.
Praise For A Week in December (Vintage International)…
"A remarkable creation. . . . Truly moving. . . .  richly human novel [and a] grand portrait of a city." —The Washington Post

"Ambitious, entertaining, and often scathingly angry." —The New York Times Book Review

"A Week in December is a formally ambitious, intelligently entertaining, rather provocative novel of contemporary manners." —Los Angeles Times
 
"Reflects the tumultuous present with both humor and a scathing sensibility. . . . This, at its heart, is fiction about folks, and it's darned compelling." —The Denver Post

"Vigorous, authentic and often hilarious. . . . Clever and convincing." —Chicago Tribune
 
"The ultimate urban novel. . . . A blistering social document." —Seattle Times
 
"Delightful and witty. . . . A state-of-the-nation book, a satirical comedy of metropolitan literary life, a sweeping, Dickensian look at contemporary London, a serious examination of Islam and the reasons for radicalism among young Muslims, a thriller, a satire . . . and a detailed look at the sharp financial practices that led to the collapse." —The Guardian (London)
 
"Precisely what we need to help us navigate these complex times. Chatrooms, blogs, reality TV: this is the landscape contemporary fiction must inhabit to stay relevant. Faulks' does so with mastery." —GQ
 
"[Faulks] handles his topics with witty verve." —The New Yorker
 
"Guessing the real-life characters who might have inspired those in the novel adds an extra scoop of fun to this bewitching, well-observed snapshot of London life." —Elle
 
"If you're a fan of Charles Dickens, A Week in December reads like a vastly entertaining new version of Our Mutual Friend, with a side order of Bleak House." —NPR, "What We're Reading"
 
"Eminently readable [and] cleverly plotted." —The Times (London)
 
"Faulks . . . writes in a style that is always sophisticated and sometimes satirical, but he never fails to draw in readers looking for a good story. . . . Deeply creative." —BookPage
 
"A riposte to those who say the novel doesn't deal with big issues any more." —The Telegraph (London)
 
"Well-plotted and gripping throughout." —The Spectator  
or
Not Currently Available for Direct Purchase