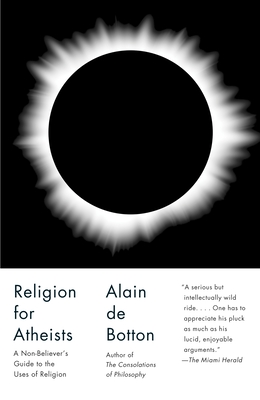 Religion for Atheists
A Non-believer's Guide to the Uses of Religion (Vintage International)
Paperback

* Individual store prices may vary.
Other Editions of This Title:
MP3 CD (8/16/2016)
Hardcover (3/6/2012)
Description
What if religions are neither all true nor all nonsense? Alain de Botton's bold and provocative book argues that we can benefit from the wisdom and power of religion—without having to believe in any of it.

He suggests that rather than mocking religion, agnostics and atheists should instead steal from it—because the world's religions are packed with good ideas on how we might live and arrange our societies. De Botton looks to religion for insights into how to build a sense of community, make relationships last, overcome feelings of envy and inadequacy, inspire travel, get more out of art, and reconnect with the natural world. For too long non-believers have faced a stark choice between swallowing lots of peculiar doctrines or doing away with a range of consoling and beautiful rituals and ideas. Religion for Atheists offers a far more interesting and truly helpful alternative.
Praise For Religion for Atheists: A Non-believer's Guide to the Uses of Religion (Vintage International)…
"A serious but intellectually wild ride. . . . One has to appreciate his pluck as much as his lucid, enjoyable arguments." —Miami Herald

"Commonsensical and insightful. . . . The wealth of knowledge and felicity of phrasing that de Botton brings to his task make for a stimulating read." —Seattle Times
 
"Quirky, often hilarious. . . . Focusing on just three major faiths—Christianity, Judaism and Buddhism—he makes a convincing case for their ability to create both a sense of community and education that addresses morality and our emotional life." —Washington Post 

"Compelling. . .  beautifully and wittily illustrated." —Los Angeles Times

"A wonderfully dangerous and subversive book." —San Francisco Chronicle

"A new book by Alain de Botton is always a treat. . . . De Botton is literate, articulate, knowledgeable, funny and idiosyncratic." —Forbes.com

"De Botton writes at his best when he confronts our abiding human frailty. . . . If only all writers wrote with such unabashedly kind intentions." —Huffington Post

"Provocative and thoughtful. . . . Particularly noteworthy are de Botton's insights on what education and the arts can borrow from the formats and paradigms of religious delivery." —The Atlantic

"The eminently quotable de Botton holds forth on the deliberately provocative premise that ancient traditions can solve modern problems. . . . The premise he is testing is a worthy one: The secular world worships consumerism, optimism, and perfection to its doom, and would do well to make room for a little humility, community, and contemplation instead." —Boston Globe

"[De Botton] demonstrates his usual urbane, intelligent, and witty prose. . . . This book will advance amicable discussion among both believers and disbelievers." —Library Journal

"Highly original and thought-provoking. . . . De Botton is a lively, engaging writer." —Publishers Weekly (starred review)
Vintage, 9780307476821, 320pp.
Publication Date: January 8, 2013
About the Author
Alain de Botton is the author of essays on themes ranging from love and travel to architecture and philosophy. His best-selling books include How Proust Can Change Your Life, The Art of Travel and The Architecture of Happiness. He lives in London, where he is the founder and chairman of The School of Life (www.theschooloflife.com) and the creative director of Living Architecture (www.living-architecture.co.uk).