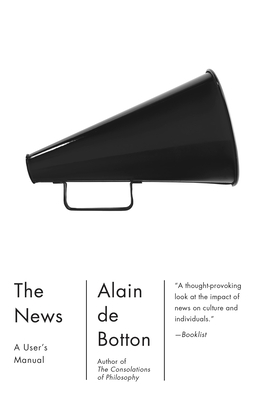 The News
A User's Manual (Vintage International)
Paperback

* Individual store prices may vary.
Description
The News: A User's Manual is an insightful analysis of the impact of the incessant news machine on us and our culture.
   The news is everywhere. We can't stop constantly checking it on our computer screens, but what is this doing to our minds? We are never taught how to make sense of the torrent of news we face daily, which has a huge influence on our sense of what matters and of how we should lead our lives. Alain de Botton takes twenty-five archetypal news stories—including an airplane crash, a murder, a celebrity interview, and a political scandal—and submits them to intense analysis. Why are disaster stories often so uplifting? Why do we enjoy watching politicians being brought down? Why are upheavals in far-off lands often so boring? What makes the love lives of celebrities so interesting? De Botton has written the ultimate guide for our frenzied era, designed to bring calm, understanding, and a measure of sanity to a news-obsessed age.
Praise For The News: A User's Manual (Vintage International)…
"A thought-provoking look at the impact of news on culture and individuals." —Booklist

"De Botton's utopian project . . . is to challenge our pessimistic assumptions about what news is and imagine how it could be."  —The Guardian

"Elegantly argued. . . . Moves briskly across the vast landscape of contemporary news."  —San Francisco Chronicle

"Broaches the problems of twenty-first century media outlets with de Botton's signature flourish." —The New Republic
Vintage, 9780307476838, 272pp.
Publication Date: December 2, 2014
About the Author
Alain de Botton is the author of nonfiction works on subjects ranging from love and travel to architecture and philosophy. His best-selling books include How Proust Can Change Your Life, The Art of Travel and The Architecture of Happiness. He lives in London, where he founded The School of Life (www.theschooloflife.com) and Living Architecture (www.living-architecture.co.uk).