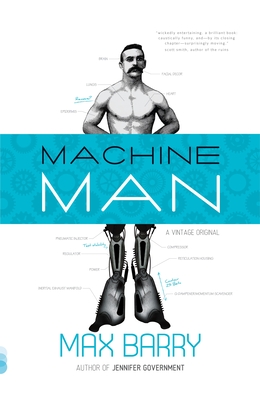 Machine Man (Vintage Contemporaries) (Paperback)
Vintage, 9780307476890, 288pp.
Publication Date: August 9, 2011
Other Editions of This Title:
Digital Audiobook (8/8/2011)
* Individual store prices may vary.
Description
Scientist Charles Neumann loses a leg in an industrial accident. It's not a tragedy. It's an opportunity. Charlie always thought his body could be better. He begins to explore a few ideas. To build parts. Better parts.

Prosthetist Lola Shanks loves a good artificial limb. In Charlie, she sees a man on his way to becoming artificial everything. But others see a madman. Or a product. Or a weapon.

A story for the age of pervasive technology, Machine Man is a gruesomely funny unraveling of one man's quest for ultimate self-improvement.
About the Author
Max Barry began removing parts at an early age. In 1999, he successfully excised a steady job at tech giant HP in order to upgrade to the more compatible alternative of manufacturing fiction. While producing three novels, he developed the online nation simulation game NationStates, as well as contributing to various open source software projects and developing religious views on operating systems. He did not leave the house much. For Machine Man, Max wrote a website to deliver pages of fiction to readers via email and RSS. He lives in Melbourne, Australia, with his wife and two daughters, and is 38 years old. He uses vi.
Praise For Machine Man (Vintage Contemporaries)…
"Wickedly entertaining, a brilliant book: caustically funny, and-by its closing chapter-surprisingly moving." --Scott Smith, author of The Ruins

"Using precision-engineered prose, Max Barry has built a gleaming, terrifying device: part love story, part horror story, part thought experiment, all entertaining." --Charles Yu, author of How To Live Safely in a Science Fictional Universe

"A meticulously devised, deviant little parable--once it starts, you can't look away." --Austin Grossman, author of Soon I Will Be Invincible