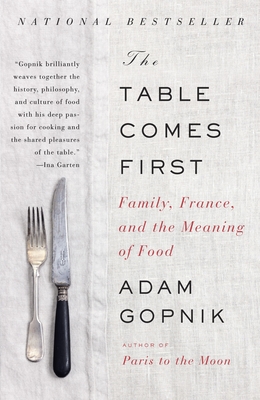 The Table Comes First
Family, France, and the Meaning of Food
Paperback

* Individual store prices may vary.
Other Editions of This Title:
Digital Audiobook (10/24/2011)
Hardcover (10/25/2011)
Hardcover (9/1/2011)
Description
From the author of Paris to the Moon, a beguiling tour of the morals and manners of our present food mania, in search of eating's deeper truths.
 
Never before have we cared so much about food. It preoccupies our popular culture, our fantasies, and even our moralizing. With our top chefs as deities and finest restaurants as places of pilgrimage, we have made food the stuff of secular seeking and transcendence, finding heaven in a mouthful. But have we come any closer to discovering the true meaning of food in our lives? With inimitable charm and learning, Adam Gopnik takes us on a beguiling journey in search of that meaning as he charts America's recent and rapid evolution from commendably aware eaters to manic, compulsive gastronomes.
Praise For The Table Comes First: Family, France, and the Meaning of Food…
"Adam Gopnik brilliantly weaves together the history, philosophy, and culture of food with his deep passion for cooking and the shared pleasures of the table."
—Ina Garten

"At once sweeping and intimate. . . . Gopnik's story is more ambitious than a history of restaurants—it's about how we taste, dream, and argue about food. . . . The Table Comes First indulges gourmands everywhere. And it's a refreshing defense of the nation responsible in so many ways for the way we eat now. In Gopnik's distinctive style, it is encyclopedic yet personal and funny, and it drives at deeper truths."
—Newsweek
 
"Captivating."
—The New York Times
 
"Exuberant. . . . What flows through [The Table Comes First] is a deep fascination with gastronomy as a life force and with the way it's awakened and flourished over the last couple of centuries. . . . Gopnik acts as reporter, historian, participant and philosopher as he leads us on a kind of walking tour of the food world."
—Slate
 
"Unapologetically intelligent yet charmingly witty . . . [here is] history, nutrition, philosophy, anthropology, and sociology all rolled up into one delectable streusel of insight and illumination."
—The Atlantic
 
"Gopnik is the nearest thing there is—in the English-speaking world, at any rate—to a philosopher of food. . . . These essays blend enormous erudition with great elegance of expression, and pack intellectual firepower too."
—New Statesman
 
"I need to read anything that Adam Gopnik writes, and this book on food, eating and—it follows—life is a particular feast. His acuity, grace, sensitive intelligence (in short, his brilliance) are, as ever, dazzlingly displayed and yet with the lightest of touches."
—Nigella Lawson
 
"Gopnik would surely be the world's greatest dinner guest; he can make any subject fascinating, and always backs up his curiosity with unhurried research and an acute eye for the telling detail."
—Chicago Tribune
 
"Compelling. . . . Gopnik gets elbow deep in heady theory, culinary history, and his own passions. . . . He is a champion at making connections, wild and free-ranging. Among the allusions are revelations."
—The Boston Globe
 
"The perfect book for any intellectual foodie, a delicious book packed with so much to sink your teeth into."
—Padma Lakshmi
 
"Entertaining. . . . Gopnik's long experience with France and fine dining yields some fine observations. . . . [Reading The Table Comes First,] you feel as if you're sitting across the table from an amusing friend recounting his adventures."
—Minnesota Star Tribune
 
"Gopnik's discussions on the changing nature of tastes and how it defines what we believe to be 'good' and 'right' in food are a timely study on the divergent yet complementary trends in modern cooking."
—Pittsburgh Post-Gazette
 
"Gopnik's writing about food is highly intellectual and profoundly witty, while also being warm and personal and rooted in common sense. He thinks hard about the routines of the table, and makes you think too."
—John Lanchester, author of The Debt to Pleasure
 
"Those who share Gopnik's twin affections for food and reading will find plenty to savor in The Table Comes First. . . . He's an essayist in the grand tradition, throwing out pithy sentences that offer the reader plenty to argue about, and then blithely contradicting himself on the next page. It's easy to imagine how pleasant a table companion he must be."
—The Columbus Dispatch
Vintage, 9780307476968, 336pp.
Publication Date: August 21, 2012
About the Author
Author of the beloved best seller Paris to the Moon, Adam Gopnik has been writing for The New Yorker since 1986. He is a three-time winner of the National Magazine Award for Essays and for Reviews and Criticism and of the George Polk Award for Magazine Reporting. He lives in New York City with his wife and their two children.
or
Not Currently Available for Direct Purchase