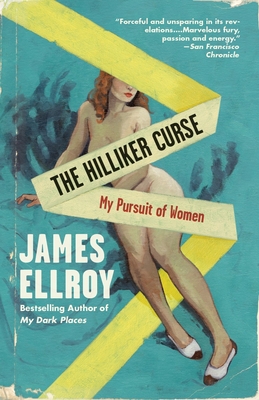 The Hilliker Curse (Paperback)
Vintage, 9780307477392, 224pp.
Publication Date: September 6, 2011
Other Editions of This Title:
Digital Audiobook (9/6/2010)
Compact Disc (9/7/2010)
Hardcover (9/7/2010)
Hardcover (9/1/2010)
Paperback (6/1/2011)
* Individual store prices may vary.
Description
Legendary crime writer James Ellroy gives us a searing, candid memoir about his obsession with women, his related search for atonement, and his literary career.
 
The year was 1958. Jean Hilliker had divorced her hustler husband and resurrected her maiden name. Her son, James, was ten years old. In a dark moment, he "summoned her dead." Three months later she was murdered. The curse was evoked, and James Ellroy began his unending pursuit of women. Here, he unsparingly describes his shattered childhood, his delinquent teens, his writing life, his love affairs and marriages, his nervous breakdown, and the beginning of a relationship with an extraordinary woman who may just be the long-sought Her. A startling revelation, a treatise on guilt and the power of malediction, and above all, a heartfelt confession, The Hilliker Curse is a brilliant, soul-baring revelation of self.
About the Author
James Ellroy was born in Los Angeles in 1948. He is the author of the Underwold U.S.A. Trilogy—American Tabloid, The Cold Six Thousand, and Blood's A Rover—and the L.A. Quartet novels, The Black Dahlia, The Big Nowhere, L.A. Confidential, and White Jazz. American Tabloid was Time magazine's Best Book (fiction) of 1995; his memoir, My Dark Places, was a Time Best Book of the Year and a New York Times Notable Book for 1996. The Cold Six Thousand was a New York Times Notable Book and a Los Angeles Times Best Book of 2001. He lives in Los Angeles.
 
http://jamesellroy.net/
Praise For The Hilliker Curse…
"Forceful and unsparing in its revelations. . . . Marvelous fury, passion and energy." —San Francisco Chronicle

"A remarkable memoir . . . Once again . . . Ellroy [has] come up with the goods." —The Economist

"Terrible, exhilarating, exhauting, entertaining and downright tragic. It's also brutally honest." —Las Vegas Review Journal
 
"Perhaps the most confessional memoir I've ever read." —The Dallas Morning News

"Ellroy is a remarkable storyteller, and The Hilliker Curse offers an abundance of his unmistakable gristle-and-bone prose style." —The Onion A.V. Club
 
"To say that Ellroy's prose is fractured or fragmented is like saying that an Impressionist painting is smudged and unfocused. It misses the point and describes the shadow of the thing, not the thing's substance. The words bounce around in a world where tense is fluid, where hard-consonants rule the day, where conventional definitions are tossed on their heads. He pushes his readers' limits by demanding that they enter a world created solely for the purpose of brutally truthful revelation." —Chicago Sun-Times
 
"As fascinating as it is at times utterly disturbing." —Entertainment Weekly
 
"Crime writer James Ellroy's most compelling mystery story has always been his own. . . . But The Hilliker Curse is not meant to be merely a confession. It is an act of creation. . . . There's a truth of feeling in it, too, an underlying sense of what it is actually like to live in the vortex of an impossible yearning. . . . Ellroy is expert and relentless at dramatizing the effects [of his obsession]." —Wall Street Journal
 
"What a breathless piece of writing this is. When it comes to pinning down the most startling possible word collision, Ellroy's acrobatic pizzazz is beyond doubt. . . . This is literary knife-throwing at its most exhilarating and dangerous." —The Observer (London)
 
"There's no doubt about it: James Ellroy is a fascinating character. . . . He's as hard to ignore as a burning fire truck. . . . The revelations are compelling, as the author indicts the tough-guy persona he has so meticulously constructed." —Booklist
 
"A fervent portrait of the artist as a young screw-up—an old one, too, who writes like an avenging angel. . . . It's vintage Ellroy." —Kirkus Reviews