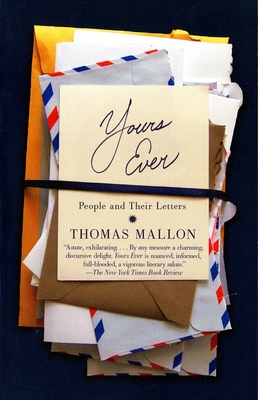 Yours Ever: People and Their Letters (Paperback)
People and Their Letters
Vintage Books USA, 9780307477415, 338pp.
Publication Date: December 7, 2010
* Individual store prices may vary.
or
Not Currently Available for Direct Purchase
Description
A delightful investigation of the art of letter writing, Yours Ever explores masterpieces dispatched through the ages by messenger, postal service, and BlackBerry.
Here are Madame de Sevigne's devastatingly sharp reports from the French court, F. Scott Fitzgerald's tormented advice to his young daughter, the casually brilliant musings of Flannery O Connor, the lustful boastings of Lord Byron, and the prison cries of Sacco and Vanzetti, all accompanied by Thomas Mallon's own insightful commentary. From battlefield confessions to suicide notes, fan letters to hate mail, Yours Ever is an exuberant reintroduction to a vast and entertaining literature a book that will help to revive, in the digital age, this glorious lost art.
About the Author
Thomas Mallon is the author of seven novels, including Henry and Clara, Dewey Defeats Truman, and Fellow Travelers. He is a frequent contributor to The New Yorker, The New York Times Book Review, and The Atlantic Monthly. He lives in Washington, D. C.
Praise For Yours Ever: People and Their Letters…
"Exhilarating. . . . Mallon knows why we are reading over his shoulder; we are in it for a glimpse of the great man in his pajamas, the great writer on a lark, his stylistic guard down, conjuring with the crumbs and lint, the burnt toast and sprained egos of everyday existence. . . . It is as if text and e-mail messages are of this world, a letter an attempt, however illusory, to transcend it. All of which adds tension and resonance to Mallon's pages, already crackling with hesitations and vulnerabilities, obsessions and aspirations. . . . By any measure a charming, discursive delight. Yours Ever is nuanced, informed, full-blooded, a vigorous literary salute." —The New York Times Book Review

"Vibrant. . . . Yours Ever is not just an appreciation of a moribund art, but a collection of often fascinating mini-biographies . . . Mallon is an ideal guide on this whirlwind tour. . . .  Puts the belle back in belles-lettres." —Los Angeles Times

"The best that the epistolary genre has to offer. . . . A letter of introduction to the joys of letter writing." —The Wall Street Journal
 
"Mallon explicates and comments with wry humor, a daunting intellect and an impeccable prose style. . . . Everything is all here, the ridiculous and the sublime." —The Miami Herald

"Enjoyably treats a chattier matter: why we write—recklessly, passionately, self-revealingly—to anyone at all. . . . Readers, whether history buffs or not, should find this book pleasingly ripe with insights into the bittersweet rewards of revealing oneself to the perfect listener." —Minneapolis Star-Tribune
 
"Mallon not only finds wonderful letters such as F. Scott Fitzgerald's advice to his daughter, he also possesses such marvelous interpretive powers that a reader . . . might feel that each chapter is a letter intended for himself." —Chicago Tribune
 
"With commentary so insightful and language so finely wrought that I suspect any one of the letter writers within would be delighted to make [Mallon's] acquaintance by post . . . [Yours Ever] is, quite simply, the kind of book that makes you want to be a better reader." —The Austin Chronicle
 
"Mallon . . . burrows shrewdly and to rewarding effect. Furthermore he can be a memorably witty commentator." —The Boston Globe
 
"Fascinating. . . . Engrossing. . . . Each reader will certainly make up a bouquet of favorite quotes from these letters." —Bookreporter.com
 
"[Mallon is] a master of the 'brief life' . . . fashioning deft sketches of the correspondents.  The result is his own delightfully idiosyncratic dictionary of literary biography." —Slate
 
"Fluid, discursive, aphoristic . . . Mallon's erudition (which he wears lightly) and his curiosity (which he shares generously) have sent him diving into words left behind by royalists and revolutionaries, murderers and lovers, Ann Landers and Ayn Rand. . . . Engaging." —Fortune
 
"Yours Ever is a revelatory collection of the nutty and the noble encased in private correspondence." —Maureen Corrigan, "Fresh Air," NPR
 
"This endlessly delightful book . . . makes reading other people's mail as much fun as we always suspected it would be." —National Review
 
"An amiable, very readable collection of brief essays about dozens of correspondents. . . . Entertaining." —Bookforum.com
 
"Smart and enchanting. . . . Yours Ever is far, far better than a disjointed compendium of great American letters. . . . It is, rather, a well-fed meditation on the humanity that descends to us from history in the form of letters. . . .Mallon takes those we think we recognized and presents them from a fresh perspective." —The Advocate (Baton Rouge, Louisiana)



Advertisement