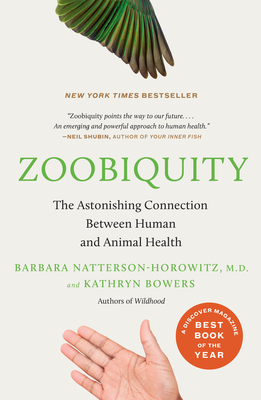 Zoobiquity
The Astonishing Connection Between Human and Animal Health
Paperback

* Individual store prices may vary.
Other Editions of This Title:
Digital Audiobook (6/11/2012)
Description
A revelatory depiction of what animals can teach us about the human body and mind, exploring how animal and human commonality can be used to diagnose, treat, and heal patients of all species.

"Full of fascinating stories." —Atul Gawande, M.D.

Do animals overeat? Get breast cancer? Have fainting spells? Inspired by an eye-opening consultation at the Los Angeles Zoo, which revealed that a monkey experienced the same symptoms of heart failure as human patients, cardiologist Barbara Natterson-Horowitz embarked upon a project that would reshape how she practiced medicine.

Beginning with the above questions, she began informally researching every affliction that she encountered in humans to learn whether it happened with animals, too. And usually, it did: dinosaurs suffered from brain cancer, koalas can catch chlamydia, reindeer seek narcotic escape in hallucinogenic mushrooms, stallions self-mutilate, and gorillas experience clinical depression.

Natterson-Horowitz and science writer Kathryn Bowers have dubbed this pan-species approach to medicine zoobiquity. 

New York Times Bestseller

An O, The Oprah Magazine "Summer Reading" Pick

A Discover Magazine Best Book


Praise For Zoobiquity: The Astonishing Connection Between Human and Animal Health…
"Full of fascinating stories. . . . I was beguiled." —Atul Gawande, M.D., bestselling author of Complications

"Provocative. . . . It's exciting to watch a doctor discovering just how much the animal kingdom has to teach her." —Carl Zimmer, The Daily Beast
 
"Illuminating . . . [and] difficult to put down. . . . Reading Zoobiquity gave this reader a totally new perspective on his furred and feathered neighbors." —Dennis Rosen, The Boston Globe

"[A] pacy, readable, and entertaining manifesto for a zoobiquitous approach to health and wellbeing, to be welcomed by vets and other human animals."—The Observer (London)

"Not only [have the authors] presented a very credible argument for collaboration between disciplines, but she has done so in a most entertaining and beautifully written manner." —New York Journal of Books

"[The authors] make a convincing case. . . . You will find the argument hard to resist. Plus you will have some killer dinner party gems." —New Scientist

"Tremendously interesting and beautifully written. . . . At once entertaining and respectful of the reader's intelligence." —Winnipeg Free Press

"Profoundly illuminating. . . . As clarion and perception-altering as works by Oliver Sacks, Michael Pollan, and E. O. Wilson." —Booklist (starred review)

"The book features countless intriguing anecdotes. . . . After finishing, you're guaranteed to never look at your dog, cat, or any other animal the same way again." —Publishers Weekly

"The authors provide solid evidence that humans are not as far removed from the rest of the natural world as we might have thought. Engaging [and] useful." —Kirkus Reviews

"This beautifully written book is loaded with fascinating material that makes a compelling case for viewing human health and disease comparatively. We have more to learn from other species than I had ever suspected. Gripping and memorably engaging, it belongs in the hands of anyone with an ounce of curiosity about the biological sources of the human condition." —Stephen Stearns, Ph.D., Edward P. Bass Professor of Ecology and Evolutionary Biology, Yale University

 "Fascinating reading about the similarities in both the physiology and behavior of people and animals." —Temple Grandin, Ph.D., author of Animals Make Us Human

"The connections we share with the rest of life on our planet are a source of beauty and, in Natterson-Horowitz and Bowers' luminous new account, the inspiration for an emerging and powerful approach to human health." —Neil Shubin, paleontologist and author of Your Inner Fish

"This important book shatters barriers between disciplines and professions. . . . A 'must read' for  students interested in animals and evolution who are considering careers as biologists, ethologists, physicians, veterinarians, nurses, dentists, psychotherapists, nutritionists and many others." —Marc Bekoff, author of Minding Animals and The Emotional Lives of Animals, and co-founder with Jane Goodall of Ethologists for the Ethical Treatment of Animals
Vintage, 9780307477439, 416pp.
Publication Date: April 9, 2013
About the Author
Barbara Natterson-Horowitz, M.D., earned her degrees at Harvard and the University of California, San Francisco. She is a cardiology professor at the David Geffen School of Medicine at UCLA and serves on the medical advisory board of the Los Angeles Zoo as a cardiovascular consultant. Her writing has appeared in many scientific and medical publications.

Kathryn Bowers was a staff editor at The Atlantic and a writer and producer at CNN International. She has edited and written popular and academic books and teaches a course at UCLA on medical narrative.