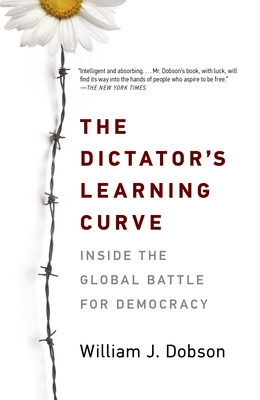 The Dictator's Learning Curve: Inside the Global Battle for Democracy (Paperback)
Inside the Global Battle for Democracy
Anchor Books, 9780307477552, 352pp.
Publication Date: March 12, 2013
* Individual store prices may vary.
or
Not Currently Available for Direct Purchase
Description
In this riveting anatomy of authoritarianism, acclaimed journalist William Dobson takes us inside the battle between dictators and those who would challenge their rule. Recent history has seen an incredible moment in the war between dictators and democracy--with waves of protests sweeping Syria and Yemen, and despots falling in Egypt, Tunisia, and Libya. But the Arab Spring is only the latest front in a global battle between freedom and repression, a battle that, until recently, dictators have been winning hands-down. The problem is that today's authoritarians are not like the frozen-in-time, ready-to-crack regimes of Burma and North Korea. They are ever-morphing, technologically savvy, and internationally connected, and have replaced more brutal forms of intimidation with subtle coercion. The Dictator's Learning Curve explains this historic moment and provides crucial insight into the fight for democracy.
About the Author
William J. Dobson is politics and foreign affairs editor for Slate. He has been an editor at Foreign Affairs, Newsweek International, and Foreign Policy. During his tenure at Foreign Policy, the magazine was nominated for the coveted National Magazine Award for General Excellence each year and won top honors in 2007 and 2009. His articles and essays have appeared in The New York Times, The Washington Post, and The Wall Street Journal, and he has provided analysis for ABC, CNN, CBS, MSNBC, and NPR. He lives in Washington, DC.
Praise For The Dictator's Learning Curve: Inside the Global Battle for Democracy…
Praise for William J. Dobson's The Dictator's Learning Curve:

"Intelligent and absorbing. . . . Mr. Dobson's book, with luck, will find its way into the hands of people who aspire to be free."
—The New York Times

"An essential perspective on a crucial struggle. . . . Dobson is that rare thinker who combines a gift for storytelling with an understanding of how the world works."
—Fareed Zakaria 
 
"[Dobson] writes with exemplary clarity and a sharp eye for color. . . . Timely, authoritative, and as readable as a novel, this is one of the season's most resonant books—not least because it ends on a note of guarded hope for the future."
—Prospect

"A brilliant and original analysis of the nature of modern authoritarianism."
—Anne Applebaum, author of Iron Curtain, winner of the Pulitzer Prize

"[A] deft, incisive book. . . . The mix of perspectives results in an impressive overview of the global struggle between authoritarian power and determined advocates of political freedom."
—Publishers Weekly, starred review

"Dobson has invested time and insight, from China to Venezuela, and Egypt to Russia, trying to capture the shape-changing nature of modern authoritarianism, and the resourcefulness and wit of its opponents. . . . [He] captures empathetically the skill and insight of modern neo-despots – in much the way their more successful opponents do. . . . Rare is the book on dictatorship that can end on an uplifting note that its narrative carefully substantiates."
—Financial Times

"William J. Dobson's exploration of the contest between contemporary dictatorships and those who rebel against them is valuable because it offers a sober analysis of both sides. Dobson traveled nearly 100,000 miles researching this book, which takes a close look at the face of modern authoritarianism. . . . His book may be about the struggle for freedom of other countries' citizens, but there are lessons in it for the preservation of our own."
—The Washington Post

"[A] thoughtful journey through formidable dictatorships of our time. . . . Instead of offering caricatures of vintage dictators, Dobson observes the more dangerous trend—of dictators adopting the form of democratic governance, while draining it of any substance."
—The Independent

"Dobson's is a terrific book to argue with. And it's hard to think of a higher compliment for a book about Big Ideas."
—Christian Science Monitor

"Says something really fresh about the world we live in."
—Michael Burleigh, The Telegraph's Best Books of 2012

"After a remarkable year in which citizens of a dozen countries have challenged their authoritarian governments, readers will welcome veteran journalist Dobson's overview of the complicated dance of adaptation by the world's dictators and those who resist their oppressive power. . . . A timely, valuable contribution to readers' understanding of global unrest."
—Booklist

"Colorful and sharply reported."
—Bloomberg BusinessWeek

"Fascinating . . . some of Dobson's most astute observations come from his reporting about China. The Chinese communists, he concludes, are the least complacent of today's modern authoritarians."
—Foreign Policy

"A vivid real-time portrait of the movement for democracy. Among its virtues, Dobson's book clarifies the ways in which the recent challenge to dictatorship represents a coordinated worldwide effort, and the ways in which each country's struggle is unique."
—James Fallows, national correspondent for The Atlantic and author of China Airborne

"It is hard to imagine a timelier book than this one. William Dobson provides a new framework and a new vocabulary for understanding modern authoritarianism, backed up by detailed and gripping stories of dictators and their citizen opponents in Russia, China, Venezuela, Egypt, and Malaysia. Anyone seeking to make sense of the extraordinary tide of revolutions and protests sweeping around the world will find The Dictator's Learning Curve an indispensable read."
—Anne-Marie Slaughter, Bert G. Kerstetter '66 University Professor of Politics and International Affairs, Princeton University, and former Director of Policy Planning, U.S. State Department

"William J. Dobson vividly portrays [the] struggle against authoritarian rule …Dobson's coverage of Venezuela's internal political struggles is particularly fascinating. He had spectacular access to well-placed sources in this oil-rich country, including political prisoners."
—Wilson Quarterly

"Dobson's book ends up not only a sophisticated but also a wonderfully readable account of the latest installments in an age-old type of struggle."
—Pacific Standard

"Dobson has interviewed scores of protesters, security experts, opposition political candidates, elite power brokers, and a former Egyptian police officer who, from his computer in the United States, guided protesters occupying Tahrir Square…As a result, the reader gets a wide-ranging overview of political strife as we live it now."
—The Weekly Standard

"Timely…Dobson chronicles in detail the ingenious but sinister ways in which modern authoritarian regimes are suppressing dissent."
—The Journal of Democracy

"A fluid study of how heavy-handed repression by authoritarian regimes has given way to more subtle forms of control. . . . A pertinent work of journalistic research that will gain fresh meaning as authoritarian regimes both evolve and fall."
—Kirkus Reviews
Advertisement