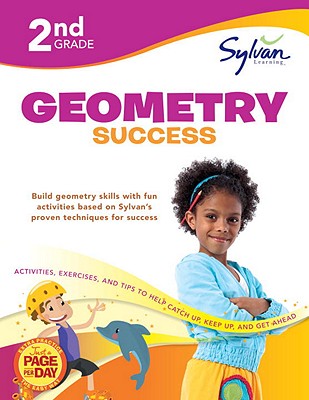 Second Grade Geometry Success (Sylvan Workbooks) (Paperback)
Sylvan Learning Publishing, 9780307479273, 128pp.
Publication Date: January 18, 2011
* Individual store prices may vary.
or
Not Currently Available for Direct Purchase
Description
A solid foundation of basic geometry skills is essential for early success in math. Children who have a solid understanding of two- and three-dimensional shapes, symmetry, patterns, and location concepts will be ready for the challenges of mathematics as they advance to more complex topics. The activities in this workbook are designed to help your children catch up, keep up, and get ahead. Best of all, they ll have lots of fun doing it Some of the great features you ll find inside are:

Neighborhood Walk
After practicing shapes, children walk through the house, yard, or neighborhood, finding things shaped like circles, rectangles, triangles, and octagons. Later they look for spheres, rectangular prisms, cylinders, and cones.

Robot Repair
Children draw a line from each robot head to a correct body, or from each robot to its missing parts, by distinguishing the shapes.

Farm Fences
Farmer Green wants to put fences around all of the animal areas of his farm. Children calculate the perimeter of the areas to determine how much fencing material Farmer Green needs to buy.
Dance Floor
Robin and Roscoe are looking for a light-up dance floor for their dance party. All of the dance floors have the same area, so children help determine the one with the largest perimeter.
Plus
Game Pieces
The workbook includes pentomino pieces, pattern blocks, and tangram pieces for children to cut out and use with games, make patterns, and solve tangram puzzles.
Give your child's confidence in math a boost with 2nd Grade Geometry Success.
Advertisement