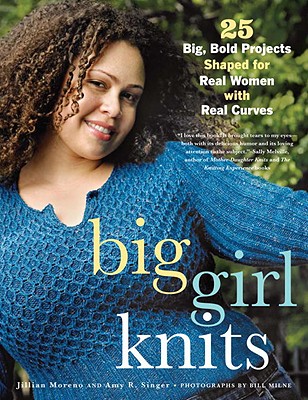 Big Girl Knits (Paperback)
25 Big, Bold Projects Shaped for Real Women with Real Curves
Potter Craft, 9780307586377, 160pp.
Publication Date: November 17, 2009
Other Editions of This Title:
Hardcover (4/18/2006)
* Individual store prices may vary.
Description
Big Girl Knits features twenty-five unique patterns for women size 14 and up. From flattering pullovers and sexy tees to sleek skirts and fun accessories, this book is overflowing with options for knitting up an entire wardrobe to compliment your shapely shape.

Part knitting instruction, part fashion guide, Big Girl Knits is packed with expert advice to help you make the most of the three Bs: Boobs, Belly, and Butt. All the garments and accessories featured in the book are proportioned to fit and flatter a big girl's body. Learn two fabulous adaptations to add to your knitting toolbox that you can apply to any sweater pattern. The book also features an easy-to-use measurement guide and tips to help you choose the right yarn, colors, and styles for you.
About the Author
Big Girl Jillian Moreno (right) was formerly marketing director with Interweave Press, and helped launch magazines like "Interweave Knits, Beadwork," and "Natural Home Magazine." She's the catalyst for Knitty.com and a frequent contributor. She lives in Ann Arbor, Michigan, with her husband, two adorable children, a basement full of yarn, and more books than the local library. This is her first book.

Big Girl Amy R. Singer (left) is the founder and editor of the web-only magazine Knitty.com. She is also a columnist for "Interweave Knits" and a professional editor and proofreader in the advertising industry. She lives in Toronto, Ontario, with her husband and two rabbits, who are eating the house one piece at a time. This is her second book.

Visit them at www.biggirlknits.com. "From the Hardcover edition."
Praise For Big Girl Knits: 25 Big, Bold Projects Shaped for Real Women with Real Curves…
"Thanks to Jillian Moreno and Amy R. Singer's collection of clever, figure-flattering patterns, you'll no longer need to struggle to resize patterns that weren't designed with you in mind. With their guidance on how to choose the best designs for your shape, and how to modify patterns that are intended for someone else's, they guarantee that you'll never again knit a sweater that makes your big top look like The Big Top." —Debbie Stoller, author of the Stitch 'n Bitch series and editor-in-chief of BUST magazine

"I can't sing enough praise for Big Girl Knits. More than a collection of beguiling knitwear for the curvy lady, more than a good read (and a good read it is), this book is full of information that might change your attitude about knitting, dressing, and (dare I say it) simply being!" —Pam Allen, editor-in-chief of Interweave Knits magazine and coauthor of Wrap Style

"Big Girl Knits is one small stitch for woman, and one big, beautiful sweater for womankind." —Wendy Shanker, author of The Fat Girl's Guide to Life

"Big Girls don't cry, and why would they when they can knit kick-ass, curvalicious projects like those in Big Girl Knits?! No matter what size you are, you'll appreciate the beauty and attention to detail that is paid to each and every design in this book. Jillian Moreno and Amy R. Singer have proven that big girls not only knit, but also look hot doing it!" —Vickie Howell, host of DIY's Knitty Gritty and author of New Knits on the Block

"I love this book! It brought tears to my eyes—both with its delicious humor and its loving attention to the subject. The technical stuff is handled wonderfully—with intelligence and clarity and a big heart. The variety in the patterns that follow is a delight. Jillian, Amy, the contributing designers, and the bodies this work will adorn are to be celebrated." —Sally Melville, author of The Knitting Experience books (Knit, Purl, and Color) and of Sally Melville Styles

"If you want to learn how to make garments that fit and flatter your body and you like to laugh while you're learning and knitting, this smart, witty book's for you." —Melanie Falick, author of Handknit Holidays and Weekend Knitting
or
Not Currently Available for Direct Purchase