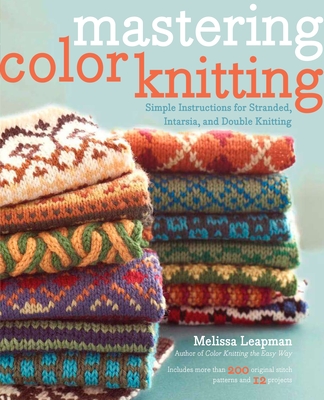 Mastering Color Knitting: Simple Instructions for Stranded, Intarsia, and Double Knitting (Paperback)
Simple Instructions for Stranded, Intarsia, and Double Knitting
Potter Craft, 9780307586506, 176pp.
Publication Date: November 9, 2010
Description
One of the reasons knitting and colorwork master Melissa Leapman first learned to knit was her wish to make one special project--a sweater using Fair Isle technique. Now, for the first time, she brings her passion for advanced color knitting to knitters who want to knit with any and every color of yarn they can wrap around their needles.
Conquer classic stranded knitting, -draw- images in yarn using intarsia, and make two projects in one with reversible double knitting. Leapman's clear instruction proves that knitting with multiple colors may appear more complex, but it doesn't have to be difficult. She includes the quickest, easiest, and most intuitive methods for each technique, using knowledge honed over years of color knitting workshops with knitters from across the country.
Once you've learned the basics, practice your new skills by creating projects for yourself, your friends, and everyone on your gift list. Each chapter includes a handful of sample projects to get you started, a Designer Workshop that teaches you important concepts in every designer's toolbox, and a pattern treasury of unique patterns to apply to projects of your own creation--more than 50 patterns and 12 projects in all.
Throughout, Leapman's helpful collection of how-tos, diagrams, tips, and hints (including a refresher course in color theory to help you choose the perfect color combinations) makes Mastering Color Knitting the book you'll turn to for information and inspiration time and time again.
About the Author
MELISSA LEAPMAN is a widely published knitwear designer whose patterns have appeared in every premier needlework publication in the country, including Vogue Knitting, Knitter's, McCall's, Family Circle, Better Homes and Gardens, and Interweave Knits. She has been a featured guest of HGTV's Sew Much More and is a knitting and crochet host in the DVD series I Can't Believe I'm . . . (Leisure Arts). Leapman is the author of several books including Hot Knits, Cool Crochet, Cables Untangled, Continuous Cables, and Color Knitting the Easy Way. Nationally, her knitting, crochet, and design workshops are popular with crafters of all skill levels.
Advertisement