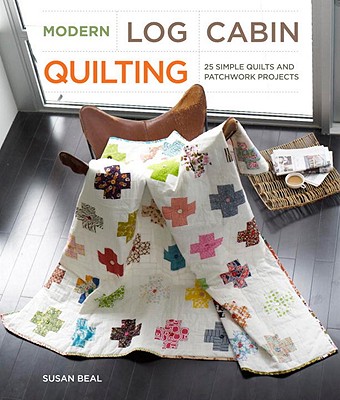 Modern Log Cabin Quilting
25 Simple Quilts and Patchwork Projects
Paperback

* Individual store prices may vary.
Description
If you think quilting is too difficult or too complicated, you're not alone. Cutting hundreds of pieces and joining angled seams can be tough work! But log cabin quilting—an artful and simple way to piece strips of fabric around a central square—is different. From the intuitive construction through the straight-line stitching, this style of quilting is simple as can be.
 
In Modern Log Cabin Quilting, Susan Beal outlines the entire process from start to finish, including basic quilting how-to as well as extensive design, fabric, and embellishment information. Since all log cabin designs follow the same formula, once you master straight lines and right angles, any of the 25 projects in this book are possible. From stash-friendly designs like the Charming Camera Case to more ambitious undertakings like the Vintage Linens Quilt, there's sure to be a project that will get you into (or bring you back to) quilting!
Potter Craft, 9780307586575, 160pp.
Publication Date: March 22, 2011
About the Author
SUSAN BEAL is the author of Super Crafty, Bead Simple, and Button It Up. She also writes for craft magazines and websites. Susan has contributed to Handmade Nation, Craft Corps, Appliqué Your Way, and many other books, and was featured in the film Handmade Nation. She lives in Portland, Oregon with her husband, Andrew, and their daughter, Pearl. You can find more of her work at www.susanbeal.com or visit her blog at www.westcoastcrafty.com.