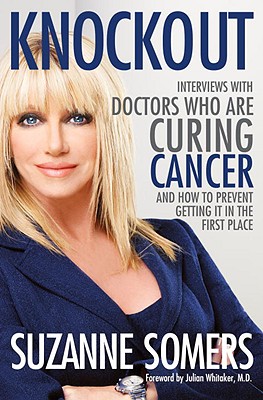 Knockout (Hardcover)
Interviews with Doctors Who Are Curing Cancer--And How to Prevent Getting It in the First Place
Harmony, 9780307587466, 352pp.
Publication Date: October 20, 2009
Other Editions of This Title:
Paperback (10/5/2010)
* Individual store prices may vary.
Description
In Knockout, Suzanne Somers interviews doctors who are successfully using the most innovative cancer treatments—treatments that build up the body rather than tear it down. Somers herself has stared cancer in the face, and a decade later she has conquered her fear and has emerged confident with the path she's chosen.
Now she shares her personal choices and outlines an array of options from doctors across the country:
 
EFFECTIVE ALTERNATIVE TREATMENTS
•without chemotherapy
•without radiation
•sometimes, even without surgery
 
INTEGRATIVE PROTOCOLS
•combining standard treatments with therapies that build up the immune system
 
METHODS FOR MANAGING CANCER
•outlining ways to truly live with the diease
 
Since prevention is the best course, Somers' experts provide nutrition, lifestyle, and dietary supplementation options to help protect you from getting the disease in the first place. Whichever path you choose, Knockout is a must-have resource to navigate the life-and-death world of cancer and increase your odds of survival.  After reading stunning testimonials from inspirational survivors using alternative treatments, you'll be left with a feeling of empowerment and something every person who is touched by this disease needs…HOPE.
About the Author
SUZANNE SOMERSis the author of twenty-two books, including the #1 New York Times bestsellers "Sexy Forever," "Knockout" and "Ageless," and the Times bestsellers "Breakthrough; Keeping Secrets, Eat Great, Lose Weight; Get Skinny on Fabulous Food; Eat, Cheat and Melt the Fat Away; Suzanne Somers' Fast and Easy;" and "The Sexy Years." Somers can be seen in her weekly talk show, "The SUZANNE Show, " on the Lifetime Network and in "Suzanne Somers Breaking Through," her YouTube internet talk show hosted by CafeMom. Visit www.suzannesomers.com for more information on her shows, products, and her phenomenally successful weight loss plan, Sexy Forever.
or
Not Currently Available for Direct Purchase