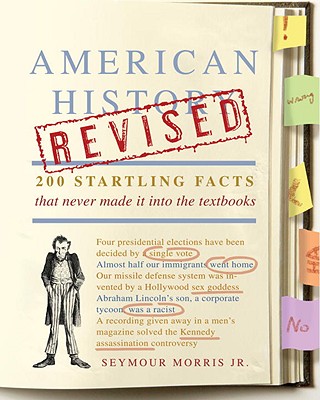 American History Revised: 200 Startling Facts That Never Made It Into the Textbooks (Paperback)
200 Startling Facts That Never Made It Into the Textbooks
Broadway Books, 9780307587602, 411pp.
Publication Date: April 6, 2010
* Individual store prices may vary.
or
Not Currently Available for Direct Purchase
Description
"American History Revised is as informative as it is entertaining and humorous. Filled with irony, surprises, and long-hidden secrets, the book does more than revise American history, it reinvents it." --James Bamford,
bestselling author of The Puzzle Palace, Body of Secrets, and The Shadow Factory
This spirited reexamination of American history delves into our past to expose hundreds ofstartling facts that never made it into the textbooks, and highlights how little-known peopleand events played surprisingly influential roles in the great American story. We tend to think of history as settled, set in stone, but American History Revised reveals a past that is filled with ironies, surprises, and misconceptions. Living abroad for twelve years gave author Seymour Morris Jr. the opportunity to view his country as an outsider and compelled him to examine American history from a fresh perspective. As Morris colorfully illustrates through the 200
historical vignettes that make up this book, much of our nation's past is quite different--and far more remarkable--than we thought.
We discover that: - In the 1950s Ford was approached by two Japanese companies begging for a joint venture. Ford declined their offers, calling them makers of "tin cars." The two companies were Toyota and Nissan.
- Eleanor Roosevelt and most women's groups opposed the Equal Rights Amendment
forbidding gender discrimination.
- The two generals who ended the Civil War weren't Grant and Lee.
- The #1 bestselling American book of all time was written in one day.
- The Dutch made a bad investment buying Manhattan for $24.
- Two young girls aimed someday to become First Lady--and succeeded.
- Three times, a private financier saved the United States from bankruptcy. Organized into ten thematic chapters, American History Revised plumbs American history's numerous inconsistencies, twists, and turns to make it come alive again.
About the Author
"Everyone has a book in them," it is commonly said. For Mike Morris, growing up in Princeton, NJ, then Harvard College and Harvard Business School, such a book must involve American history, his favorite subject. Harvard Business School doesn't teach you history, obviously, but it does stress the need to think creatively and differently. "In business and investing, you try to predict what's going to happen in the future," he says. "In reading history, you try to figure out what happened in the past. The two activities are essentially the same, they require the same mental skills." Interpreting history, like trying to assess the potential of a new business venture, requires imagination, connecting the dots, seeing the big picture. Working in New York for twenty years in business, he had no time to write. His favorite hobby was browsing bookstores and buying books faster than he had time to read them. The wonderful life of being a man of letters would have to wait for another day... It came sooner than expected. Moving to Romania to search out business opportunities in 1994, he ended up staying for twelve years as a founder and owner of two businesses. Life in Europe is a lot slower than in America, and Bucharest does not have all the activities and distractions that New York does. Like in childhood when he read American Heritage from cover to cover, in Bucharest he read every history book he brought over from the United States. He kept copious notes, and filed away stories he found particularly intriguing. But writing a book? The spur to action can come from an unexpected source. For Mike Morris, it came from his part-time activity as Harvard representative for Romania, responsible for interviewing Romanian high school students applying to Harvard. He was surprised by the interest these students had in America and how America came to be so much more successful than their own country. Their optimism and belief in America was a far cry from high school students in the United States who take America for granted. Clearly, if this was such a dream for them, he must know more about it. So every evening and every weekend, he plunged into his life-long hobby. "American history," says Gore Vidal, "has fallen more and more into the hands of academics." Indeed, there exists in much of academia a blind obeisance to over-specialization at the expense of imagination and seeing the big picture. What are needed are people who can write intelligent but lucid history for the general public: "popular history." This he set out to do in writing a book about America's hidden past. For a first-time author to be published by Random House is a perfect start for his second career. He has two other books now under development. He lives in New York with his wife Gabriela. Every day he works in his magnificent new office, rent-free: the New York Public Library, a treasure trove even more interesting than the internet..
Praise For American History Revised: 200 Startling Facts That Never Made It Into the Textbooks…
 "This is a deeply fascinating book, and one that should appeal to a broad spectrum of readers, from students to history buffs to trivia addicts."-- Booklist
 
 "Eye-opening, interesting and lively. If schools put it on the curriculum, kids would pay more attention… American History Revised should be required reading for anyone in public office, a potent reminder that real history, not the tabloid fodder sprayed across the nightly news, is often made far from the limelight." -- Huffington Post  
 
 "American History Revised offers an overview of American history by focusing on many facts and episodes that, "startling" or not, do indeed often throw light on our peculiarly complicated country, its past, and, inevitably, it's present and even future. I doubt that there is a single reader who won't find many of the essays genuinely illuminating — Morris is a master of the concise essay — and often challenging. Morris is opinionated; few readers will agree with him in all of his opinions, but he is a wonderful person to engage with."-- History Book Club 


 
 "Seymour Morris Jr. is certainly not the first to take a lateral look at the moments when the facts conflict with legend and choose to print the facts. He is, however, the most readable and authoritative. This is a lucid, provocative and thoroughly enjoyable book, full of eye-opening surprises and tantalizing what-ifs, which can be read cover to cover or dipped into like a box of favorite candies." -- The BookWeb.com 
 
 
 "Many believe that history is inflexible and chiseled in stone.  The simple fact is that history is much more fluid. In fact, according to this fascinating book, history is generally filled with ironies, surprises, and misconceptions. Witty, lucid, and playful, this is a book that will leave you astonished, entertained, and, yes, enlightened." -- Tucson Citizen 
 
"In his new book, Seymour Morris Jr. shows that American history is like an iceberg, with the best parts long hidden from view. American History Revised is as informative as it is entertaining and humorous. Filled with irony, surprises, and long-hidden secrets, the book does more than revise American history, it reinvents it." -- James Bamford, best-selling author of Puzzle Palace

"In American History Revised, author Seymour Morris, Jr. delivers useful and entertaining snippets of American history. The reader learns of a news story, broke to eastern newspapers in 1861 by a young Mark Twain, who later saw his novel Huckleberry Finn banned from several public libraries (a fact which only made them sell faster). With reverence, Morris tells of the U.S. aircraft carrier Yorktown, nearly sunk by the air-raid on Pearl Harbor, repaired and re-fitted in 68 hours by 1,400 men.
"The people and events chosen for this book meet two criteria: they are largely unknown, and they make a point worth remembering."
Business-minded folks would do well to pick up this piece for a hefty dose of inexpensive financial advice. One is informed that Howard Hughes was not entirely self-made but "got a leg up" from his father, who not only invented a unique oil-drilling bit, but unlike many inventors, the man refused to sell the invention, instead making a fortune renting the bits out to drilling companies. The author also points out that the patient investors that held onto their stocks even after the great crash of 1929 "made out like bandits."
If anything, these pages reminds us that if humans indeed learn from our past–in order not to repeat mistakes–then history books lacking these facts should be swiftly updated." - San Francisco Book Review
Advertisement